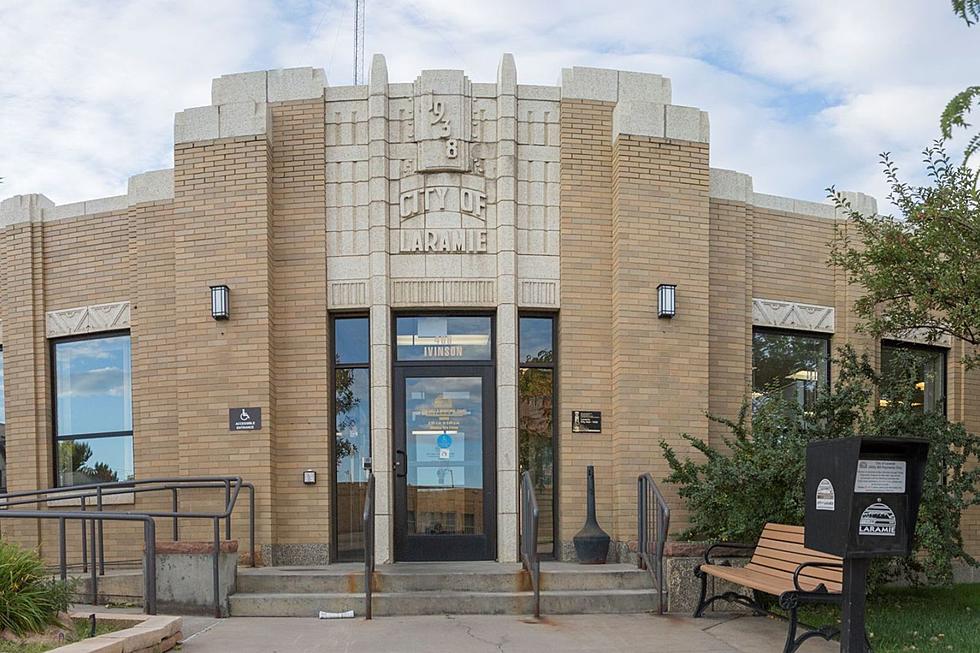 Laramie City Council: Sept. 19 Regular Meeting
City of Laramie
Tuesday's council meeting for the City of Laramie was a lengthy one, including recognitions, housing applications, and city ordinance changes. Here's a decently succinct rundown.
Proclamations: 
National Custodial Workers Day for Oct. 2, 2023
Assistant City Manager Todd Feezer nominated several city custodians: city staff Kevin McIntyre, Justin Gabriel, Charles Page, and Blake Leivestad, and post-council meeting, City Clerk Nancy Bartholomew added that the city broadcast crew Christopher Stratton and Barbra Hill are on the custodial staff at the University of Wyoming.
Deaf Awareness Week for Sept. 24-30
The Laramie Advisory Commission on Disabilities submitted the proclamation for the deaf, deafblind, and hard-of-hearing individuals in our community. 
Announcements
Laramie Police Department Employee Recognitions
Sergeants Sally Dalles and Matthew Leibovitz, Detective Patrick Buenger, and Evidence Technician Jennifer Kelley received commendations for their work in the homicide investigation in Laramie June 2022 (more information see story here).
Laramie Police Department Citizen Award
Resident MJ Sisneros received a Citizen Service Citation for assisting the LPD and the homicide victim's family throughout the June 2022 investigation (see story here).
Monthly Staff Recognition
Benjamin Hiller: Waste Water treatment plant worker–nominated by Chad Sessions. 
Kudos Korner: Lauren Wade, Jariah Coffin, Alex Lewis, and Mercedes Bartholomew; lifeguards and water safety instructors–nominated by the Laramie Recreation Center. 
Regular Agenda
Consideration of an agreement for professional design and architectural services between the City of Laramie, Wyoming and MOA Architecture, Casper, Wyoming for the Plenty Unlimited Inc. Project Jupiter Research and Development Facility
The city voted to pay MOA Architecture $2,101,360.00 for consulting fees for the Jupiter Research and Development Facility (for vertical farming) that will be built in Cirrus Sky Technology Park by Plenty, Unlimited. 
(The City of Laramie was awarded a $20 million grant by the Wyoming Business Council to increase business space for Plenty Agriculture).
Council approved 8-0; 1 absent. 
Consideration of a bid award and associated budget amendment for Spring Creek Trail Phase 1 to Reiman Corp, Cheyenne, Wyoming
 As part of the city's plan to ensure non-motorized and alternative transportation options are integrated comprehensively into municipal and regional transportation systems, the city is awarding $1,071,163.55 to Reiman for trail construction of the trail from 30th Street to LaPrele Park.
(The city received two Transportation Alternative Program grants; one for design and engineering and the other for $500,000 for construction which were matched by 2018 Specific Purpose Tax funds).
Public comment: Judy Snoke asked about trail route specifics.
Freezer clarified it begins to the East of Regency Retirement Center, follows Spring Creek to the south, and then west to Sister's Bridge. 
Council approved 8-0; 1 absent. 
Ridgeline Estates Preliminary Plat
First step in a 9-acre, 32-lot subdivision located on the northwest corner of Harney and 30th. Grading and a detention pond will be added to mitigate flooding.
Public comment: Candace Parody who lives on Dover Drive is concerned about water flow from the planned subdivision, when grading would occur, responsibility if the detention pond failed, how long lots would be sitting empty, and inquired about soil sample results.
Associate City Planner Joseph Shahidi said the interim is managed by Wyoming Department of Environmental Quality and the developer (CT Enterprises LLC). Other issues are not required to be addressed for the preliminary submittal.
Project civil design engineer Jerrud Ralph clarified that grading will happen prior to development, and detention pond volume is determined by calculating the difference in city requirements for existing drainage for a 10-year flood, and developed requirements for a 100-year flood. 
Council approved 8-0; 1 absent
Option Agreement Regarding Real Property between the City Of Laramie and Cornerstone Housing Group, LLC
Cornerstone is applying to purchase land from the city and build affordable housing in the Grandview Estates area. They secured a purchase agreement from the City Wyoming Community Devel Authority. Laramie and Albany County qualify for the 2023 Low Income Housing Tax Credit. 
72 affordable apartment units are being considered for build along Boulder Drive, Beech and Turner Streets, with the addition of more 3-4 bedroom agreements than initially designated. 
Cornerstone's application is due Sept. 29.
The city previously partnered with Cornerstone in 2018 for affordable senior housing in the Grandview Heights area. 
Public comment: Brett Glass. Developer motivation: they are getting tax credits, preferential treatment by the city, and rent is not any more affordable. Loopholes: questioning if these are for families or college students; asked for council to 'hold the developers' feet to the fire.'
Councilor O'Doherty: The other lot is bringing in $30,000 in taxes to the county, and the city gets some of that, so development should be welcome. 
Council approved: 8-0; 1 absent
Original Ordinance No. 2065, Amending Various Sections within Title 15.14.050.I of the Laramie Municipal Code regarding Off-Street Utility, Dumpster, Recycling, Trash Handling and Recycling Facilities
The second reading to change dumpster and recycling facility requirements for primarily commercial and multi-family facilities, to ensure that the city can service these facilities. 
Public comment: Brett Glass is concerned about how business use changes will trigger code conformity requirements. Don't deny anyone the ability to have a dumpster because they're upgrading business space which is good for the community. 
Council approved: 8-0; 1 absent
Original Ordinance No. 2066, Amending Multiple Sections within Titles 5 and 15 of the Laramie Municipal Code for the Purposes of Updating Definitions, Uses, Dimensions in City Code as a Standard Practice.
Principal planner Philipp Gabathuler presented the first reading to amend city code. Each year, development code is reviewed for clarification suggestions. Thirty total amendments are being presented for change approval. 
Council approved: 8-0; 1 absent