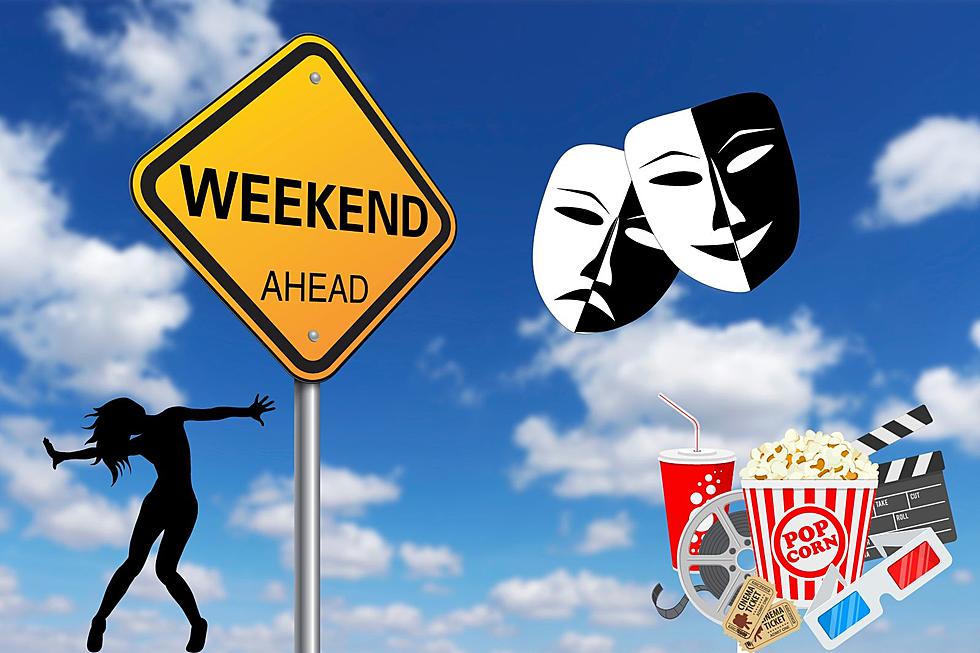 Weekend Roundup in Laramie
Canva Pro
Plenty of opportunities to get your vitamin D this weekend, a couple movies, and a dance party. Sounds like the makings of a great weekend. 
Friday, August 18
Cattlewomen Cookout with Buffalo Bill Boycott
The Wyoming Cattlewomen will serve up a good dinner, and then Buffalo Bill Boycott will provide theater entertainment in the Horse Barn: stories of the Oregon Trail, songs, and a presentation of historical photos and paintings.

When: 5-8 p.m.
Where: Wyoming Territorial Prison State Historic Site
Cost: $25 ages 12 and older; $12 ages 5-11; Free ages 4 and under
Additional Information: To purchase tickets call 307-745-6161 or drop by the Wyoming Territorial Prison State Historic Site.
Cowboy Summer Movie
Relax on the new turf and be entertained by Super Mario Bros. Free water, popcorn, and prizes for attendees.

When: 7:30 open; movie at 8 p.m.
Where: War Memorial Stadium
Cost: FREE, and free parking
Additional Information: No outside food, drink, or chairs allowed. Bring pillows and blankets. Enter through Gate 3.
Downtown Farmers Market & Gem City Nights
The days are warming up, and the nights are cooling off. Peruse the produce and other goods at the market while it's hot, and drop in an art workshop while you wait for the music to begin.
When: Market & art workshop 3-7 p.m.; music 6-9 p.m.
Where: Depot Lot
Cost: SNAP accepted; music and art free
Additional Information: Three more Friday nights of drop-in art workshops and live music!
Lady Windermere's Fan by True Troupe
An Oscar Wilde four-act comedy in the park. It's free, it's al fresco, and it's funny. 
When: 6:30-8:30 p.m.
Where: Washington Park
Cost: FREE; donations accepted
Additional Information: To learn about True Troupe, visit their Facebook page here. 
Saturday, August 19
Blessed Treasures Thrift Shop
Laramie Methodist's thrift shop is open with new great items. Tents, sleeping bags, Barbies, and sporting equipment are a few of the treasures to find.

When: 9 a.m. - Noon
Where: Laramie Methodist 1215 Gibbon St.
Additional Information: Visit the event posting on Facebook for more details. 
Back to School Boxcar Drive-In Movie
Moose Lodge is an organization with the goal to "care for the young, old, and bringing community." A movie, snacks, and a contest will do that. Bring your best design skills.  
When: 4-6 p.m.
Where: Moose Lodge 409 South 3rd
Cost: FREE
Additional Information: There's a movie, free concessions, and a boxcar designing contest, with prizes, of course. 
Saturday Dance Night
Party night at the Civic Center! A DJ, a seafood or vegan boil, and a dance party hosted by Laramie Public Art (LPAC) and Devine Eats. Linda's annual birthday bash fundraiser benefits LPAC this year. 
When: 6-9 p.m.
Where: Laramie Plains Civic Center; 710 E. Garfield
Cost: $35
Additional Information: For the event posting, see their Facebook page. For tickets, click here. 
Sunday, August 20

There was enough on Friday and Saturday. Sleep in. Do some yard work. Help Tim and the
Laramie Connections
crew cook the Sunday Dinner if you need more community, and meet great people doing so.  
The Best Movies That Made More Than $1 Billion
From Batman to Bond, hobbits to blue aliens, these are the movies worthy of the $1 billion crown.