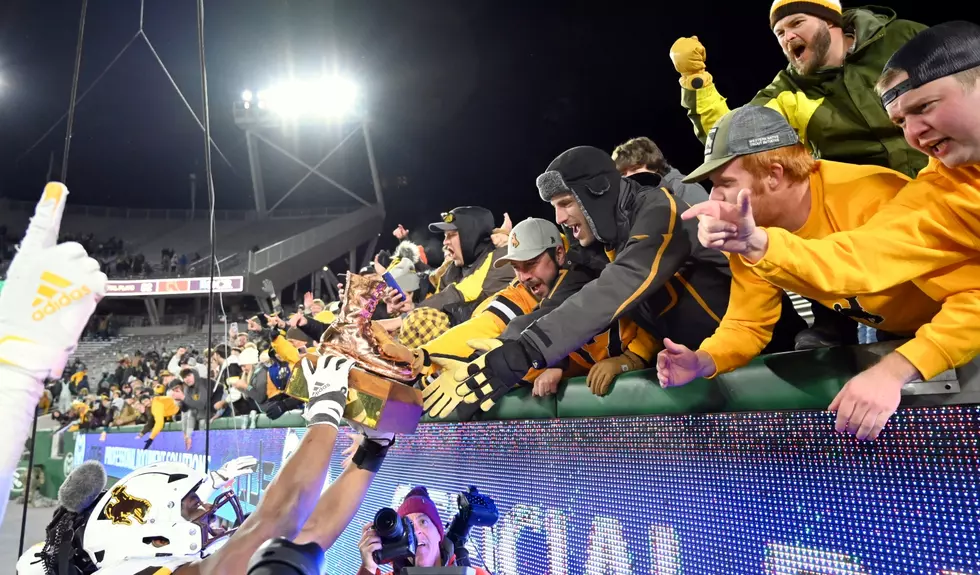 Rants & Raves: CSU Edition
Wyoming fans from around the globe sound off during, after the Pokes' 14-13 victory over Border War rival Colorado State./ DJ Johnson photo
FORT COLLINS, Colo., -- It's never easy, is it?
We all knew Colorado State was going to come out swinging -- and it certainly did -- but this young, scrappy Wyoming roster littered with youth and inexperience just keeps finding ways to overcome early, double-digit deficits.
For the sixth time in seven years, the Cowboys hoisted the Bronze Boot at midfield after a 14-13 victory over their Border War rivals. UW is now 7-3 overall and 5-1 in Mountain West play.
I hear there's a rather large showdown scheduled for 5 p.m. next Saturday in Laramie, but, for now, let's focus on the game we just watched in Fort Collins.
Here are this week's rants and raves:
FIRST HALF
Dave Christensen (Facebook) Terrible start. Great defense. Lackluster offense to say the least.
Ron Weltmer (Facebook) O line getting absolutely whipped. On every single play.
Jeff Lewis (Facebook) Bohl is by far the best coach we have ever had. Average teams that get to the crap potato bowl every year. I love being average.
Thor Stephenson Jr. (Facebook) Another signature Bohl coached play down to the level of an inferior opponent game.
Eric Ogle (Facebook) This going to be a long game.... Thank God I got some beers
Kristin McLean (Facebook) That bye week sure did us a lot of good!
Mikayla Hoyt (Facebook) Looks like they are going to earn the "cardiac Cowboys" title yet again
Marianne Scotty Cochran (Facebook) I am so pissed off about our sh---y first possession, sleepy special team giving csu a touchdown and poor passing for interception, I had to change the channel! Wake up Cowboys!
Mark Sanchez (Facebook) 3 possessions ending at 4th and more than 10. Ya, this isn't going to end well.
Mac ZT (Facebook) Can we please do something other than run the ball and punt….please…..
Michael Fox (Facebook) This is reminding me a lot of the SJSU game. We're losing on both sides of the line. Especially on offense.
Kirk Lehner (Facebook) Here we go playing down to our competition. CSU is awful. AWFUL! Gutless offensive line play so far Cowboys.
Kristin McLean (Facebook) I think I'd rather be over at the War watching East vs Sheridan….I bet there is at least some offense!
Chris Kjelsrud (Facebook) So I take it we don't want to keep the boot or possibly a spot in the championship game. Pokes are playing like they're 3 - 6 not 6 - 3 how this game is going CSU 56 WYO 0 it won't surprise me
Celyn Rogers (Facebook) Sometimes I question if bohl has a brain. 3rd and 9 you run a QB draw and have your starter get smacked and taken out of the game. You know that is how josh Allen broke his collar bone in 2015 same exact play call.
Rick Larson (Facebook) Pokes will get this turned around and pull off the win
Darren Thompson (Facebook) Seems like the offense was sleep walking in first half till Clemons came in. And whats this Clemons guy? He looks like a hockey player: swear he's missing a tooth..got that scraggly beard going...looking like a baller so far...
SECOND HALF
Jason Ferguson (Facebook) If you can predict what how this team is going to perform and against whom, let me know. I need to buy some lottery tickets.
Kirk Lehner (Facebook) Boise-not-a-State is laughing at the Cowboys right now.
Chris McAtee (Facebook) Bohl ball baby. Unmet expectations and consistent inconsistency.
Mark Sanchez (Facebook) Just give the Boot to CSU and call it a night already.
Matthew Blaylock (Facebook) Wyoming controlled their own destiny coming in thr Border War, but CSU is controlling Wyoming's destiny tonight.
Michael Fox (Facebook) Clemons has great touch. I was at the SJSU game and he came in for Peasley for one play and threw the best pass of the game.
James Padget (Facebook) I know it's possible for Yin and Yang to to exist. Because I can simultaneously love and hate Craig Bohl at same time.
Brieanna Franze (Facebook) Cowboys win!!!!! My chest hurts!!! But I love the heck outta ya! TAKE THAT BOOT HOME!!!
Stacy Anderson (Facebook) I don't care how we won just that we won!!! Cowboy's are forever special to me for making a smile on my son's face a week after his brother passed away! I love them Cowboy's!
Mike Walk (Facebook) Yeah….. for all the naysayers and Bohl haters….. Wyoming is 7-3 fighting for a conference title with the 3rd youngest team in the nation! By the way….. they have been Bowl or should I say Bohl eligible 6 of the last 7 years. Do you know when the last time was that happened?……..NEVER!! Smash mouth, hard nosed football is Wyoming. If you like the spread game, put on that God awful green and yellow, or powder blue and gold….. get yourself a pedicure and run really fast so you don't have to get hit. Or better yet go to a soccer game. As for me….. I'm gonna root for the boys in Brown and Gold that ride for the brand! GO POKES!!!! You fair weather fans jump back on board….. there's room on the smash train!!
Kevin Williams (Facebook) As a Pokes fan if you had told me going into the last Saturday in August that they would be 7-3 after the second Saturday in November I would have been ecstatic. If you score more points than your opponent you are a winner. Wyoming, under the current format would not be a playoff team so they don't need "style points"…just more points than their opponent, which they have done 7 times so far. I am planning on enjoying the ride for the next 4 games! Yes, I said FOUR games.
University of Wyoming's Top 50 Football Players
The rules are simple: What was the player's impact while in Laramie? That means NFL stats, draft status or any other accolade earned outside of UW is irrelevant when it comes to this list.
This isn't a one-man job. This task called for a panel of experts. Joining 7220's Cody Tucker are Robert Gagliardi, Jared Newland, Ryan Thorburn, and Kevin McKinney.
We all compiled our own list of 50 and let computer averages do the work. Think BCS -- only we hope this catalog is fairer.
Don't agree with a selection? Feel free to sound off on our Twitter:
@7220sports
- #Top50UWFB
- University of Wyoming's Top 50 Football Players