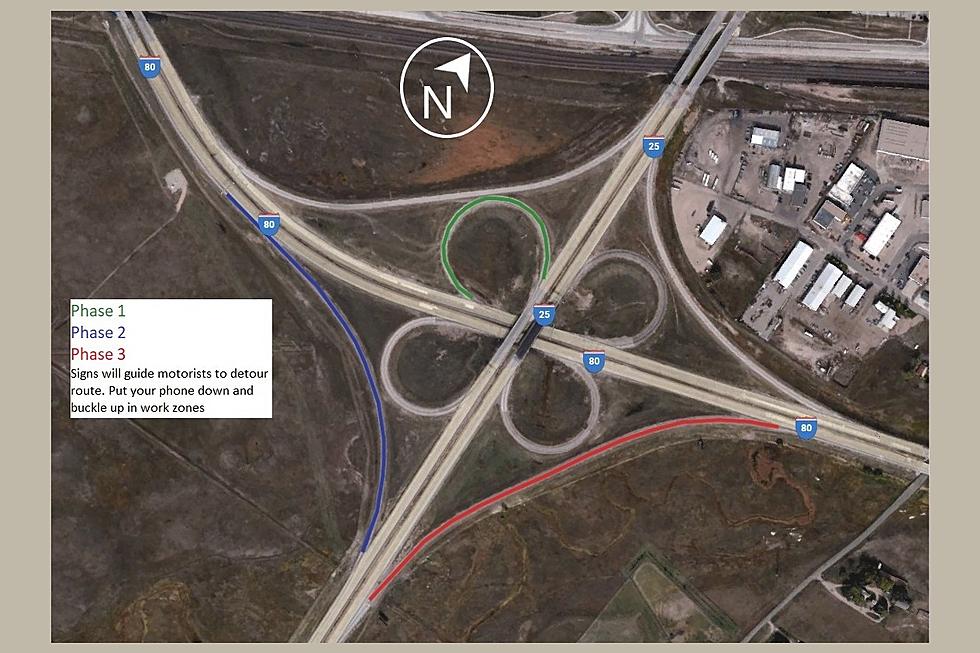 Paving Work to Cause Ramp Closures at I-25/I-80 Interchange
Wyoming Department of Transportation
Wyoming Department of Transportation crews will be paving select ramps on the Interstate 25/Interstate 80 interchange next week, weather permitting.
"Crews will first focus on the I-80 westbound off-ramp to southbound I-25," said WYDOT spokeswoman Jordan Achs. "The ramp (exit 359A) will be closed during the paving process, which is expected to take about a day."
"Once that ramp is complete, crews will switch to working on the I-80 eastbound off-ramp to southbound I-25, followed by the I-25 northbound off-ramp to eastbound I-80," Achs added. "This phase of the project is expected to take about a day or two per ramp."
Achs says detours will be in place, with signs guiding drivers to use either the U.S. Highway 30/Lincolnway interchange (exit 358 on I-80 or exit 9 on I-25) or the Wyoming Highway 222/Roundtop Road interchange (exit 357 on I-80).
Achs says the work is a continuation of a seasonal paving project started earlier this summer in Laramie County.
READ ON: The Occupations That Employ The Most People in Wyoming
Jobs, you'll spend about a
third of your life
at one. Yep, thirty percent of the average human's life is spent working at a job. So, what are people doing to get that check, and where are they doing it?
The folks at
CareerOneStop
(sponsored by the U.S. Department of Labor) dug into the number and came up with the list of the occupations that employed the most people in Wyoming (according to 2018 numbers). There's a good chance that you or someone you know works in one of these fields.