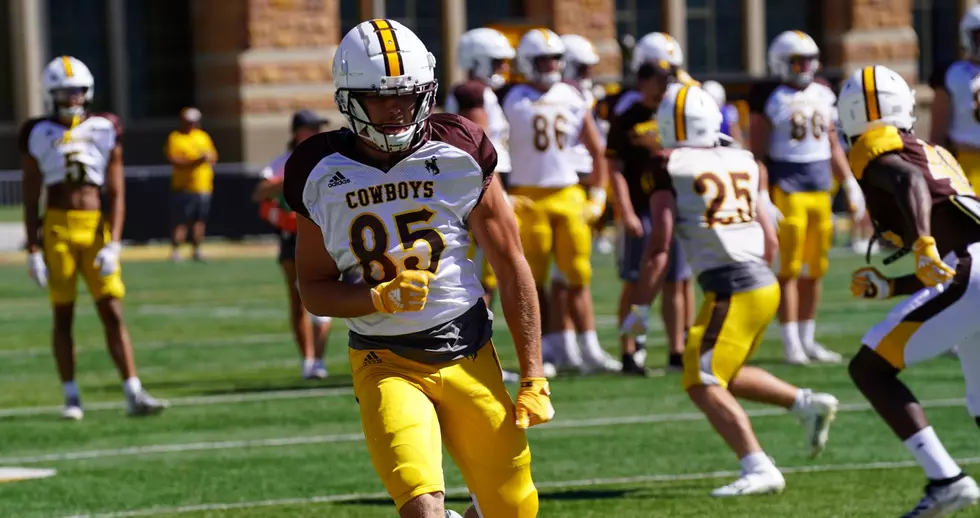 Current, former Cowboys sold wide out Chase Locke on Wyoming
USC transfer Chase Locke has been serving in a backup role this fall as he attempts to master the Cowboys' offense./ UW courtesy photo
LARAMIE -- Don't bother looking for Chase Locke's name on Wyoming's official online roster.
You won't find it.
Don't worry, school officials just haven't updated the website yet.
"I can assure you I've been practicing," the redshirt sophomore wide receiver said, followed by a joke about being cut already.
Being overlooked -- intentionally or not -- has become a common theme for Locke since his playing days at O'Connor High School in Helotes, Texas.
The 6-foot-3, 195-pound pass catcher did receive an official offer from Mountain West foe, San Jose State. He also took visits to Texas Tech, Colorado and TCU before ultimately deciding to walk-on at Southern Cal.
Locke practiced and watched during his three-year tenure in Los Angeles, never seeing the field. In other words, he hasn't played a meaningful snap of football since 2019 when he snagged 36 passes for 672 yards and eight touchdowns as a senior in suburban San Antonio.
"Yeah, it's definitely hard," he said of not contributing. "You know, I just have to keep the mentality. Just stay consistent, stay steady. You know, if I just keep my nose to the grindstone. That's what my parents always say. If you don't get the results you want, just keep working. So that's all you can do."
Locke committed to UW after taking his official visit late last April. That also happened to be during the Cowboys' annual spring game. If he was on the fence about his ultimate decision, another incoming recruit -- along with a roster loaded with 19 other natives of the Lone Star State -- sealed the deal.
That man was Alabama transfer and Missouri City product, Keelan Cox.
"He was just telling me that he was committing today," Locke joked. "He was like, 'I'm not letting you leave until you commit.' He was not letting me go anywhere else. So, I was like, you know, I have good friends here and clearly I'm wanted, so, let's make this happen."
It did, 13 days later.
MORE UW FOOTBALL NEWS:
* 'Bama transfer Keelan Cox has found a home on the High Plains of Wyoming
* Wyoming's Un-Sweet 16: No. 7 Sonny Lubick vs. No. 10 Sark Arslenian
* Pokes Practice Report: Injury bug bites nickelback spot
* PODCAST: What's your level of excitement for Cowboy football?
Cox wasn't the only one selling Laramie and UW, either.
Locke said a pair of friends from back home also gave the thumbs up -- current Cowboy basketball player and childhood best friend, Brendan Wenzel, and Levi Williams, who suited up at quarterback on the High Plains for the previous three seasons before transferring to Utah State.
"I had a lot of good recommendations before I came up here," Locke said, adding that he still trains with Williams in the offseason. "I came and visited in the spring and it seemed like a very close, tight-knit, wholesome group. That's what I wanted was a good environment to be around to succeed and grow."
How has the transition been from San Antonio to L.A. to Laramie? Well, the golf ball travels a heck of a lot further, Locke said with a smile.
"Honestly, I love it," he added. "It gives me almost no choice but to stay focused and stay locked in on what I need to do. So, it's honestly been a pretty smooth adjustment."
What about on the field?
When asked about Locke, a stoic Wyoming head coach Craig Bohl offered up these eight words from the podium last Friday. "Chase has been playing in a backup role."
Riveting stuff, huh? Motivation? Maybe.
How does the man himself feel about his production in fall camp so far?
"It's going good," Locke said. "It's definitely a big adjustment, systematically, from where I was before. But, you know, the more that I'm learning the offense, the faster I'm able to play and finally get a grip. You know, get back into my game and get back to what I do best."
Can Locke contribute this year and crack the lineup with the likes of fellow Texans Joshua Cobbs, Alex Brown and Tyrese Grant?
"It's really up in the air right now," he continued. "It really just depends on how well I develop once I fully get a grasp of the offense. I'm still working out the kinks here and there, but I think that I've been slowly climbing as the days go on."
He has four years of eligibility remaining to figure that out.
UW: University of Wyoming Cowboys' Greatest Games From the First Decade of the 2000's