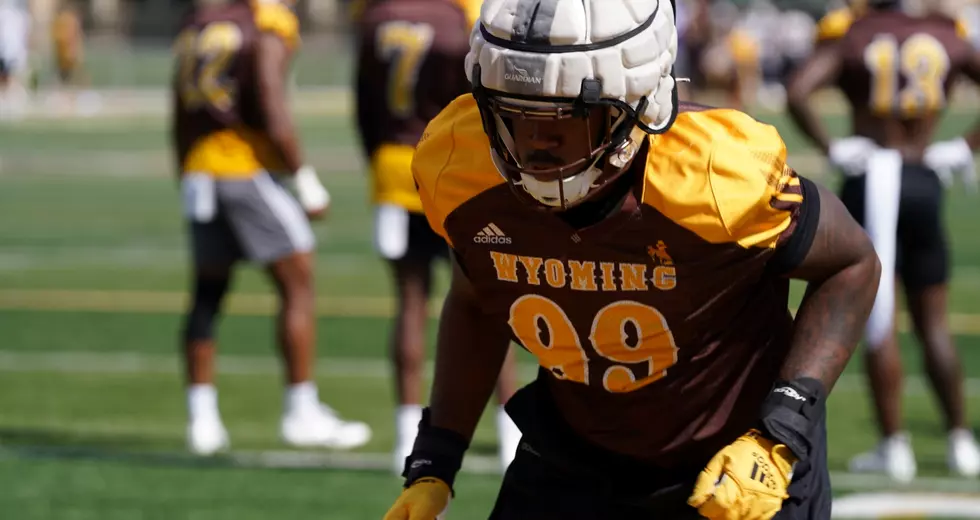 'Bama transfer Keelan Cox has found a home on the High Plains of Wyoming
Alabama transfer Keelan Cox will be sidelined for two months with a fracture in his right hip./ UW courtesy photo
LARAMIE -- That's what a walk-on at Alabama looks like?
That was the overwhelming sentiment from reporters, standing on the North 40 practice field last Friday as sophomore transfer Keelan Cox slowly made his way down the sideline.
"I get that a lot," the defensive end said, a wide grin creasing his face.
The 6-foot-5, 240-pound Texas product certainly looks the part. Unfortunately for him, though, he didn't plan to be in street clothes on this near 90-degree morning in Laramie. He definitely didn't envision the set of crutches that are helping keep him upright.
"I can walk right now, but they don't want me walking on it," Cox said.
"It" is a fractured right hip sustained in last Monday's practice.
He said it is similar to the dislocation former 'Bama quarterback Tua Tagovailoa suffered back in 2019. That same injury prematurely ended the NFL career of legend Bo Jackson, too.
"My bone is basically out a little bit and there's a crack in it," he said. "This is the first serious injury I've ever had."
Cox reached into his right pocket and pulled out his cellphone. He verbally explained how the break happened, but the video -- though harmless looking enough -- told the tale.
First came the snap. The offensive line, in unison, flowed to the left. Dissecting the play, Cox read his keys and kept contain on the edge, awaiting a pulling tight end. That collision indeed happened. He was briefly knocked off balance, causing him to fall to his right. His entire body weight shifted to that leg as it jabbed into the turf like an arrow in a bull's-eye.
"I heard a pop," Cox said. "If the crack would've went all the way through my bone, it probably would've popped out of the socket."
The diagnosis is eight weeks of rehab. Believe it or not, that's the good news.
The bad: Cox was recently taking reps with the No. 1 unit. Wyoming head coach Craig Bohl has said time and again he is looking for a fourth edge rusher to complement Sabastian Harsh, DeVonne Harris and Oluwaseyi Omotosho.
That guy could've been Cox.
"I was having a great camp, man," he said. "I got moved up with the starters and got a little taste of that. I was learning. I was being a sponge out there and learning plays really, really quickly."
That promotion came during the Cowboys' 10th practice of fall camp -- last Monday.
"It kind of hurt me a lot with this injury because I know I put in a lot of work in summer, like two months in the summer," he continued. "I was just grinding every day. Can't nobody see you grinding, but we were doing two-a-days, running and lifting. So, for this injury to happen, it's kind of thrown me off a little bit, honestly."
MORE UW FOOTBALL NEWS:
* 'I'm ready': UW's Wyett Ekeler confident it's his time at safety spot
* Alex Brown is healthy, motivated heading into crucial 2022 campaign
* QB Evan Svoboda had a big right arm, the confidence to match
* Wyoming's Nic Talich a man of many earned nicknames
Though the damage is physical, it's the mental part that can be the toughest to overcome when you go from the trenches to gym shorts and a t-shirt on the sideline. That's true for Cox, but it has also given the Missouri City, Texas product time to reflect on his decision to leave Tuscaloosa after just one season and head to the High Plains of Laramie.
"I think this is a really great place," he said. "... Being away from home, I really feel like this is my family away from home. This is somewhere I can really just lock in and just focus on myself and my goals. So, that's probably why I chose Wyoming, but it's also the people here. From the strength staff to the trainer down to the janitors, that's what really made me want to be here. I trust those guys. I'm injured right now, but they got me."
A graduate of Manvel High School in the Greater Houston Area, Cox received offers from Grambling State, Texas Southern and Arkansas-Pine Bluffs. He also visited SMU. After spending one season at Tyler Junior College (Texas), Cox bet on himself and walked on to the football dynasty built by Nick Saban at Alabama.
It didn't pan out.
He entered the NCAA Transfer Portal on Jan. 28 and fielded offers from a number of Historically Black Colleges and Universities as well as the University of Kansas. Cox, who made his official visit to Wyoming during the annual spring game last April, said it didn't take long to realize he had found a new home.
Why?
Because of you.
"I was like, 'why are so many people here?' Then I realized, it's just us," Cox said. "All we have here is us in Wyoming. We don't have any pro teams, it's just us. That's a good feeling to have. You've got everyone around you rooting for you. They want to see you do good. Like I said, there are great people here."
There's another reason, too. His new head coach reminds him of the one he just left.
"They're all about holding yourself accountable and all about the team. They kind of have the same characteristics," Cox said of Bohl and Saban. "They're all about, you know, It's not 'I' -- that's why we don't have our names on the back of our jerseys. Some people get mad about it, but I understand -- we're a team.
"... That's how Bohl is. He speaks to us and he motivates us, as a team. He doesn't really individualize guys out there. Even if you're a great player here, he's still going to hold you to the same accountability as the worst player here."
Just The Facts: Size Doesn't Matter For Wyoming's War Memorial Stadium
Did you know it would take the populations of
Gillette
(32,857),
Laramie
(32,381),
Rock Springs
(23,319),
Sheridan
(17,844) and Wright (1,200) to create a sellout inside Michigan's famed 107,601-seat
Big House
, the largest college football stadium in the nation?
For those of you not familiar with the
Cowboy State
, those are Wyoming's third through sixth most inhabited cities, along with the small mining town in Campbell County.
- Just The Facts: Size Doesn't Matter For Wyoming's War Memorial Stadium