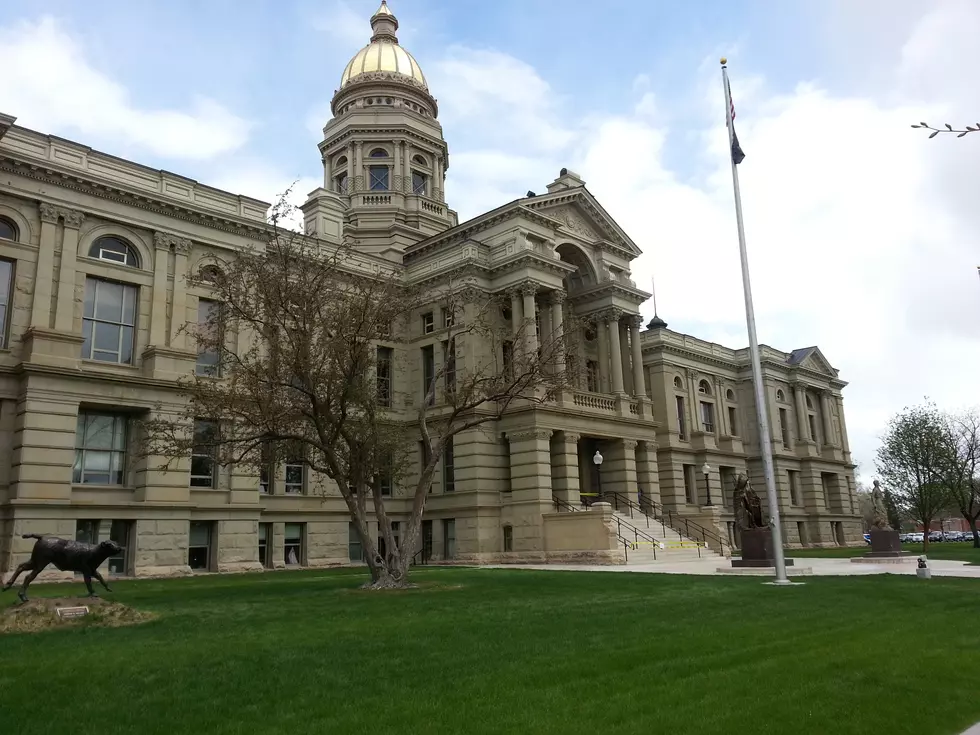 Wyoming Gov. Releases Budget Proposal; New Cuts 'Imperative'
Amy Richards, Townsquare Media
Historically, the state has largely depended on revenue from the mineral extraction industry. But with Wyoming's coal production down 35% over the past decade and natural gas companies halting drilling, Gordon told the Wyoming Legislature that the boom and bust cycles to which the state is accustomed may be at an end.
"Cynics might suggest that... we need only wait for the markets to turn around," Gordon wrote. "This time though, we may well be experiencing a more fundamental change."
He said low-carbon policies established within 38 states and internationally "have exacerbated an already volatile marketplace and have the potential to reverse the growth Wyoming's oil industry has realized and further repress rebounds in already stressed gas and coal markets." The governor added that Wyoming needs to prepare for the future, with additional spending cuts approaching and '"imperative to keep Wyoming moving forward."
Gordon's budget, he said, "keeps ongoing spending low; calls for a significant reduction in capital construction; employs a new approach to one-time spending; and limits the use of our rainy day fund solely for legislatively-mandated educational needs and local communities."
The four areas which saw the largest change in dollar amount to their funding request under Gordon's proposal are the Department of Health, state capital construction, the University of Wyoming and capital construction within the state construction department.
Gordon's proposal would entirely nix the Wyoming Business Council's request for additional funding beyond its standard budget, or the amount necessary to continue operating at the same capacity over the next two years. That request totaled $6,354,566.
The standard budget for UW was set at over $435 million and the university requested an additional $65.8 million. Gordon approved only $2.5 million in additional funds.
The Department of Health, with a standard budget of over $1.95 billion, requested an additional $86.8 million. Gordon trimmed that request by nearly $31 million.
Most of the changes Gordon made to agency funding requests were in the category of grants and aid payment at over $117 million. The next-largest category was capital expenditures at $91 million, followed by contractual services at $31.8 million and personal services at $30.6 million.
Gordon told legislators that he supported funding only $94.7 million of the $150 million worth of capital construction projects proposed.
"This is a cut. I am concerned that the decision to build new projects does not always contemplate the amount of ongoing funding that is needed for maintenance and upkeep," Gordon wrote.
He also said that Wyoming faces a number of "workforce challenges," with most agencies asking the state to fund new positions. The new employees requested total 127.
"These requests reflect the reality that our government has to do more with less. Yet because of the lack of ongoing revenue, I only supported the addition of a handful of new positions -- almost all in the realm of health and human safety -- and minimized use of general funds," Gordon wrote.
"I do so knowing that important functions of government will suffer as a result, but our revenue outlook cannot support an expanding government," Gordon said.
He made another note about state government, saying it cannot diversify the economy -- rather, it can only create the "environment necessary for businesses to grow and flourish."
"All of us know that a strong private sector is what truly sustains Wyoming," Gordon continued. "I am asking all members of Wyoming government to be cost-conscious and think of ways they can facilitate private sector success. Rather than growing government, let us grow opportunity."
Wyoming will continue to fight for the industries which have historically contributed the greatest revenue and which are best positioned to buoy the state going forward. Gordon identified the mining, oil and gas, tourism and agriculture sectors as crucial, saying the state will "fight for their economic viability at every turn."
Gordon pointed to the closure of coal-fired power plants, federal protections for threatened species and failed attempts to establish a coal export terminal on the west coast as issues in which Wyoming should take a keen interest, advocating on behalf of the energy companies involved. To that end, he proposed adding $1 million to expand and preserve the coal market.
Gordon also wants to see the state drive innovation, proposing $25 million in funding for an energy commercialization program considered by the state minerals committee.
Tourism and outdoor recreation are quickly growing in the state, Gordon said, with impressive employment numbers. He said the state has not done enough to support tourism, pointing to a lodging tax that the industry proposed last year which was not approved by legislators.
Gordon made no reductions to the exception request of $47.4 million from the Department of Education, which would bring their budget for 2020-2021 to just over $326 million. Gordon said increased funding would go to both school districts and school construction.
"In fact, this year the proposal is for $238 million in school construction -- an amount I think is more than adequate, especially as that includes $10 million for school safety projects," Gordon wrote. He also said the budget is strongly supportive of higher education, and he supported several new one-time investments, "especially those that align with the economic opportunities our state is cultivating."
While some one-time investments in health care are included in Gordon's budget, he said, "there is much that we could not afford."
"The Legislature's Joint Labor, Health and Social Services Committee requested an increase of $24.5 million in ongoing general fund dollars for long-term care and psychiatric residential treatment facilities," Gordon explained. "This request alone would have outstripped all the structural funding available at this time. To fund projects like this, new revenue must be found or cuts identified."
Gordon added that the lack of funding in health and human services coincides with the continued rising cost of education.
"The courts have said we cannot deny those requests," Gordon wrote. "This year my budget includes an increase of $38 million for the external cost adjustment for schools."
The state also lacks funds to improve the criminal justice system. However, Gordon supported an additional $2.6 million in funding for the state public defender's office -- dollars which he said are based on constitutional necessity.
The Wyoming Legislature meets in February for a budget session to consider the funding requests.
Enter your number to get our mobile branded app