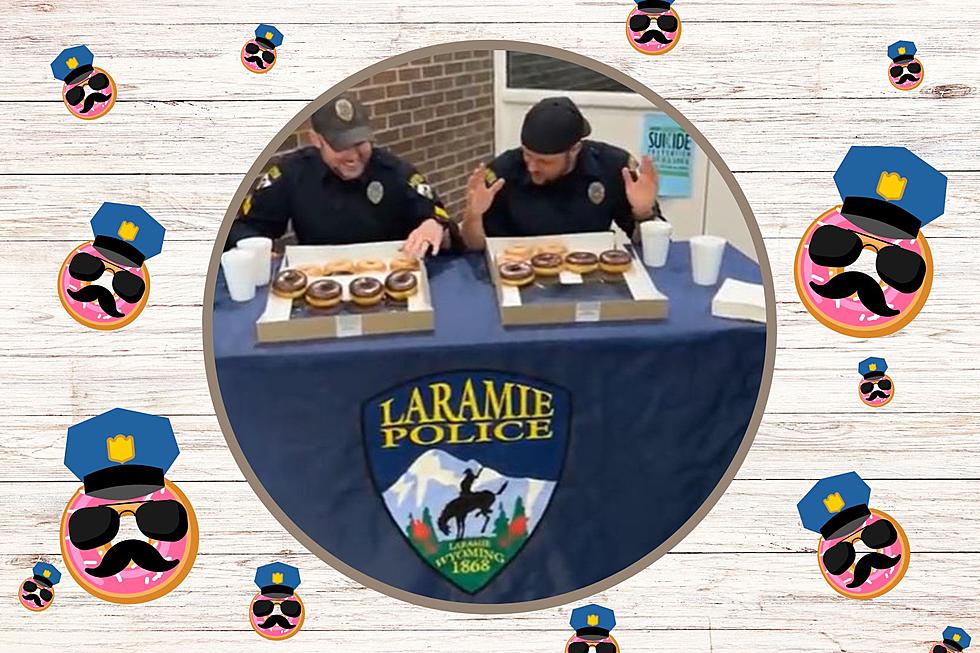 [WATCH] Laramie Police Hold 1st Annual Donut Eating Competition
Canva Pro
Instead of handing out citations, the Laramie Police Department handed out donuts Friday instead. Hundreds of Laramites received a donut and some casual police conversation as part of LPD's initiative for more community engagement.
To celebrate National Donut Day, Sergeant Craig Lenhardt said the idea was a no-brainer.  "Cops and donuts? Of course!" 
Lenhardt said one of new Police Chief Brian Brown's goals is to facilitate more engagement with the public, so hosting Donuts with Cops was Lenhardt's idea to encourage that process. The department wants to initiate positive public relations and as Sgt. Lenhardt said, "We want to get to know people in our community, have real conversations with them."
Lenhardt, who was an officer in Colorado, said the LPD is "a wonderful department to work for.  We love our community.  We live in our community; therefore, we're invested in it. We look out for each other here, and our Department is full of really good people."
Today, LPD went above and beyond with their donut day, too, by hand-delivering some donuts to another local nonprofit when the request was made by a resident enjoying their own free donut at the station. 
Veteran officer Lieutenant Taun Smith happily agreed to the delivery and also brewed fresh coffee to accompany the donuts. Smith reiterated the positive culture at the LPD, that after some years of difficulty, the department is doing good things and has great people on board. 
The donuts were purchased by the Laramie Police Foundation, a non-profit with similar goals as Chief Browne's.  The Foundation supports the LPD in its community outreach efforts, training, and educational opportunities and overall strengthens the relationship between the police and the city of Laramie. 
In addition to sharing sweet treats with Laramie, the officers at the Police Department also hosted their first annual donut eating contest. It was a delicious battle that shall no doubt go down in the history books - check it out below:
Cops & Donuts: Laramie Police on National Donut Day 2023
A far better pairing than peas and carrots, Laramie Police Department celebrated National Donut Day by hosting Cops and Donuts. The LPD handed out free donuts to members of the community who stopped in to say hello.