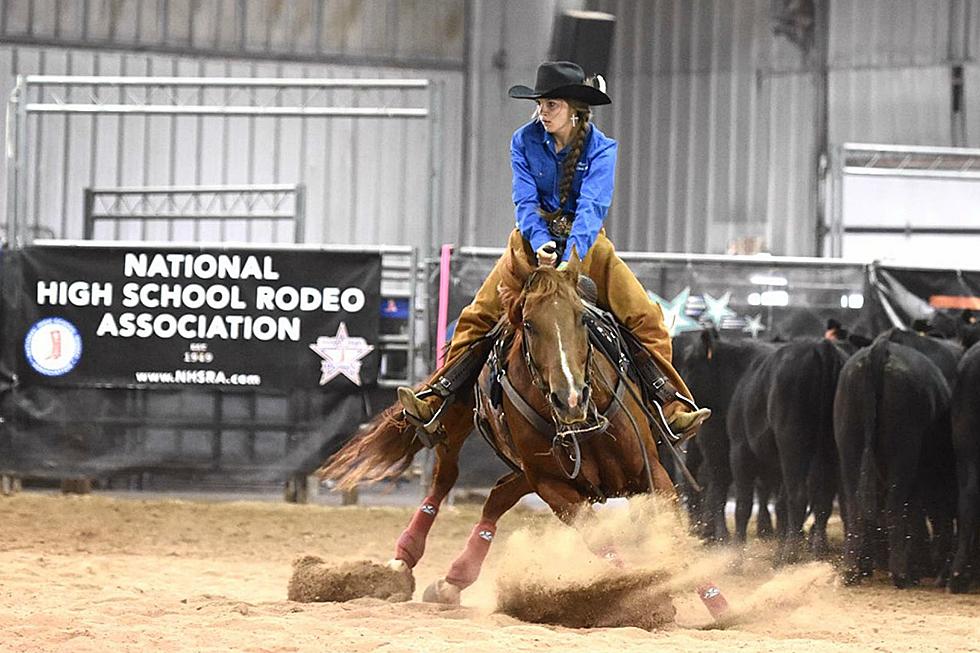 Prep Rodeo Resumes with Spring Season
Photo Courtesy: Joan Snyder-Mitchell
The high school rodeo season is underway with the circuit stopping in Laramie 2 weeks ago and in Rock Springs last week. In the first performance in Rock Springs on Friday, Saratoga's Tuker Carricato won the bareback with a 74, Jase Longwell of Thermopolis had a 64 in the saddle bronc to take 1st and Brenson Bartlett of Cheyenne carded a 78 in the bullriding to win the round. In the boy's timed events, Jace Mayfield of Midwest was on top of the leaderboard in the steer wrestling in 6.53, Broc Schwartzkoph from Douglas had a 14 flat to win the tie-down roping while Cam Johnson of Buffalo and Cael Espenscheid of Big Piney won the team roping with a clocking of 8.64.
On the girl's side, Haiden Thompson of Yoder who is the defending national champion in the goat tying won that event in the first perf in Rock Springs with a time of 6.97. Ashlyn Goven of Rozet ran 15.519 to win the barrel racing and the breakaway roping winner was Kaeley Hutchison from Rozet in 2.65. Wheatland's Rayne Grant won the first session of the pole bending in 20.177
In Saturday's 2nd performance, Tuker Carricato made it 2 for 2 in the bareback with a 72. Jase Longwell was 2 for 2 in the saddle bronc with a 59 and the same goes for Brensen Bartlett of Cheyenne in bull riding with a 65. Jace Mayfield won again in steer wrestling with a 5.39 while Coy Thar of Rozet posted a 10.41 to win the tie-down roping. In team roping, the top time on Saturday was turned in by Glade Parker of Laramie and Grady Longwell of Evansville in 8.33
On the ladies' side on Saturday, Hadley Furnival of Casper had a time is 2.26 for first place, Raelee Caldwell from Gillette had a 6.76 in the goat tying to win the session, the barrel racing winner on Saturday was Sydney Oedekoven of Gillette in 15.605 with Rayne Grant of Wheatland going 2 for 2 in the pole bending.
This week's prep rodeo will be in Torrington on Friday and Saturday.
Big Piney High School Rodeo
Big Piney High School Rodeo