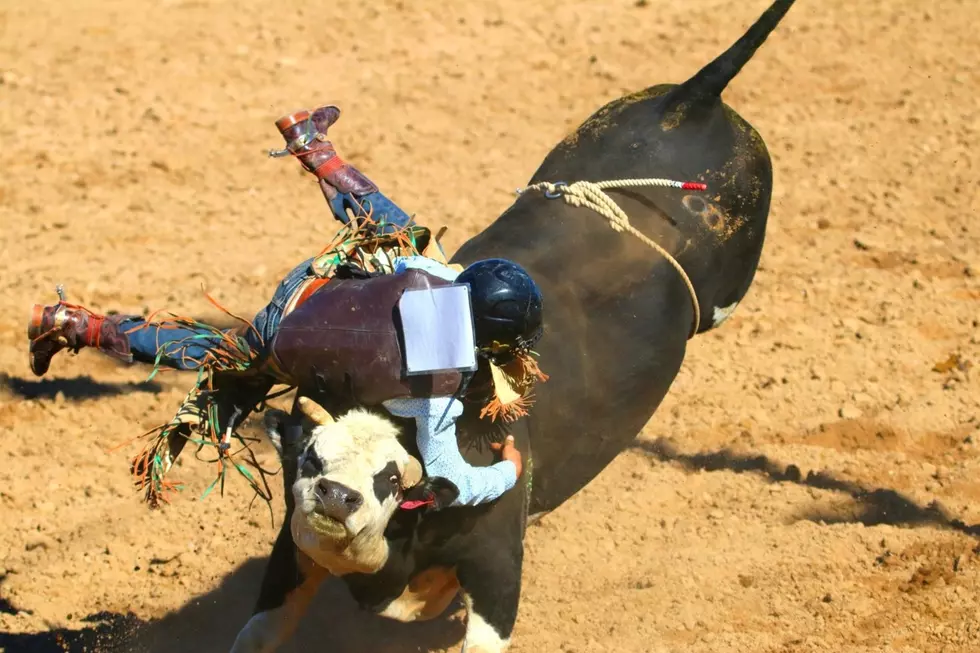 Fall Rodeo Season Concludes in Wheatland
Photo Courtesy: Mark DeLap
The high school rodeo season cruised along over the weekend with a 2-day event in Wheatland. There were 3 stops on the fall schedule and the rodeo season will resume in the spring. In the first session in Wheatland on Saturday, Tuker Carricato of Saratoga won the bareback with a 71, Cheyenne's Brenson Bartlett had the only qualified ride with a 73, and Jake Schlattmann of Greybull took first in the saddle bronc with a 61. In the boy's timed events on Saturday, Bohdi Coombs of Wellington, Colorado led the steer wrestling with a 6.31 with Cannon Campbell of Shoshoni 2nd in 9.13. Cory Bomhoff of Cheyenne had an 8.75 in the tie-down roping with Sage Romero of Rock Springs along with Gatlin Pendleton of Manila, Utah leading the team roping with a time of 8 flat.
On the girl's side on Saturday, Irelynn Campbell of Shoshoni had the best time in the barrel racing in 18.232 with Hadley Thompson of Yoder posting a 2.69 in the breakaway roping. Raelee Caldwell of Gillette led the goat tying in 7.38 and Tessa Sanderson of Sundance turned in a time of 21.03 to lead the pole bending.
In the Sundays session in Wheatland, Roedy Farrell from Thermopolis led the bareback with a 66, Gavin Firnekas out of the Gillette had the only qualified effort in bull riding with a 62, and Jake Schlattmann of Greybull made it 2 for 2 in the saddle bronc with a 54. Bohdi Coombs of Wellington went 2 for 2 in steer wrestling with a 5.54, Cade Thar from Rozet led the tie-down roping in 10.21 and Gillettes Talon Larson paired with Kashton Reynolds of Rozet to place first in the team roping in 7.23
In the ladies' events on Sunday, Abagail Olson from Sheridan led the barrel racing in 17.712 with Hadley Thompson of Yoder sweeping the breakaway roping in 2.62.  She also won Sunday's goat tying event in 6.41 with Shea Montgomery of Pine Bluffs taking first in the pole bending in 21.353.