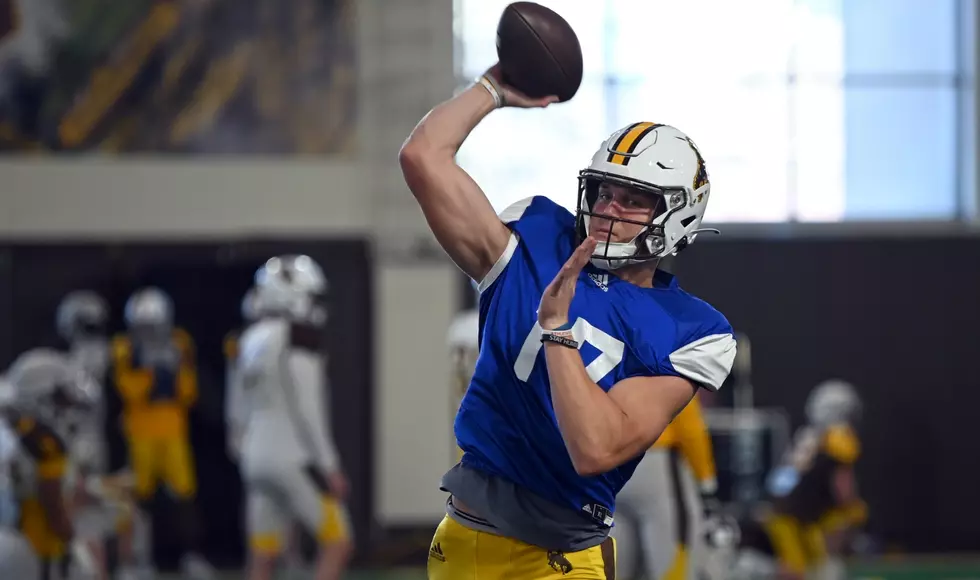 Pokes Practice Report: Force feeding with a firehose
Sophomore QB Evan Svoboda goes through individual drills inside the Cowboys' indoor practice facility this spring./ DJ Johnson photo
LARAMIE -- Craig Bohl wants to simulate reality as much as he possibly can on the practice field.
Tuesday afternoon on a mostly cloud-covered, blustery day inside War Memorial Stadium, Wyoming's ninth-year head coach started by throwing his young quarterbacks into the fire.
Not only was it live 11-on-11, every snap came on a third-and-long situation.
"We're continuing to force feed -- particularly our quarterbacks -- with a firehose and give them a lot of different looks," Bohl said. "... The quarterbacks threw the ball better than what they had. In that situation, there's a lot of chaotic things that go on. There's multiple reads. So, to put those quarterbacks under those situations is helpful. The more we can do that the better off it's going to be. You know, it certainly was not perfect, but there were a lot of good things during that session."
It was a continuation of Saturday's scrimmage, according to Bohl. He said his offense ran 77 plays and produced its most productive day of the spring.
:"We were in sync," he added.
DQ James, despite battling a stomach virus, made multiple big plays in the run game, Bohl said. The redshirt freshman running back from Lancaster, Texas has caught the eye of UW's staff all spring. His breakneck speed, change of direction and football IQ have led to more work.
"He's probably the most improved guy," UW running backs coach Gordie Haug said. "He's such an explosive athlete."
MORE UW FOOTBALL COVERAGE:
* Bertagnole: 'My mindset is to just keep my motor running'
* Wyoming's Frank Crum relishes new leadership role
* Former Ole Miss cornerback Jakorey Hawkins embracing Wyoming way
* Hank Gibbs in the hunt for starting QB role in Laramie
Bohl also pointed out the play of Utah State transfer Andrew Peasley, who is the most experienced QB on the roster with 16 FBS appearances under his belt. Another signal caller, Evan Svoboda, also received a shoutout from his head coach.
"He really did some great things, as well," Bohl said of the 6-foot-5, 240-pound Snow College transfer. "So, we're pleased with the progress."
Here are some other news and notes from this week at camp:
* Ralph Fawaz handled the punting duties in 2021. He was even put on scholarship after averaging 42.5 yards per boot. Does that mean he is the automatic starter this season? Not exactly. "I think we've got a pretty good battle going on at the punting position, more so than what we've had," Bohl said. "So, we'll continue to look at that." Clayton Stewart, last season's transfer from Texas State, is also in the running. Stay tuned.
* Easton Gibbs will be the Cowboys' starting middle linebacker this fall. Tuesday, he showed why he is the man for the job, stuffing a leaping running back at the goal line. "He came up and really made a great tackle," Bohl said. "The tailback was launching over from about the six-inch line. There was some spirited work there."
* Wyoming lost one of its five quarterbacks on the roster last week, but also gained a new wide receiver. And it's the same guy. Gavin Beerup traded in his blue No. 3 jersey for a brown one and was catching passes Tuesday afternoon. A right shoulder injury forced him to miss a majority of the 2021 season. That, along with the numbers game, limited his reps under center this spring. Look for the full story on Beerup at 7220sports.com very soon.
* About those wide receivers. Joshua Cobbs earned himself a game ball Tuesday after making a leaping grab in the end zone. What are Bohl's thoughts on this group as a whole? "(We're) making progress," he said bluntly. He did point out the emergence of Wyatt Wieland, saying he became the "go-to guy" late last season. Gunner Gentry is also returning this fall after suffering a left knee injury. He has not participated in spring ball.
* A number of UW's staff members will travel to suburban Denver this Friday to spend the day with former linebacker Chad Muma. That is the day he is expected to hear his name called in the NFL Draft. Bohl was asked what his dialogue has been with NFL personnel since pro day. "Mum's the word," according to Bohl, though he did say Muma, like Logan Wilson, Marcus Epps, Chase Roullier, and many others, shows what is happening in Laramie is working at the next level. "It's another great example of a Wyoming player that has come here and has developed that is going to be a big player on the biggest stage in football," Bohl said. "We're going to be excited to see where Chad goes." The NFL Draft will begin Thursday and go through Saturday afternoon.
* How is the vibe of the spring camp compared to the previous eight for the head coach? "Just some excitement from the standpoint that there are so many unknowns and how this composition of this club comes into play," Bohl said. "You know, we ended the year with a great bowl win with a lot of enthusiasm. Then, we had some players who departed, then we had some players that have joined. We've got new positions opened. There will not be a depth chart that's going to be released. I think that's just an indication that there's a lot of continuing competition. I have noticed a feeling of coming together as a football team. Guys want to be here, they want to support one another. So, you know, setting long term goals and all that, I think this group is just striving to get better each day and that's all we can ask for right now."
* What has Bohl learned most about his young group so far in camp? "There's a competitive edge," he said. "They really want to be good. The other thing I've learned is that you have guys that are being unselfish, that are playing in different places and they're not complaining about it. They're just doing whatever they need to do for the football team. It's been my experience that when you can have that type of attitude, you can go a long way with that. So we'll need to keep on leveraging that."
* Make sure to download our free 7220sports.com mobile app for all the latest up-to-the-minute University of Wyoming sports news. It's available on Apple and Android. You can also sign up for our daily newsletter right HERE.
* Make sure to follow us on Facebook and Twitter @7220sports
* The Cowboys annual spring game is scheduled for April 30 at 2 p.m. inside War Memorial Stadium.
Wyoming Cowboys football players in the NFL: Then and now