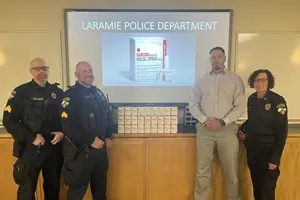 Laramie Police Now Equipped With Narcan
Laramie Police Department
Police officers in Laramie have a new lifesaving tool to protect citizens as well as themselves.
Assistant Chief of Police Robert Terry says the department recently implemented a Narcan program and has obtained 96 boxes of the prescription medication, which is designed to quickly help reverse the effects of an opioid overdose, to be handed out to its employees.
Available for free through the Wyoming Department of Health, Terry says each box of Narcan, which contains two doses, is worth about $47.50 and has a shelf life of two years.
"Pretty much any boots-on-the-ground employee as well as certain office staff will have the training and be equipped with it," he said.
Terry says Albany County Sheriff's deputies and Laramie Fire Department EMTs have been carrying Narcan for many years and have been excellent in responding to medical calls and administering the opioid antagonist when needed, and the police department felt it was time to get with the program.
"We are seeing more and more instances where citizens within the city limits ... they're in distress or overdosing," said Terry. "It's just to the point now where we believe that it's just the right thing to do and get on board before it gets out of hand."
"I think it's important to get the message out to our community that we're taking steps to ensure the safety of the officers and the citizens," he added. "Like it or not, heroin and other opioids are in our community, they're making a mess out of the community, and people's lives are at risk."
According to WDH data, 106 Wyomingites died from overdoses in 2021, compared to 99 in 2020, 78 in 2019, 65 in 2018, 62 in 2017, 94 in 2016, 96 in 2015, 106 in 2014, 96 in 2013, and 99 in 2012.
READ MORE:
WATCH: Laramie County Deputies Use Narcan to Save Inmate's Life
Man Built Colorado Magic Mushroom House on Hallucinogenic Drugs
Take a tour of The Magic Mushroom House in Aspen which was built by a man who was under the influence of hallucinogenic drugs.