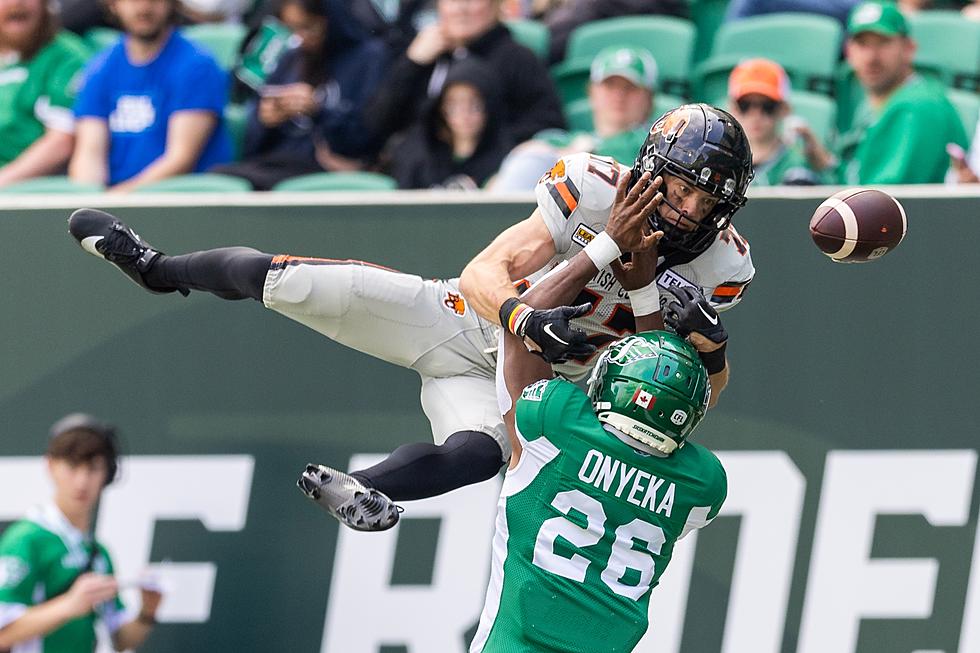 Former Wyoming Wideout Making His Mark Up North
REGINA, CANADA - MAY 27: Ayden Eberhardt #77 of the BC Lions attempts to make a leaping catch over Godfrey Onyeka #26 of the Saskatchewan Roughriders in the first half of the game at Mosaic Stadium on May 27, 2023 in Regina, Canada. (Photo by Brent Just/Getty Images)
LARAMIE -- British Columbia released 13 players from its roster Monday.
Ayden Eberhardt wasn't one of those.
The former Wyoming wide receiver, who now sports a No. 77 jersey, snagged six passes for 108 yards in a 30-27 loss to the Saskatchewan Roughriders Saturday in Regina. That was a Canadian Football League preseason tilt.
In other words, a chance to impress, something the 25-year-old Loveland, Colo., product has been doing since his college days in Laramie.
"If you can get open and get a little bit of separation, catch the ball and keep it moving down the field or score a touchdown, you're going to improve your chances a lot," Eberhardt told cfjctoday.com.
"He steps up in big moments and that's what he's done all camp," BC receivers coach Jason Tucker added. "He's always in the right spots and is always making plays."
Eberhardt, who was signed by the Lions as a free agent in January, capped his UW career with 50 receptions for 764 yards. He also hauled in a pair of touchdown passes during the 2019 season. One of those was a 53-yard long ball from Sean Chambers at Tulsa. The other, a SportsCenter Top-10 play in the Cowboys Arizona Bowl victory over Georgia State.
Levi Williams was hammered on that heave. Eberhardt weaved his way back through the Panthers' secondary to retrieve the jump ball before scampering into the end zone. That was officially a 51-yard scoring strike to give UW a 24-10 halftime lead.
The 6-foot-2, 195-pound then-senior saved his best statistical season for his last on the high plains, hauling in a career-high 21 catches for 298 yards. He appeared in just eight games after suffering a season-ending knee injury.
That was a memorable moment for Eberhardt, too.
In the dying minutes of a road loss at San Jose State, Wyoming's sure-handed wideout blew off the line, faked right and cut back to the inside. He told Williams he should be wide open for a long ball.
It wasn't meant to be.
"It just gave out," he said back in March of 2022. "I knew right away something bad had happened."
Eberhardt completely tore the ACL in his right knee. His meniscus didn't survive the jolt either.
Memorable might not sound like the accurate adjective to describe the moment. It was what Eberhardt did after the injury that showed his commitment to winning.
Behind the play, Williams, for a second straight snap, was on his back courtesy of SJSU defensive end Cade Hall. With the play clock still ticking away -- and the danger of a 10-second runoff for an injury -- Eberhardt knew he had to get to the sideline to keep the visitors' hopes alive.
"I went into survival mode," he joked. "I hobbled across the field as fast as I could."
Eberhardt saved the Cowboys precious seconds. Unfortunately, a pair of incomplete passes that followed sealed the deal.
"I really want to applaud him though," Wyoming head coach Craig Bohl said postgame. "... We were under one minute, and he was way on the far side and ran off the field as opposed to going down because of the 10-second (play clock) run off. I think that embodies where our team is at. I mean, they're fighting and we're going to keep them in the fight."
The former walk-on wasn't able to perform at Wyoming's annual Pro Day that spring. He did go through the measurements and meet with NFL personnel. Cone drills, running routes and leaping for balls wasn't an option yet.
Instead, that afternoon in Laramie, he played the role of mentor and cheerleader. He was pretty good at those roles, too.
"I cannot put into words what Ayden Eberhardt means to our program," Bohl said in 2022. "You know, he's a guy that shows up every day, he's encouraging to other guys, he's competent, he makes plays, he's humble, he works hard, he's a great leader and he's always encouraging younger players."
Eberhardt and the Lions will host Calgary in their final preseason contest of the spring. The real deal gets underway against those same Stampeders June 8.
Other notable Wyoming Cowboys to play in the CFL, according to CFL.ca:
* Sean Fleming - Placekicker
* Tyrone Williams - Defensive tackle
* Tyran Finley - Defensive back
* Tanner Gentry - Wide receiver
* Robert Herron - Wide receiver
* Brian Hill - Running back
* Korey Jones - Linebacker
* Nehemie Kankolongo - Linebacker
* Gabe Knapton - Defensive end
* DJ May - Linebacker
* Robert Priester - Defensive back
* Kevin Prosser - Defensive line
* Brett Smith - Quarterback
* Lucas Wacha - Linebacker
* Shaun Wick - Running back
* Eddie Yarbrough - Defensive end
* Corey Mace - Defensive line
* Vic Washington - Running back/ Kick returner
* Darnell Clash - Defensive back
* Tom Wilkinson - Quarterback
* Mike Dirks - Defensive tackle
* James A. Eliopulos - Linebacker
* Rick Egloff - Quarterback
* Brock Ralph - Wide receiver
University of Wyoming's Top 50 Football Players
The rules are simple: What was the player's impact while in Laramie? That means NFL stats, draft status or any other accolade earned outside of UW is irrelevant when it comes to this list.
This isn't a one-man job. This task called for a panel of experts. Joining 7220's Cody Tucker are Robert Gagliardi, Jared Newland, Ryan Thorburn, and Kevin McKinney.
We all compiled our own list of 50 and let computer averages do the work. Think BCS -- only we hope this catalog is fairer.
Don't agree with a selection? Feel free to sound off on our Twitter:
@7220sports
- #Top50UWFB
- University of Wyoming's Top 50 Football Players
LOOK: Pokes' unis through the years