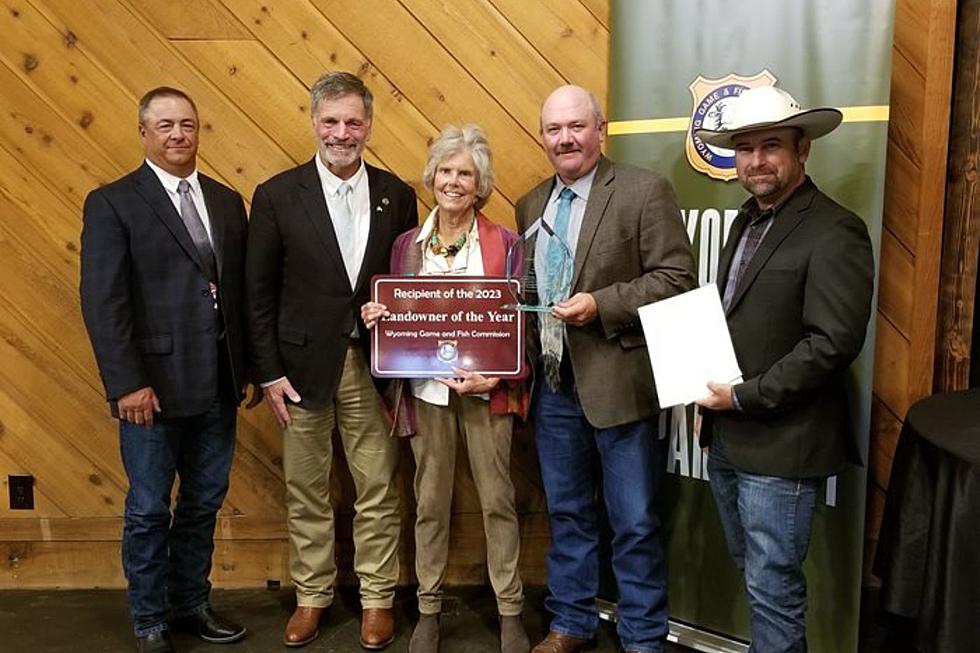 Albany County Ranch Owners Honored for Land Stewardship
Wyoming Game & Fish
Albany County landowners were recognized by the Wyoming Game and Fish Department yesterday for their stewardship of the land. 
Landowner of the Year awards are given to those demonstrating "outstanding wildlife management and implemented habitat improvement and conservation techniques on their properties," said Breanna Ball of the WGF in the news release. 
Wyoming Game and Fish has recognized landowners for nearly 30 years and appreciates their willingness to cooperate with WGF for research and recreation on thousands of Wyoming acres and maintain habitat for wildlife. 
Bookout Ranch, LLC is one of seven landowner locations that were recognized in the state. 
Four families are part of the ranch: Pat Bookout and family, Jed Gerig and his family, Robert and Christina Burke, and Steve and Megan Nott.
Ball said that Bookout Ranch "Has been instrumental to Game and Fish with a variety of wildlife and habitat projects for many years, and allowed access for projects involving black bears, mule deer, bighorn sheep, bats, and cheatgrass treatments."
In addition to active land and wildlife stewardship, the Bookout Ranch played a significant part in the WGF Mule Deer Monitoring Project. The Laramie Mountains mule deer herd was selected as a focal herd for the project, and the Bookouts allowed access for capturing and collaring mule deer, and collar retrieving. 
Bighorn sheep are also being monitored on Laramie Peak as part of a statewide disease monitoring effort, "and thanks to the Bookouts, Game and Fish has 25 GPS collars on bighorn sheep throughout the herd," Ball said. 
Six other ranches were recognized. Neighboring Ogallala Ranch in Converse County, owned by Josh and Kayla Moore, was included, along with Mexican Creek Ranch in Fremont County owned by Richard (late) and Perry Cook; Sage Creek and True North Ranches in Park County owned by Anne Young and her late husband, Jim Nielson; the Rock Springs Grazing Association in Sweetwater County led by John W. Hay III and Don Schramm; Bateman Ranch in Lincoln County owned by Richard and Brenda Bateman; and the Leo Land and Livestock and RF Ranch in Sheridan County Owned by Kathleen Hollcroft and her son, Sam Reinke.
Potty Painting Party
The US Forest Service Laramie Ranger district decided to prettify its potties. The restrooms at two highly used camgrounds in the Medicine Bow National Forest near Vedauwoo were chosen to showcase "Responsible Recreation" themed art.