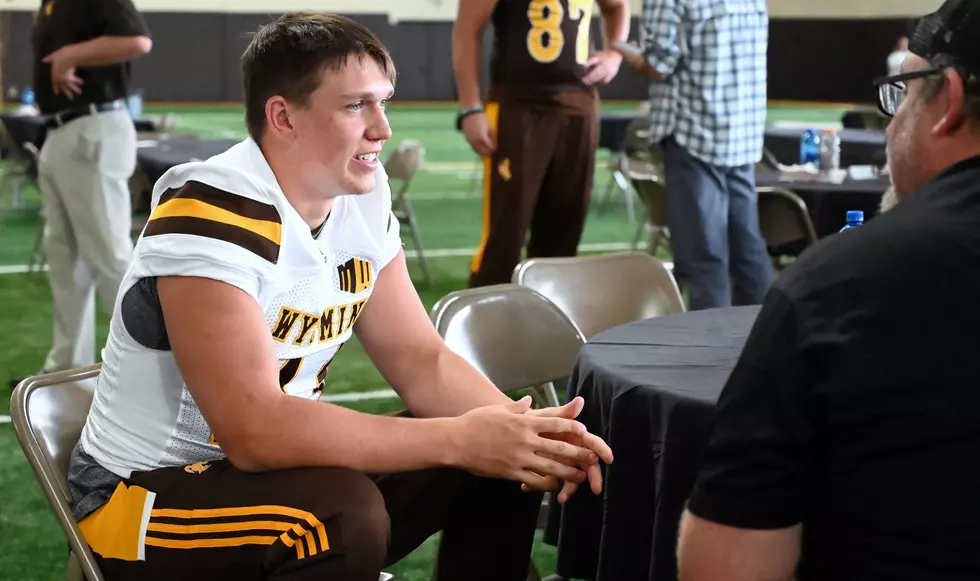 Wyoming's Nic Talich is a man of many earned nicknames
Wyoming redshirt freshman linebacker Nic Talich talks with reporters during the Cowboys' annual media day Wednesday in Laramie./ DJ Johnson
LARAMIE -- Playmaker. Jack of all trades. Secret weapon.
Nic Talich has earned many nicknames since arriving on campus last fall, but a new moniker he is working on is: contributor. Whether that's in the middle of the Cowboys' defense or on special teams, the walk-on from Cody brings a simple philosophy to the locker room every day.
"I play anywhere that they need me," he said, an infectious grin creasing his face.
He's not kidding either.
And you would know that if you were in attendance at the Cowboys' annual spring game. On consecutive drives in the second quarter, No. 41 brought down running back Joey Braasch in the backfield.
A quick glance at the roster would tell you that was a 6-foot, 217-pound linebacker with the tackles for loss. Only Talich wasn't playing his natural position. He was lined up at ... nose guard?
Huh?
"I think Jordan Bertagnole needs to watch out, I'm coming for your spot as well," Talich joked, referring to the guy who actually plays that position and stands 6-foot-4 and weighs 283 pounds. "I haven't played cornerback yet. That's the only position."
Aaron Bohl, UW's linebackers coach, said there are times Talich isn't even asked to step in for guys. He wants to do it.
"He doesn't even blink an eye," he said, referring to Talich's time on the Cowboys' scout team. "He asks if guys need breaks. He just loves playing any spot, honestly."
Oscar Giles bestowed on Talich the "playmaker" nickname. There's a reason.
"He just goes and attacks it," UW's new defensive tackles coach said. "I always tell the guys, 'all he does is make plays.' I love it. I love that coach gave me a secret weapon."
MORE UW FOOTBALL NEWS:
* Bohl sees 'greatness' in young roster, plans to hang a banner soon
* Father's murder motivates josh Cobbs to become Wyoming's top WR
* Wyoming's new defensive tackles coach is shacking up in the dorms
* You won't be hearing any title talk from these Cowboys
The redshirt freshman is battling his way up the depth chart, but he's realistic about his chances of taking a snap on defense this fall. There's a logjam at his position. He says the linebackers' room is "loaded."
While he might sound like Wyoming's version of "Rudy" he's anything but that. Though he doesn't yet have a scholarship, he embodies what head coach Craig Bohl looks for in a football player: tough, scrappy and talented.
It runs in the family.
His father, Jim Talich, is still the school's third all-time tackler with 440. His uncle, Cory Talich, was a standout linebacker at UW in the 90's. He tallied 167 stops of his own.
Those two graduated from Pine Bluffs High School with little fanfare. They were walk-ons. They earned it.
Sound familiar?
Just wearing this jersey is an honor not lost on the younger Talich.
"As soon as I came out of the womb, he just started pumping the brown and gold to me," he said of his father. "So, it's always been my dream to play here. That was my dream because I looked up to him as a kid. I still do now.
"You know, I'm here because I love the state. I love the school. That's what I wanted to do. I just want to be a Cowboy."
Talich's cousin, Nathaniel Talich, is carrying on the family tradition on the hardwood, too. He is a preferred walk-on for Jeff Linder and the Cowboy basketball team. There's another one coming down the pike, too -- possibly.
Talich's younger brother, Luke Talich, is a senior at Cody High School. Just yesterday he posted a photo on Twitter of himself on his official visit to Oregon State. Montana State is also interested in the Broncs' QB.
Still, he's coming to Wyoming, right?
"I can't speak for him," Talich laughed. "But, you know, he loves the Pokes, too. I shouldn't speak on it, but I'd be surprised if he doesn't end up here."
Any jealousy if he lands the first full-ride in the family?
"No, not at all," he said. "I think it would be awesome. He's worked for it. He deserves everything he's got. He's a heck of a player and a heck of a teammate. He's a really good person, too."
UW's third-year defensive coordinator, Jay Sawvel, could only smile when Talich's name was mentioned.
He's made that kind of impression.
Sawvel raved about his character, work ethic and attention to detail. If there's one thing Talich said he learned from Chad Muma and Easton Gibbs, it's to immerse yourself in the playbook. Learn it all, every aspect of the defense. That's what gave him the confidence to tell Sawvel he really didn't want to play safety, the position he was initially slated at.
"He told me, 'I went back to my room every night and was pounding burgers so I can get out of your (safeties) meeting room,'" Sawvel joked. "Nic's a great kid. He's come a long way as a player from one year to the next, so it's good to see what his progress can be and will be going forward. Because you know, one thing about him, he's going to give every single thing that he's got. So, it's a great thing."
Talich said the goal is simple -- he just wants to play. Even if that means he's in the trenches.
"I actually love it," he said with a smile. "It's perfect for me because if I make a play, it looks great. If I mess up, it's, 'oh, he doesn't play defensive tackle anyway.' It's perfect. Plus, if it means more reps, I get more reps."
PRESS PASS: Roaming The War
Wyoming Cowboys vs. Montana State Bobcats
-LOOK: Pokes vs. Bobcats