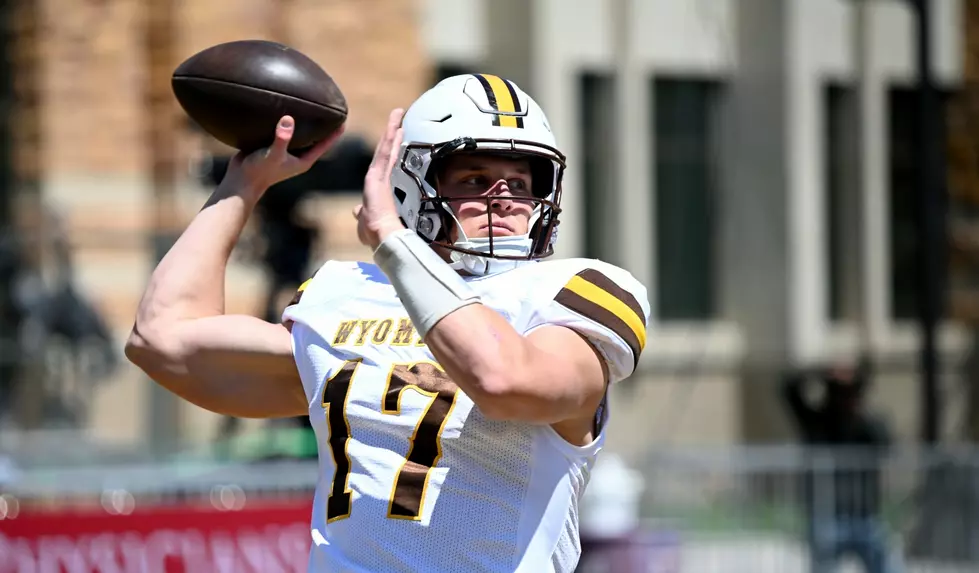 Wyoming's Evan Svoboda has a big right arm, the confidence to match
Wyoming QB Evan Svoboda has been impressing on the practice fields throughout fall camp./ DJ Johnson photo
LARAMIE -- We keep hearing Evan Svoboda has a rocket attached to his right shoulder.
So, when you've coached the quarterback with arguably the biggest arm in college football history, Josh Allen, it begs the question -- are they in the same conversation?
"He's still a young pup, but physically, he's really gifted," Bohl said Monday after the Cowboys' practice on the North 40. "It would be interesting to take him out there and have him throw as far as he can throw. (Those) are some of the things I saw Josh do. I don't know if he's in that realm, but he's not far off.
"He's at least a guy you look at and go, OK, that's a live arm."
Svoboda smiled when asked how far he can throw a football.
"It would go pretty far, I'll say that," the 6-foot-5, 240-pound sophomore said.
Yeah, but how far?
"If I had to guess, maybe 70 to 75 yards," he continued. "I'd get it out there a little bit."
Of course, Wyoming doesn't need Svoboda to do much of that. In fact, Bohl said he wants to see the easier stuff become second nature for the Arizona product, who spent last season at Snow College in Utah.
"He's starting to learn how to play," Wyoming's ninth-year head coach said. "You know, every once in a while I connect the dots and see 17 (Allen and Svoboda's jersey number). The ball comes out of his hand and there's some zip on it, but he's still got to become a little more accurate. Some of the manageable throws that you need to dish it and they've got to be right -- finesse throws -- he's got to improve on that. But we've seen good progress with him."
MORE UW FOOTBALL NEWS:
* Pokes Practice Report: Position battles heating up
* Wyoming's Un-Sweet 16: No. 1 Edwards vs. No. 16 Pumphrey
* Father's murder motivated Josh Cobbs to become UW's top WR
* Wyoming's new defensive tackles coach is shacking up in the dorms
Bohl said Svoboda has been taking reps with the first team, sharing some snaps with Utah State transfer Andrew Peasley. Though the staff has yet to name a starter for the Cowboys' Aug. 27 opener at Illinois, Svoboda's trajectory hasn't gone unnoticed.
"During that time, he didn't, you know, alter anything and he didn't panic," he said. "I thought he handled things well."
How does the man himself feel about his progress since the annual spring game when he connected on just 4-of-14 throws and tossed an interception?
"(I feel) way better," Svoboda said. "I mean, having that spring under my belt, getting introduced to the offense and everything, it's just been great. I'm feeling a lot more comfortable.
"I just need to continue to work on my accuracy and maybe get some of my footwork sharpened up. Then, just continue to understand defenses and manage the offense."
Let's just say the week before the Pokes take on the Illini in Champaign, Bohl and Co. tab Svoboda the starter. Is he ready?
"Yes, sir, I would be," he said, confidently. "I just have to continue to grind these next couple of weeks. But, you know, when that moment comes, whoever gets the opportunity, I'm sure they are going to shine."
PRESS PASS: Roaming The War
Wyoming Cowboys vs. Montana State Bobcats
-PRESS PASS: Roaming The War