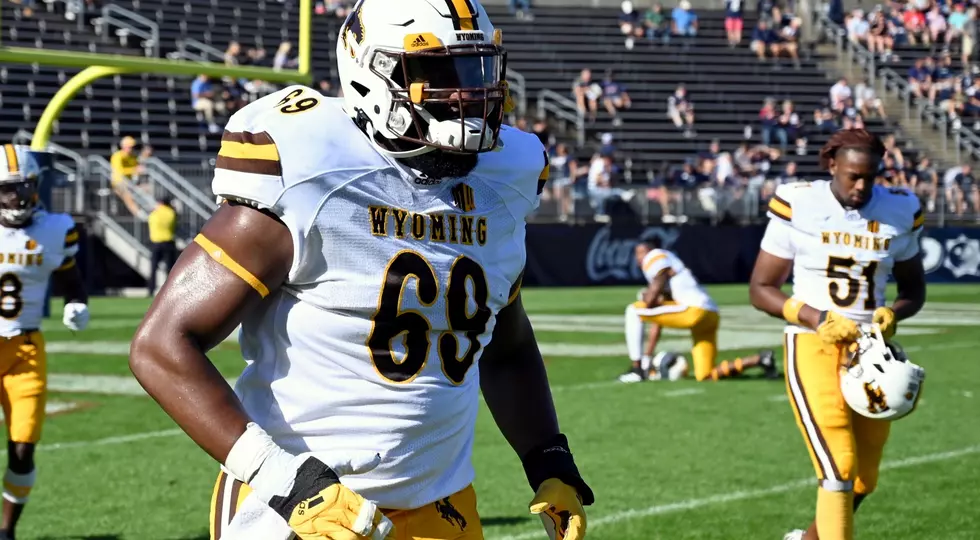 Wyoming's Eric Abojei: 'We definitely have something to prove'
Wyoming senior Eric Abojei is making the transition to left tackle after spending the previous five years at the guard spot./ DJ Johnson photo
LARAMIE -- Joe Tripodi hasn't busted out all the motivational tactics just yet.
Despite the Cowboys' season opener at Illinois being just 10 days away, Wyoming's new offensive line coach hasn't even mentioned to his group that he went to Northwestern, the Illini's in-state, Big Ten rival.
Eric Abojei doesn't need the extra provocation anyway.
Some, not all, the fuel he needs will be wearing a headset on the opposing sideline. That man is Bart Miller, the coach who once tried to keep the 6-foot-5, 330-pound lineman in his native Minnesota before eventually luring him to Laramie.
"You know, he coached us and now he's at that school," Abojei said of Miller, who spent two seasons at UW from 2019-20 before accepting the same position in Champaign. "So, we definitely have something to prove against him, just to show him that we are the better offensive line and you should've stayed here."
Abojei is not looking to dish out bulletin-board material, adding that he is thankful for Miller's belief in him.
But does it add to the intrigue of Week 1 for Wyoming's senior leader? You bet.
"Of course, 100%," he said when asked if he wants to show Miller he was right to recruit him. "I mean, I don't want to say too much about it, but it definitely does give me an extra little boost of confidence, some juice, just making sure that we can show him that we're OK without him."
MORE UW FOOTBALL NEWS:
* Current, former Cowboys sold wide out Chase Locke on Wyoming
* 'Bama transfer Keelan Cox has found a home on the High Plains
* Pokes Practice Report: Injury bug bites nickelback spot
* PODCAST: What's your level of excitement for Cowboy football right now?
Under Miller, Wyoming featured one of the top offensive lines in the nation, earning a spot on the Joe Moore Midseason Honor Roll in 2019. Before that season, the Cowboys' two-deep was littered with unknowns and a new position coach.
Thought to be a possible liability for Craig Bohl's run-first offense, that unit would be forced to grow up quickly. To make matters even more nerve-racking, Missouri was coming to town for the opener.
All the Cowboys did that evening inside War Memorial Stadium was bully an SEC team around in the trenches to the tune of 297 rushing yards on 42 attempts. That's an average of 7.1 yards per carry.
Fast forward to 2022.
Wyoming, once again, will trot out a young, unproven front five. Once again, there's a new voice leading the operation. Once again, the Cowboys will face a Power-5 opponent.
Does Abojei see any similarities?
"It's just one of those things that we should walk into this game feeling like we have something to prove," he said. "So, I guess, thinking back to that time when we beat Mizzou, it's nothing different. If we have any mistakes, we just come to the sideline, we make those adjustments and we come out and make sure that we really lock in so that we can beat a team like this. I mean, yeah, they are a pretty good defense and they have some good players, but that doesn't mean that we can't break that down and make some good plays."
This will be Abojei's sixth season in Laramie after redshirting in 2017 and being granted an additional year of eligibility due to the COVID-19 pandemic. "Big E" as he's known to his coaches and teammates, will not only look to lead this youthful offensive front this fall, he will also be transitioning into a new role.
After five seasons at the left guard spot, Abojei will slide over one spot to tackle.
Why?
Bohl said he has always been a "tweener," but his arm length and ability have given the staff some flexibility.
"This has always been talked about through the years," Wyoming's ninth-year head coach said. "Then we looked and said, 'OK, who are our best five?' We felt like, while he's a very capable guard, he gave us the ability to move to tackle and then we have a little bit more depth inside.
"... He's making great strides. He's not a finished product yet, but we're well pleased with where he's at."
Tripodi agreed, adding that Abojei also understands the importance of versatility if he hopes to one day play at the next level.
"Eric's a good football player," UW's first-year offensive line coach said. "... He wants to learn and he's a team guy. Now, has it been all perfect? No. You're playing in a phone booth your whole career and now you're working through some things where you can be on an island at times, right? But he's coming along, for sure."
Abojei said the biggest transition has been learning angles of different pass rushers and being alone in one-on-one situations on the outside. His days of popping up and immediately getting his hands on defensive tackles is a thing of the past.
"I'm dealing with guys that are fast, trying to work around their hands and trying to work with their different movements and stuff," he said. "So, that makes it harder. It makes me think even more. I think that's the toughest part is they can move so well it just makes me have to kind of push my body to strain to move at their pace."
Abojei knows his first true test won't be an easy one, but he's confident that he is getting plenty of experience facing the Cowboys' young, speedy ends each day in practice, expediting his development.
"Oh, it helps a lot. Those guys don't even play like young players, they play like they're four or five years into it," he said of facing Sabastian Harsh, DeVonne Harris and Oluwaseyi Omotosho, among others. "'Olu' hasn't even played a game yet, but that guy comes off the ball and he's ready to do so many different things. You don't even know what he's going to do.
"But it definitely helps because I go back to them and, you know, we learn off of each other. Like, if I beat them on something they ask me, 'OK, so what did you see? Or if they beat me, I come up to them and ask what they saw ... You know, that's huge."
Wyoming Cowboys football players in the NFL: Then and now