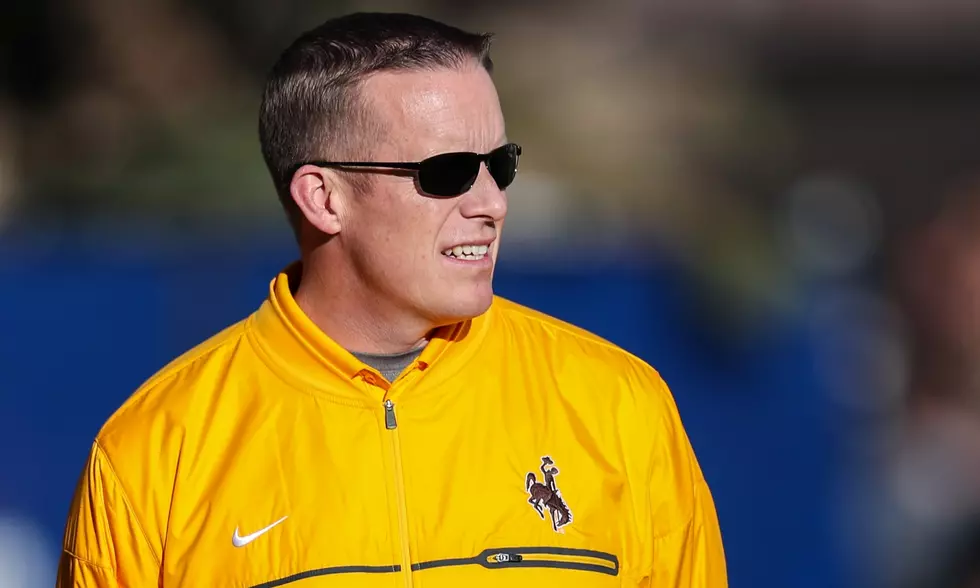 Who will replace Vigen in Laramie?
Craig Bohl and Brent Vigen (pictured) have coached together for the past 18 seasons. Saturday, for the first time, they will be on opposite sidelines./ UW courtesy photo
LARAMIE -- It's never too early for speculation, right?
Let's get right to it.
Craig Bohl's wheels certainly must be spinning. He hasn't hired an offensive coordinator since 2009 when Brent Vigen joined him at North Dakota State.
Enter your number to get our free mobile app
Here is a list of potential candidates who could replace Vigen as Wyoming's offensive coordinator:
Jovon Bouknight
You remember that guy. All Bouknight has been doing since leaving Laramie in 2007 is leading potent, fast-paced offenses at Utah State, Oregon and Kentucky. Currently the wide receivers coach in Lexington, Bouknight has also served as a co-offensive coordinator and passing-game coordinator. Of course, Bouknight is one of the best wide receivers in school history, hauling in 250 receptions for 3,626 yards and 29 touchdowns. If it wasn't for a couple of guys named Marcus Harris and Ryan Yarborough, Bouknight, definitely a fan favorite, would top the list as the best pass catcher in Wyoming history. Bouknight is from Denver and knows the area very well when it comes to recruiting.
Ted Gilmore
This guy has been in the coaching game for more than a quarter-century. Currently the tight ends coach at Michigan State, this UW alum has been a wide receivers coach at Wisconsin, USC, Nebraska, Colorado, Purdue, Houston, and -- Wyoming. Gilmore has also served as an assistant head coach, recruiting coordinator and a pass-game coordinator. He spent three seasons with the Oakland Raiders from 2012 to '14. Gilmore was a wideout for the Cowboys from 1988-89. He caught 72 passes for 1,039 yards and five touchdowns. The Kansas native is also familiar with recruiting in the area.
Jim Chaney
This guy spent the past two seasons as the offensive coordinator at the University of Tennessee. He's held that same position at Georgia, Pittsburgh, Purdue, Cal-State Fullerton and Arkansas, too. He was also the Cowboys' offensive line coach and recruiting coordinator from 1994-96 under Joe Tiller. You might recall some of those offenses and names like Josh Wallwork, Steve Scifres, Len Sexton, Harris, Richard Peace, David Saraf, the list goes on. Chaney went to West Lafayette with Tiller where he served as the offensive coordinator from 1997-05. Chaney also spent three seasons with the St. Louis Rams. This guy has seen it all ... and he's currently unemployed.
MORE UW FOOTBALL NEWS
* UW's offensive coordinator named head coach at Montana State
* What Cowboy seniors are returning in 2021?
* Pokes' punter enters transfer portal
* Josh Allen lands second in NFL Most Valuable Player voting
Kevin Sumlin
Hey, it's a long shot, but Sumlin does have experience coaching in Laramie. He served as the Cowboys' wide receivers coach in 1991 and '92. Yarborough was there at the time and became the leading pass catcher in the NCAA. Sumlin spent the past three seasons as the head coach at Arizona. Before that, he was the head man at Texas A&M from 2012-17. Sumlin has spent his entire career on the offensive side of the ball. He's coached receivers at Minnesota, Purdue and Oklahoma. He's also been the head coach at Houston. While at Purdue, he worked with Tiller and Cheney. That's a solid offensive coaching tree. He is also currently out of work.
Bobby Kennedy
This guy has offense in his blood. And he spent the 1993 and 94' season in Laramie as the wide receivers coach under Tiller. Sumlin had Yarborough, Kennedy had Yarbs and Harris. Kennedy is currently the receivers coach at Stanford. His team bio says he recruits in Colorado (his home state) and the Metroplex (Dallas-Ft. Worth) a place the Cowboys have grown fond of in recruiting over the past several seasons. Kennedy has also been a WR or running backs coach at Wake Forest, Arizona, Washington, Texas, Colorado and Iowa. He has never served as an offensive coordinator.
Turner Gill
Bohl likes familiarity, right? Well, he and Gill coached together at Nebraska for eight seasons. Bohl was even a graduate assistant in Lincoln when Gill was under center for the Huskers. Yes, that was an option attack, but Gill did go 28-2 as a starter. Gill has coached wide receivers at SMU and Nebraska. He was the assistant head coach in Lincoln in 2003 and coached Husker quarterbacks. Gill got his first head coaching job in 2006 at the University of Buffalo. He parlayed that success into another job as the head man at Kansas. Gill finished his coaching career at Liberty from 2012-18. Since, he has been in the Green Bay Packers organization and part of the development staff at Liberty and now Arkansas.
Major Applewhite
This guy could be looking to move back up the coaching ladder, plus he has big-time ties to Texas, the Cowboys latest fertile recruiting grounds. In fact, it was Applewhite, when he was the head coach at Houston, who recruited UW's current quarterback Levi Williams. Applewhite has been an offensive coordinator at Alabama, Texas and Houston. He spent the 2019 and '20 seasons as one of Nick Saban's many "analysts" in Tuscaloosa. He was recently hired as the offensive coordinator and QB coach at South Alabama. We've seen coaches leave a school a lot sooner (AJ Blazek comes to mind).
WYOMING PROUD: 10 Facts About Wyoming That You May Not Know