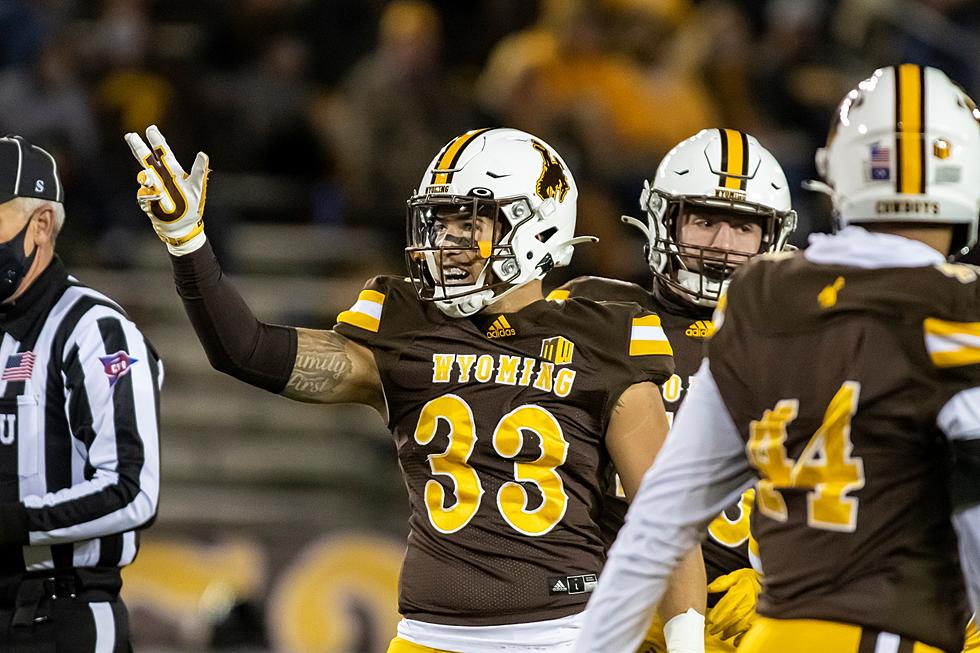 Wyoming Linebacker Charles Hicks Plans to Mash the Gas this Fall
Charles Hicks registered 27 tackles, two sacks, a pair of forced fumbles and an interception in his first four-plus games as a starter at outside linebacker in 2020./ UW courtesy photo
LARAMIE -- Facing a 3rd-and-10 early in the fourth quarter and trailing by 10, Hawaii quarterback Chevan Cordeiro took the snap out of the shotgun and tossed a quick slant pass to his right.
The ball was too far in front of his intended receiver. It went off his hands -- while also somehow not hitting the War Memorial Stadium turf -- and popped up into the middle of the field and into the awaiting arms of Wyoming linebacker Charles Hicks.
The sophomore from San Diego, known by his teammates as "Chuck," snagged the interception around the UW 38-yard line and began to bolt down the east sideline. All the Rainbow Warriors' receivers were behind the play. The running back was on the other side of the field.
The only thing between Hicks and the end zone were Hawaii's fat guys -- and Cordeiro.
Forty-seven yards later, Hicks was forced out of bounds by Cordeiro at the 17-yard line. Four plays later, Xazavian Valladay was in the end zone. That pick stopped a six-play drive in its tracks. It was also the Bows' last legitimate chance to sneak back in the game.
So, that's a good memory from 2020, right?
Not quite.
"I mean it still goes on today," Hicks said about the razzing he takes from his teammates for not scoring on that play despite Wyoming rolling to a 31-7 victory -- and Hicks being named the Mountain West Defensive Player of the Week. "They all say, 'Oh, you got caught by a quarterback.' You know, my excuse was, I was tired. But, I'm not going to complain about it too much."
Hicks had never started a game at outside linebacker before last fall. A guy named Cassh Maluia has had that spot all but locked down since he arrived on campus in 2016 and left a sixth-round selection of the New England Patriots in last spring's NFL Draft.
Hicks redshirted in 2018 and played mostly special teams as he waited his turn. Entering 2020, Hicks had just four tackles under his belt. Now, he was expected to follow a guy who racked up 197 of those as a four-year starter in Laramie.
"You know, it's hard to try to keep that expectation of what he did, both he and Logan (Wilson). Just the standard of play at that linebacker position," Hicks said. "It was hard, but you know, I knew what I needed to do to to just step in that role by, you know, watching extra film, being on the field extra, extra weight room stuff. So, I think all the extra stuff kind of relieved that pressure off me because I knew when I stepped on the field that I could do it."
Hicks said Wilson reached out last fall. So did Maluia. The message was a simple one -- "Good work. Keep working."
MORE UW FOOTBALL NEWS:
* Ayden Eberhardt on receivers: 'We've got to execute'
* Behind the numbers: Pokes in the NFL Draft
* Gipson inks 1-year deal to remain in Chicago
* Dallas Police arrest suspect in killing of UW football recruit
He did just that.
Statistically, that win over Hawaii was Hicks best day in a Cowboy uniform. When the dust settled, he registered four tackles, a pair of sacks and that interception listed above. He finished the season with 27 tackles and a pair of fumble recoveries. During a Week-5 meeting with New Mexico, Hicks suffered a knee injury that would force him to miss the remaining three quarters and the Cowboys' season finale against Boise State.
That was an emotional time for the linebacker, who was finally getting his big shot.
"When they told me I wasn't going back in, tears came down quick," he said. "But mentally, it was tough because I've torn his knee before. Literally, when I first got here and enrolled as a freshman."
Following the team's seventh spring practice Tuesday, Hicks said he is fully healthy. In fact, his knee was cleared before winter conditioning began in January.
His focus is squarely on preparing for the fall at this point. He said he wants to get to the ball more and force turnovers. Going 100 miles per hour isn't good enough in 2021, Hicks said. His goal is to go 110.
Thanks to an NCAA ruling that is allowing seniors to play an additional season, coupled with the return of last season's defensive opt outs Rome Weber, Solomon Byrd, Devon Wells-Ross, Claude Cole and Mario Mora, Hicks said these spring and upcoming fall practices are about reacting, not thinking. With the entire defense expected to return in tact, that, he said, will be a main strength of this group.
"We're just playing," he said. "And I think that's the biggest thing this year. I think that's going to help us a lot. It's going to feel good when you step on the field. We know exactly what to do."
Maybe going 110 mph will get Hicks past a quarterback for a pick-six in 2021, huh?
Cordeiro did rush for a team-best 483 yards last fall, but that still hasn't slowed the jokes.
"Yeah, he was fast," Hicks said with a smile. "But that won't happen again. Don't worry about that."
40 YEARS LATER: See the Construction of the Cheyenne Viaduct