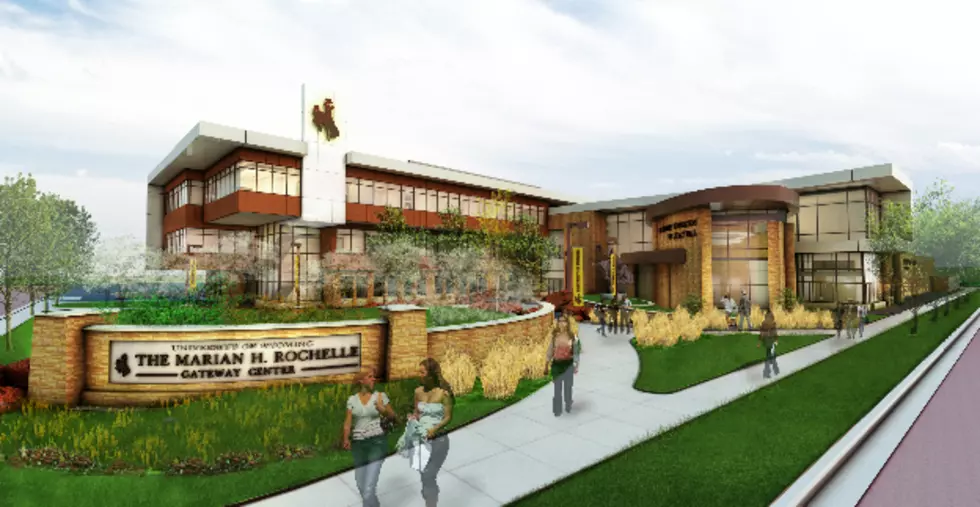 UW Eclipses Previous Record with $56 Million in Private Support
(UW Foundation)
The University of Wyoming achieved a record year in private giving as the fiscal year closed on June 30. More than $56 million in private gifts eclipsed UW's previous high year mark in 2011 of $43.1 million.
This is the first time in UW's history that private philanthropy has surpassed the $50 million mark. The FY 2013 total is nearly 30 percent higher than the previous record and reflects the contributions of 25,245 donors. This brings UW's five-year fundraising average to $40.7 million a year.
"This is an exciting time to arrive at UW," says UW President Bob Sternberg. "I envision the new role of private giving to UW becoming more impactful in the years to come. It is gratifying to work with the UW Foundation and UW's generous contributors to position UW as the premier land-grant university in the nation."
"Wyoming's university is blessed by a remarkable family of supporters," says UW Foundation President Ben Blalock. "Alumni, friends, corporations and foundations are committed to UW's success. The UW Foundation Board of Directors is actively engaged in elevating the role that philanthropy plays in the advancement of our state's school. It is very rewarding to work with donors and volunteers who are willing to give so generously and work so hard to enrich the lives of students."
Two transformational private gifts were received during the year to create a front door for the university that will be home to the UW Alumni Association, the UW Foundation and portions of the staff from UW Admissions and Career Services. Marian Rochelle gave $10 million, and Mick and Susie McMurry gave $6 million through the McMurry Foundation. These two gifts support the Marian H. Rochelle Gateway Center—a dramatic state-of-the-art welcoming center to be completed in 2014—and its McMurry Foundation UW Legacy Hall and McMurry Foundation Grand Atrium.
The Rochelle Gateway Center is funded entirely through private support, making it the single largest facility—including athletic facilities—to be built with private donations. So far, $22.5 million has been raised to support this one-of-a-kind 67,000-square-foot university facility that will be located on the corner of 22nd Street and Grand Avenue near War Memorial Stadium.
"It has been an exciting year," says Clayton Hartman, UW Foundation Board chair. "The UW Foundation continues its successful strategic partnership with the University of Wyoming, matching donors' priorities with UW's programs. The foundation board is looking forward with great anticipation to the new and exciting partnership with President Sternberg and to reaching historic new levels of donor engagement and involvement."
Corporate support played a major role in achieving a new private giving record this year. Hess Corporation committed $4.4 million to support UW's Center for Advanced Oil and Gas Technologies Hess Digital Rock Physics Laboratory, and ExxonMobil donated $2.5 million to support research into technologies that improve the production of oil and gas, as well as $100,000 to promote K-12 energy education in Wyoming. The gifts of $4.4 million and $2.5 million were matched dollar for dollar by the state of Wyoming.
These two gifts contribute toward Wyoming's goal to advance its university to Tier 1 engineering status, which is also the objective of a governor's task force. The construction of a state-of-the-art UW Energy Engineering Research Facility and the renovation of the existing College of Engineering Building are included in this initiative.
Notable gifts from the past year include:
-- Marian Rochelle gave $10 million for the Rochelle Gateway Center.
-- Mick and Susie McMurry, through the McMurry Foundation, gave $6 million for the McMurry Foundation UW Legacy Hall and McMurry Foundation Grand Atrium.
-- Hess Corporation gave $4.4 million for School of Energy Resources facilities.
-- The E.G. Meyer family gave an art collection valued at $3.8 million for the UW Art Museum.
-- ExxonMobil gave $2.5 million for School of Energy Resources facilities and $100,000 for K-12 energy education.
-- The Knobloch Family Foundation gave $2.15 million for environment and natural resources.
-- Carol and Ramon Tome gave $1 million for the Rochelle Gateway Center.
-- Ralph and Fay Whitney gave $1 million for the Rochelle Gateway Center.
-- The Osher Foundation gave $1 million for nontraditional student scholarships.
-- Thea Stidum gave $500,000 for literacy.
-- Roy and Caryl Cline gave $500,000 for the Rochelle Gateway Center.
-- An anonymous donor gave $500,000 for the Arena-Auditorium.
-- The Joe and Arlene Watt Foundation gave $200,000 for literacy.
Included in the $56 million is annual giving, which surpassed $5 million for the third straight year and achieved a new record of $5.4 million. Annual giving encompasses all unrestricted gifts that support UW's colleges and departments and incorporates the fundraising success of Wyoming Public Media and the Cowboy Joe Club. UW Foundation annual giving reaches all UW alumni, parents, faculty, staff and friends on a yearly basis.
Additionally, planned giving plays a vital role in university support, and alumni and friends are remembering UW in their estate plans in ever-increasing numbers. In FY 2013, $2.4 million in planned gifts were realized in the form of gift annuities, charitable remainder trusts, matured bequests, IRA rollover gifts and other planned giving vehicles. An additional $5.9 million of new bequest commitments were pledged to the university during the same period.
Philanthropy provides Wyoming's only four-year university an important extra margin of support that builds upon the university's public funding. The university's endowment as of March of this year totals $356.4 million. Assets managed by the foundation have grown significantly over the years and have allowed donors to support an expanding number of students, faculty and academic programs.
The University of Wyoming and the UW Foundation continue to build on their strong strategic partnerships, matching donors' passions with university priorities. Founded in 1962, the UW Foundation is an independent, nonprofit corporation dedicated to securing, managing and stewarding private gifts in support of the University of Wyoming's missions in teaching, research and public service.