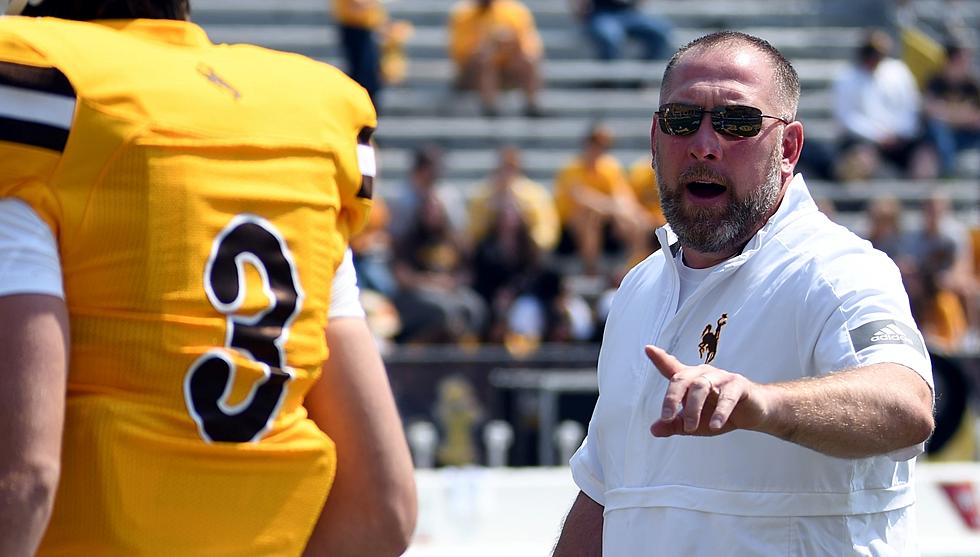 Tim Polasek saw plenty of 'correctable' mistakes Saturday
Wyoming's first-year offensive coordinator Tim Polasek chats with his quarterbacks during warm ups before the Cowboys' season opener last Saturday in Laramie./ DJ Johnson photo
LARAMIE -- Tim Polasek was expecting one-on-one coverage.
Doubtful many Cowboys fans were anticipating a 60-yard heave down the middle of the field on the first snap of the season.
That hasn't been in the playbook for a number of years around these parts.
Wyoming's first-year offensive coordinator said that play call served a couple of purposes. One, he wanted to shake the cobwebs out of quarterback Sean Chambers' right arm -- and head. Secondly, Montana State had a first-time defensive coordinator, Freddie Banks, on the sideline.
Polasek thought it could be available.
It wasn't.
Alex Brown was double-covered down the field and the ball landed harmlessly on the War Memorial Stadium turf four yards in front of him.
"It's been a long time since Sean has played," he said. "Thought we'd give it a shot."
Polasek, who spent the past four seasons as the offensive line coach at Iowa, hasn't called a play in a college football game since 2016 when he was in the booth at North Dakota State. The Bison went 12-2 that season and eventually fell to James Madison in the FCS semifinals.
The NDSU offense rolled up nearly 30 points per game that season. NDSU running backs gashed opponents to the tune of 5.7 yards per rush and 241 yards on the ground per outing. Quarterback Easton Stick tossed 19 touchdowns that year and averaged 167 yards per game through the air.
So, what was it like to be back in the eagle's nest again pushing all the buttons?
"It was good. It felt like I had been doing that all along, like there was no time in between," Polasek said Monday. "It was a blast, a lot of fun. Obviously, we didn't start the way we wanted to and were chasing the cart a bit, but it was good to be back up there and helping find a way to win a game."
MORE UW FOOTBALL NEWS:
* Pokes' news & notes: Week 2
* 3 Quick takes: Hats off to the 'Cats
* Turning point, unsung hero and what's next for UW football
* Rants & Raves: Montana State edition
In Polasek's UW debut Saturday, Chambers completed 15-of-26 passes for 196 yards and a touchdown. Led by Xazavian Valladay, the Cowboys' rushing attack amassed just 151 yards, 70 below its 2020 average.
It took an eight-play, 75-yard game-winning drive to polish off visiting Montana State. Chambers hit tight end Treyton Welch -- who made a spectacular one-handed grab -- down the seam with 47 seconds left to seal the victory.
"I'd be lying if I said he wasn't maybe a little too fired up or nervous about playing," Polasek said about Chambers, who took just three snaps of the 2020 campaign before suffering a season-ending leg injury. "Some things in there, we can handle better, but I thought he was gritty and, for the most part, was hitting the right spots with the ball. He had two errant reads and one really cost us -- the other almost did."
Chambers threw an interception on the first possession of the game that turned into MSU points one play later.
Did he notice anything different about his sophomore signal caller on that final drive?
"I thought he was cool, calm and collected," he said. "We've been working on two-minute situational football. I was so happy for him, carrying that over to the game.
Polasek said when he watched previous tape of Chambers, he had a tendency to have "happy feet." That wasn't the case on that 21-yard scoring strike to Welch to pull off the 19-16 win over the upset-minded Bobcats.
"He moved in the pocket and got into what we call the 'money position,'" Polasek said of Chambers. "He had a really good throwing base. It's a really fundamental thing there to allow him to do what he did. I was very pleased with that.
"It was an outstanding throw. What a great catch, too. That was a good team touchdown."
Wyoming head coach Craig Bohl said he wasn't pleased with the Cowboys' potent rushing attack Saturday. Valladay was held to just 77 yards. Chambers, 51. Three other ball carriers -- Trey Smith, Titus Swen and Isaiah Neyor -- combined for just 23 yards on 10 carries.
Polasek wasn't thrilled, either, but said it's all fixable.
"We left yards out there," he said. "That can't be us. The targeting up front was off on the lead play. We target that play correctly, that's a 10-to 12-yard gain. I wasn't pleased with the execution."
Third down was also a category, Polasek needs to be addressed. Wyoming converted just 6-for-17 times Saturday. The team started 1 for 9.
"To be honest, I was really disappointed in our second-down production," he said. "Staying ahead of the chains gives us an opportunity on third down ... I don't want to face a bunch of third-and-plus in a game. We need to limit that."
It wasn't perfect. Polasek knows how fans feel about squeaking out an opening-day win and the way the Cowboys' struggled through the first three quarters. This week, he said, will be about fundamentals and technique. He said he was pleased with the way Wyoming's veteran offensive line held themselves accountable. He loved the lack of penalties.
He has to love this stat, too.
The Cowboys next opponent, Northern Illinois, despite upsetting Georgia Tech in Atlanta Saturday night, gave up 273 rushing yards.
"It was the first game and we found a way to win," Polasek said. "Half of the country is 0-1, the other half is 1-0. There were some correctable mistakes."
LOOK: Pokes' unis through the years