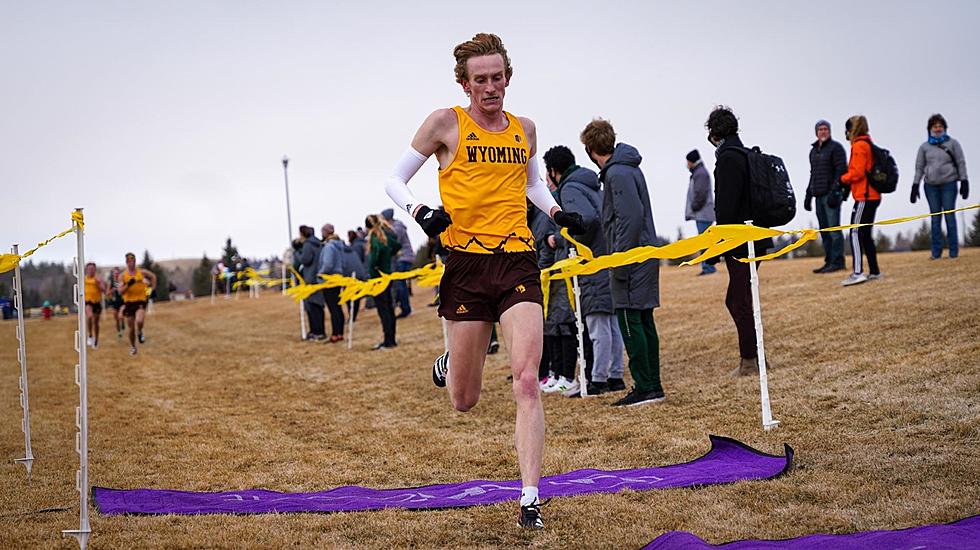 Steiner competes in final day of action at NCAA West prelims
Albert Steiner ran in the 3000M Steeplechase to round out the 2021 Outdoor Track & Field Championships NCAA West Preliminaries hosted by Texas A&M University on Saturday afternoon./ UW courtesy photo
COLLEGE STATION, Texas — Albert Steiner ran in the 3000M Steeplechase to round out the 2021 Outdoor Track & Field Championships NCAA West Preliminaries hosted by Texas A&M University on Saturday afternoon. 
After weather postponed the Steeplechase on Friday evening, Steiner had to wait for his chance to run the event until Saturday afternoon. Steiner ran a time of 9:19.02 to finish 39th in the final event for Wyoming of the four-day prelims. 
"I thought the group we brought to College Station competed well over the past 4 days," said Head Coach Bryan Berryhill. "The highlight of the week was Colton Paller qualifying for the NCAA finals. He competed with confidence and focus which was obvious as he earned his ticket to Eugene with his first throw. We had a lot of underclassmen at the meet that competed tough and earned valuable experience for the future."
From the Week 
Paller punched his ticket to Eugene, Ore., with his first throw in the Discus going 185-10 to finish 10th in the field at the NCAA West Prelims. The Cowboy senior is making his first trip to the NCAA Outdoor Track & Championships. 
Freshman Kareem Mersal and Sadie McMullen earned their way to the NCAA West Prelims in their first year of collegiate completion with the marks in the Long Jump. Both Mersal and McMullen have entered the UW All-Time Top 10 Event List with their jumps this season and finished 20th and 38th in their respective fields. 
Kirk Unland capped his career for the Cowboys and leaves Laramie as a multi-time Mountain West Champion and at No. 6 on the UW All-Time Top 10 Event List in the Hammer. That personal best from Unland of 214-2 was set this season. Unland's best throw of 209-7 in the Hammer Throw earned him a 17th place among the top-48 qualifiers from the West Region.
William Nolan was one of 13 student athletes to qualify for the prelims in both the Long Jump and Triple Jump. The Cowboy junior went 23-7.5 and 47-5 in the two events.
Mary Carbee qualified for her first prelims in the Hammer Throw with her season and personal best throw of 193-2 this season which puts her at No. 7 all-time at UW. The Cowgirl sophomore went 165-6 this week to finish in 46th place 
This rounds out the NCAA West Prelims for Wyoming Track & Field. In total, seven student athletes competed individually in eight separate events.
Up Next
Paller will compete in the Discus for the Cowboys at the 2021 NCAA Track & Field Outdoor Championships, with the Discus scheduled for Friday, June 11th at 4:35 (PDT) in Eugene. 
Stay up to date with Wyoming Cross Country and Track & Field by following @wyo_track on Twitter.
* University of Wyoming press release
UW: University of Wyoming Cowboy's Greatest Games From the First Decade of the 2000's