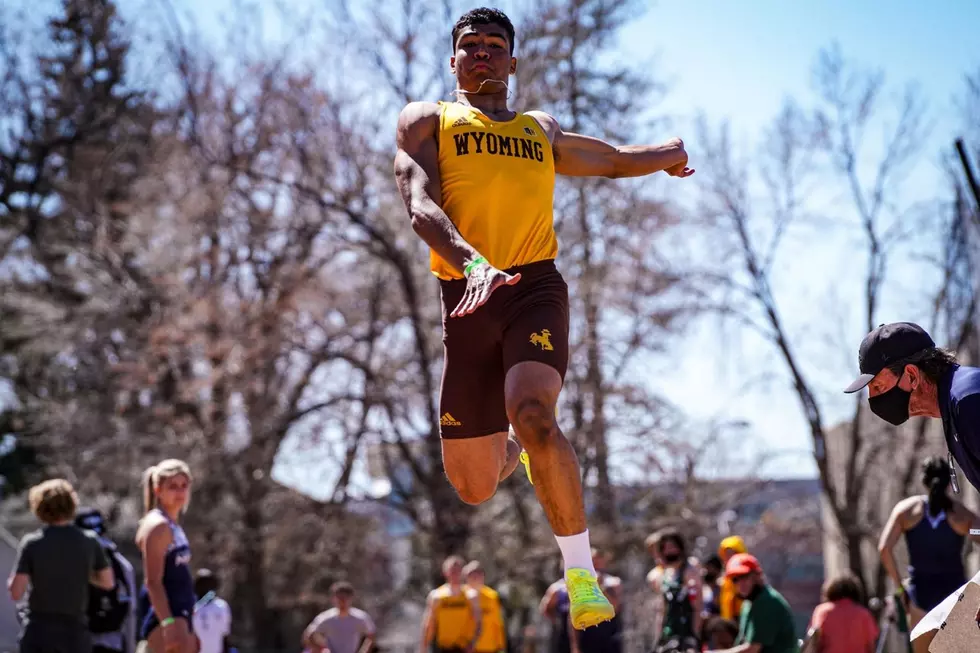 Wyoming long jumper makes history, earns All-American status
Kareem Mersal finished 16th at the NCAA Outdoor Track and Field Championships Wednesday night in Eugene, Oregon./ UW courtesy photo
EUGENE, Ore. — A Wyoming men's long jumper had never earned All-American status.
That all changed Wednesday night.
Kareem Mersal finished 16th overall after hitting the sand at 24-6.5 at the NCAA Outdoor Track and Field Championships inside Eugene's Hayward Field. The sophomore, who owns the school's long jump record at 25-10, was named a second-team All-American.
"Kareem has had an incredibly successful season, being the indoor and outdoor conference champion and breaking the school record twice along the way has been a manifestation of his consistency and progress," Wyoming's associate head coach Quincy Howe told gowyo.com. "Making it to the NCAA outdoor final and earning a second-team All-American accolade was well deserved and I am proud of him and his success."
Mersal overtook former UW record-holder Mervin Swaby (25-4 3/4 in 2002) this spring as the school's top long jumper after hitting a 25-6.25 leap. The Cairo, Egypt native added to that lead at the NCAA West Prelims, nailing a 25-10 on his third and final jump to punch his ticket to the championships.
Mersal won both the indoor and outdoor titles in the Mountain West Conference and came into Oregon with the No. 5 seed out of 24 long jumpers.
"I know he was a bit disappointed with his finish but that is the very thing that has driven him to this early career pinnacle," Howe added. "I am excited about the future and can't wait to begin the process of getting better with him."
Nathan Reid is the only other Cowboy to compete this week in Eugene. After launching a discus throw of 182-4 at last week's west prelims, the sophomore from Kingston, Jamaica will throw Friday as the No. 22 seed.
The discus finals are set to take place at 6:35 p.m. mountain time and it can be streamed on ESPN3.
Stay up to date with Wyoming Track & Field by following @wyo_track on Twitter. 
WYOMING PROUD: The 5 Most Awesome Things Wyoming Gave The World