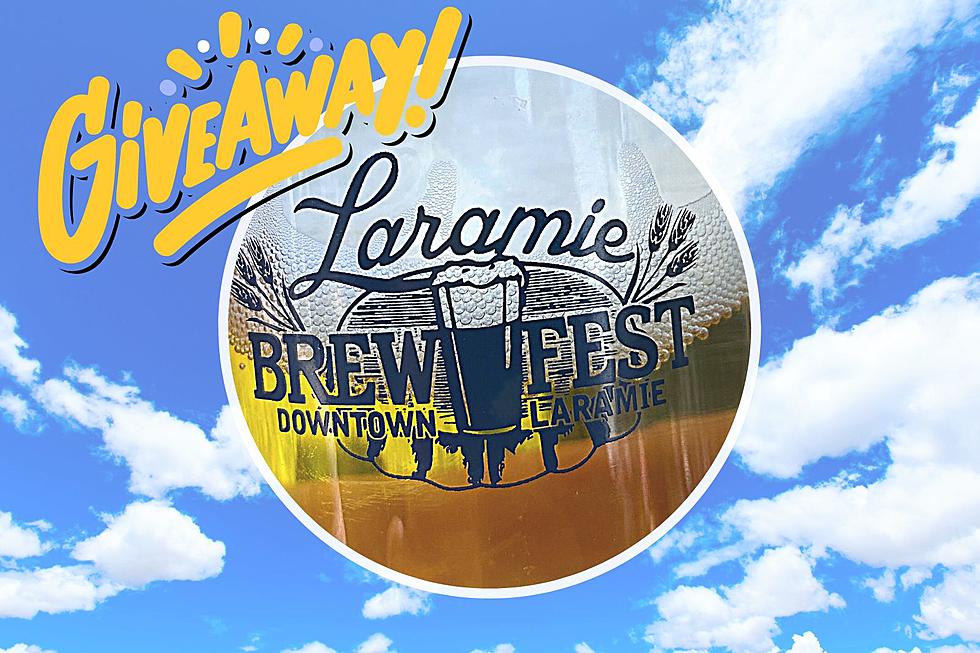 Sip & Share! Win Tickets to the 2023 Laramie Brewfest!
Mat Ozee, TSM SE Wyoming/Canva Pro
The 2023 Laramie Brewfest is just around the corner! If you've never been, you are missing out! Brewfest is one of the best parts of Jubilee Days (for the 21+ plus crowd, of course.)
Brewers from across the state and nation bring their finest brews to the Gem City on July 8th for festival-goers to sample in scenic Downtown Laramie's Depot Park. This year features over 25 brewers - each bringing delicious varieties of beer to tantalize your tastebuds.
Sounds like a great way to spend an afternoon, am I right?
A set of VIP tickets for this event get you into the festival early, giving you time to explore and sample more beers and beat the crowds! VIP tickets usually go for $55 a piece, BUT they've already sold out. The good news is, we have a chance for you to win a pair...and it's super easy to enter!
Step 1: Download the app - you'll get all the latest news, fun stories, and MORE contest opportunities sent your way (already got it? Sweet, skip to step 2!)
Step 2: Tell us your favorite place to grab a drink in Laramie!
Step 3: Submit your entry by 11:59 p.m. on July 5.
That's it; you're entered. Winners will be notified by the email submitted on their entry with instructions on picking up their tickets.
FREE Designated Drivers, Courtesy of Brewfest and Laramie Connections
Remember to have a D.D. ready before heading to Brewfest. Laramie Brewfest offers free rides home from 3 to 6:30 p.m. Brewfest's website says, "Look for a table and vehicles near the train depot - rides first come, first serve."
Breweries at the 2023 Laramie Brewfest
This year's fest has a huge list of regional and national brewers coming to town! Your tastebuds will thank you after touring each tent, trust me.
10 Barrel Brewing - Bend, OR
Accomplice Brewing - Laramie/Cheyenne, WY
Altitude Brewery - Laramie, WY
Athletic Brewing Co. - San Diego, CA
Black Tooth - Sheridan/Cheyenne
Blue Raven Beer Co. - Cheyenne
Bootstrap Brewing - Longmont, CO
Bomb Beverage - Multiple Locations
Bond's Brewing - Laramie, WY
Boulevard Brewing Co. - Kansas City, MO
Coal Creek - Laramie, WY
Cody Craft Brewing - Cody, WY
Delirium - Belgium, Germany
Denver Beer Co. - Denver, CO
Freedom's Edge Brewing Co. -  Cheyenne, WY
Grand Teton Brewing - Victor, ID
Great Divide Brewing Co. - Denver, CO
Golden Road Brewing - Los Angeles, CA
Gruner Brothers Brewing - Casper, WY
Kona Brewing Co. - Kailua-Kona, Hawaii
Lagunitas Brewing Co. - Petaluma, CA
Lefthand Brewing Co. - Longmont, CO
The Library Sports Grille & Brewery - Laramie, WY
Laramie Home Brew Club - Laramie, WY
Melvin Brewing - Alpine, WY
Odell Brewing Co. - Fort Collins, CO
Prost Brewing - Denver, CO
Roadhouse Brewing Co. - Jackson Hole, WY
Rooster's Brewing Company - Layton, Utah
Sierra Nevada - Chico, CA
Snake River Brewing - Jackson, WY
Stone Brewing - Escondido, CA
Toppling Goliath Brewing Co. - Decorah, IA
Upslope - Boulder, CO
Wind River Brewing Co. - Pinedale, WY
WYOld West Brewing Co. - Powell, WY
Wyoming Craft Brewers Guild - Sheridan, WY
For more info on Laramie Brewfest, click here.
Laramie's Tot-ALE-y Cool Local Breweries
Check out the local libations created right here in Laramie, Wyoming.