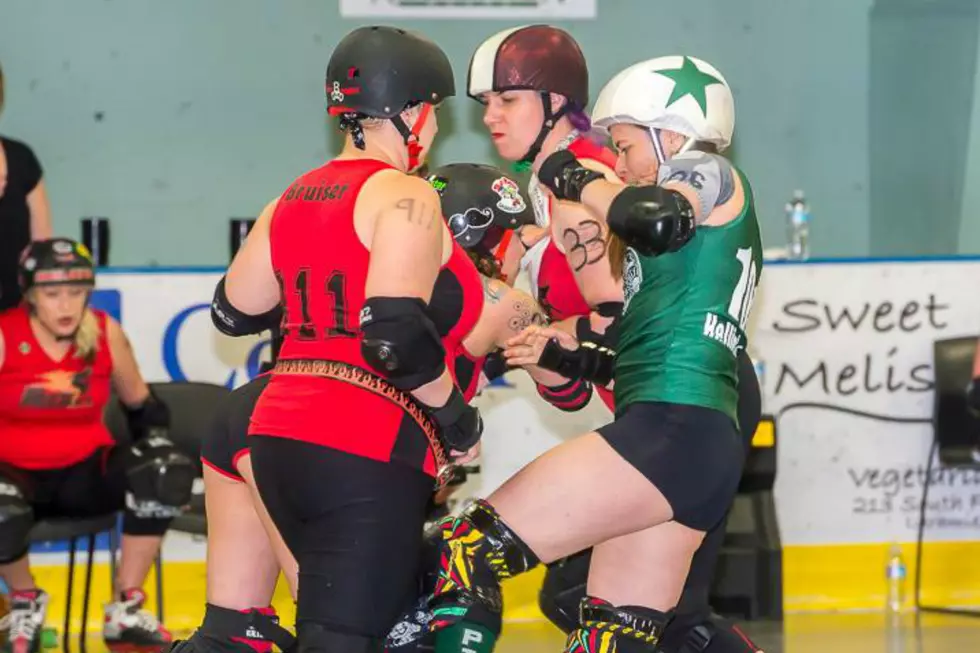 Naughty Pines Derby Dames Defend WyoCup Title on Home Rink
Courtesy of Gil Cromeens
LARAMIE -- The 6th Annual WyoCup roller derby tournament is here this weekend, Saturday and Sunday – right here in Laramie at the Laramie Ice and Event Center.
Debbie Cobb, the production director and morning host of Y95 Country, is also a veteran roller derby skater for the Naughty Pines Derby Dames.
5 teams from across the state of Wyoming will rock and roll at the Laramie Ice and Event Center to claim one cup. Who will take it home this year?
"The Naughty Pines Derby Dames are defending their state-wide championship this year. So, the Laramie home team won last year, and they're trying to win again on their home turf," said Mercury.
Cobb is a self-proclaimed roller derby addict, which explains why she had the desire to create the WyoCup tournament.
"The story of the WyoCup started back when I started roller derby in Gillette, and I was with the Powder River Rousta Bout It Betties. When I moved to Laramie, I missed them, and I had friends from all over the state that played roller derby, and I never got to see them. I thought to myself, 'What's the best way to see my friends every year? Well, what if we have a state-wide tournament?'
"At the time, there was a tournament in Colorado called the Colorado Cup. It only lasted one year, they never did it again. The WyoCup is technically the longest running state tournament in the country, which I'm pretty proud of. We started out with me, a referee, and a non-skating official and the three of us put together the first tournament here in Laramie. From then on, it runs like a well-oiled machine every year," Mercury said.
"The tourney has been to Rock Springs, Powell, Gillette, Laramie twice – this is the second year that we've been here. It's a traveling tournament so we can take the greatness of Wyoming roller derby to the communities that might not get to see it."
She is looking forward to a competitive tournament.
"This year, we've got 5 adult teams and 3 junior teams. The 3 junior teams are mixing together to do a Brown vs. Gold exhibition bout, and it's going to be adorable! The most we've ever had was nine teams, for the WyoCup, and that was the first year," she said.
"Wyoming roller derby has this thing where people 'borrow' skaters from other towns. But at the WyoCup, you can only be on one roster, so they have to choose where they're going to skate. Some teams don't have enough to play with a full 15."
Tickets are available at the door, and the 2-day price is a pretty good deal. Day One is $15 each; Day 2 is $10, but both days weekend pass is $20. Kids 12 and under are free.
"We're also going to have all the visiting skaters in the Jubilee Days parade on Saturday morning. They're really excited. IWhen you see a big group of people on roller skates in the parade, you'll know where they came from!"
Game One: Fremont County vs. Bomber Mountain
Game Two: Jackson Hole vs. Bittersweet Bombshells
Juniors Exhibition Match 1
Game 3: Naughty Pines Derby Dames vs. Winner Game 1
Game 4: Loser Game 1 vs. Loser Game 2
Game 5: Loser Game 3 vs. Winner Game 4
Game 6: Winner Game 2 vs. Winner Game 3
Game 7: Loser Game 6 vs. Winner Game 5
Juniors Exhibition Match 2
Game 8: CHAMPIONSHIP MATCH
It's a busy weekend in Laramie, with Jubilee Days, rodeo action at the fairgrounds, brew fest, and roller derby. The WyoCup starts at noon on Saturday, July 13 at the Laramie Ice and Event Center, and Mercury said it's well worth checking out when you need a break from the sun of Jubilee Days. 
Coming up, The Naughty Pines Derby, Benefitting the Laramie Foster Closet, is set for Saturday, July 27, at the Laramie Ice and Event Center to support local children and youth in foster care. The Naughty Pines will be taking on the Wreckin' Roller Rebels from Denver.