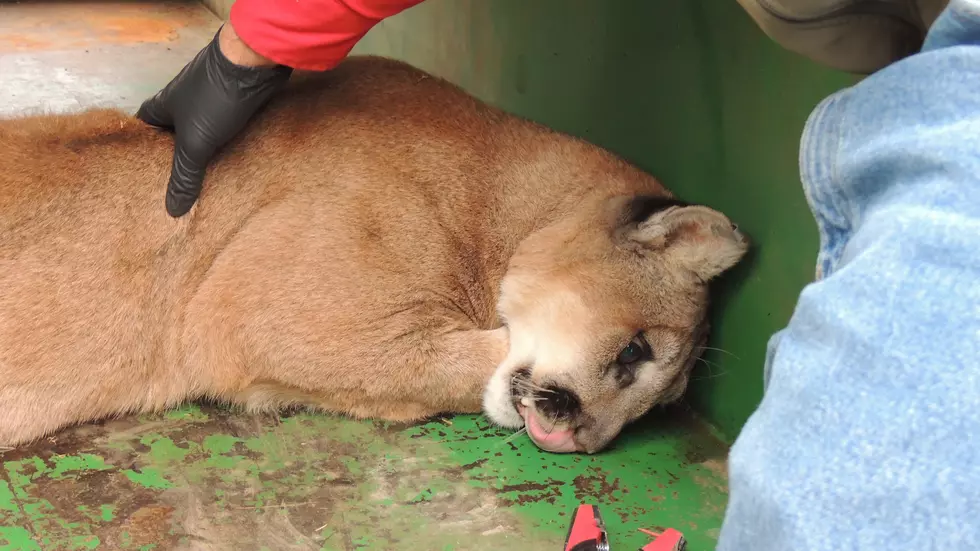 Mountain Lion Captured Near Casper Early Monday
Wyoming Game & Fish Department
Wildlife managers caught a mountain lion that was found on private property northeast of Casper early Monday morning.
The yearling male lion was tranquilized and taken into the Laramie Range south of Glenrock and Casper, where it was being released Monday. That's according to Justin Binfet, wildlife management coordinator for the Wyoming Game and Fish Department in Casper.
"I wouldn't call it a common occurrence by any stretch," Binfet told K2 Radio News in a phone interview. "They come and go. It's certainly far from unprecedented."
The lion was found on private land off of Cole Creek Road, out past Rocky Mountain Gun Club, Binfet said. Homeowners reported that the lion got into a fight with their German shepherd, though Binfet said it was unclear whether that fight was physical in nature. The dog was not injured, he added.
Responding Game and Fish employees used a dart gun to tranquilize the lion and hauled the animal away in a bear trap. The lion appeared healthy, Binfet said.
The lion, which was initially found beneath a horse trailer Monday morning, had probably just left its mother, Binfet said, and wandered onto the property under cover of darkness. In the daylight, it likely felt exposed and sought shelter.
This was not a situation in which Game and Fish felt euthanasia necessary, Binfet said, but he emphasized that every situation is different. In some instances where a lion -- or a bear or other predator -- is reported and found to be in poor health, or if wildlife managers believe the situation represents a threat to people, livestock or pets, the wild animal may be put down.
That sort of evaluation is made on a case-by-case basis, Binfet explained.
Anyone who encounters a predator or a wild animal in distress can report it to the Casper Game and Fish office at 307-473-3400. After hours, the department can be reached at 877-WGFD-TIP, or via the Natrona County Sheriff's Office at 307-235-9282.