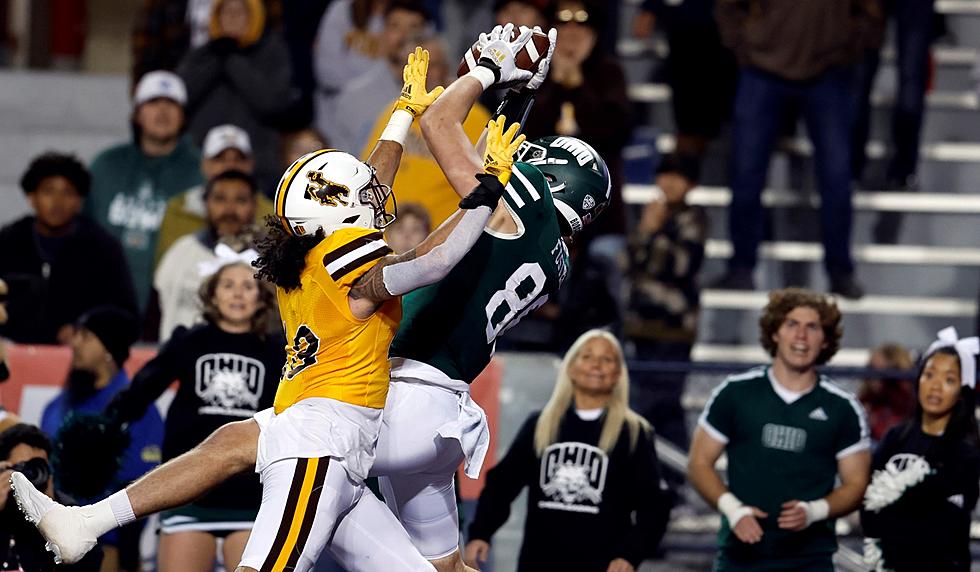 Despite Trials, Shae Suiaunoa's Love For The Game is Back
TUCSON, ARIZONA - DECEMBER 30: Tight end Tyler Foster #86 of the Ohio Bobcats catches the game winning touchdown over linebacker Shae Suiaunoa #43 of the Wyoming Cowboys during overtime of the Barstool Sports Arizona Bowl at Arizona Stadium on December 30, 2022 in Tucson, Arizona. (Photo by Chris Coduto/Getty Images)
LARAMIE -- A brief glance into the offensive backfield led to a wild celebration Shae Suiaunoa wanted nothing to do with.
Perched at Wyoming's 10-yard line, CJ Harris stumbled into his five-step drop, never losing sight of his 6-foot-6 target, who was headed directly for the back, left pylon inside Arizona Stadium.
Ohio's quarterback arched the throw. Tight end Tyler Foster made a perfect adjustment on the overtime heave and hauled it in with two extended hands before rolling out of the back of the end zone with the game-winning snag.
The party was officially on.
"I remember getting up and just seeing their team celebrating and running to him," UW's then-sophomore outside linebacker said, recalling the final futile seconds of the Cowboys' 30-27 loss to the Bobcats in last December's Arizona Bowl. "I'm just going to hold that in until next season."
Foster was Suiaunoa's responsibility on that play. It was an empty formation, meaning the ball would either hit the desert skies or get tucked under Harris' arm. Man-to-man, Suiaunoa was in lock step with Foster. That is until he made the mistake of taking that quick peek.
"I kind of lost the touch of him, so I kind of lost where he was," he said. "He drifted off from me and then I had to try and catch up. It was an 'oh-crap moment.' It was a really good ball. It was a tough play, for sure."
That is just one example of the on-field education Suiaunoa received last fall.
At times it felt like a crash course. Those things will happen when you are a first-year starter at a relatively unknown position.
That's the message Suiaunoa -- and his coaches -- attempted to relay throughout a 2022 season that featured 73 tackles, 2.5 sacks, an interception and a couple of pass breakups. The Houston native was the second-leading tackler on the roster and the only linebacker to pick off a pass.
That's the good news.
One number, however, is imprinted in his mind -- 21.
That's the number of tackles Suiaunoa missed last year, by far the most on the team.
When asked about the woes in that category, and singling out the former 3-star high school quarterback, Wyoming's head coach didn't even let the question play out.
"Way too many," Craig Bohl said. "... He would be at the point of attack and wouldn't finish stuff off. He either bumped guys or didn't wrap up. That was a common theme."
MORE UW FOOTBALL FEATURES VIA 7220SPORTS:
* Wyoming wideout Caleb Merritt patiently carving out his role
* Sky's the limit for Wyoming safety Andrew Johnson
* Caleb Cooley: 'It's hard to get that confidence back'
*  Turns out, tough guys do come out of Orange County
*  Jayden Clemons: 'I definitely had to fight that demon'
How can he improve? By playing, Bohl said, reiterating that the instincts are there. If you ask the man himself, technique -- or lack there of -- led to a challenging season in the film room.
Suiaunoa whiffed on 14 tackles through the Cowboys' first six games, according to his position coach, Aaron Bohl. Like his father, Bohl was quick to point out No. 43 always seemed to be "Johnny on the spot." Still, he missed seven more tackles over the final three outings.
"It's definitely a positive to take away that I was there a lot of times, but, you know, that's not always going to win games," Suiaunoa said.
A mid-season labrum tear in his shoulder certainly didn't help matters, but the 6-foot-3, 231-pound junior isn't about to use that as an excuse. Suiaunoa is soft-spoken and has a gentle nature. He is also notoriously hard on himself.
"He is very self-aware," Aaron Bohl said. "You know, you talk to him and he doesn't give himself enough credit for the things he does well. He's working hard at it. Every year he has been here, he's had substantial growth. I'm excited for him this next year and expect a huge growth in that area."
Entering last season, the most tackles Suiaunoa tallied in a season was eight. That came during the 2020 COVID-19-shortened campaign where the name of the game was all hands on deck. He had that many stops alone in a Week 3 meeting with Northern Colorado, where he was named the Mountain West Defensive Player of the Week.
Suiaunoa also added a quarterback sack, a tackle for loss and a fourth-quarter interception that he still hears about to this day.
"It's always important to try to score on defense," Wyoming head coach Craig Bohl said during that weekly press conference. "We came close. Suiaunoa -- I'm going to call him 'Wrong-way Shae' -- had a wide-open path. I think all the people in the end zone were saying, 'run this way,' and he ran that way into a bunch of other guys."
That was 2022 in a nutshell for Suiaunoa.
Questions, though, still remain. Because of off-season surgery, Suiaunoa was unable to participate in spring practice. In the meantime, Connor Shay, one of the many linebackers behind him on the depth chart, turned heads. Craig Bohl even mentioned him as a potential starter this fall.
Shay won't be replacing Easton Gibbs, the team's leading tackler, in the middle. Suiaunoa knows full well what that means.
Before he returns to the field for summer workouts and even thinks about the task at hand, Suiaunoa instead reflects. This will be his fifth season in Laramie. He still has two years of eligibility remaining. Before last August, he had appeared in just 22 games. A majority of that work came on special teams. It included zero starts.
He sat in the wings behind guys like Logan Wilson, Chad Muma and Cassh Maluia. It's easy to see how doubts can creep.
Despite the trials of the year that was, Suiaunoa is confident this is his calling. It was worth the wait.
"That was a long time coming," he said, a slight grin creasing his face. "It was a lot of fun. Once I got to the end of the season, you know, I had that love for football again."
University of Wyoming's Top 50 Football Players
The rules are simple: What was the player's impact while in Laramie? That means NFL stats, draft status or any other accolade earned outside of UW is irrelevant when it comes to this list.
This isn't a one-man job. This task called for a panel of experts. Joining 7220's Cody Tucker are Robert Gagliardi, Jared Newland, Ryan Thorburn, and Kevin McKinney.
We all compiled our own list of 50 and let computer averages do the work. Think BCS -- only we hope this catalog is fairer.
Don't agree with a selection? Feel free to sound off on our Twitter:
@7220sports
- #Top50UWFB
- University of Wyoming's Top 50 Football Players