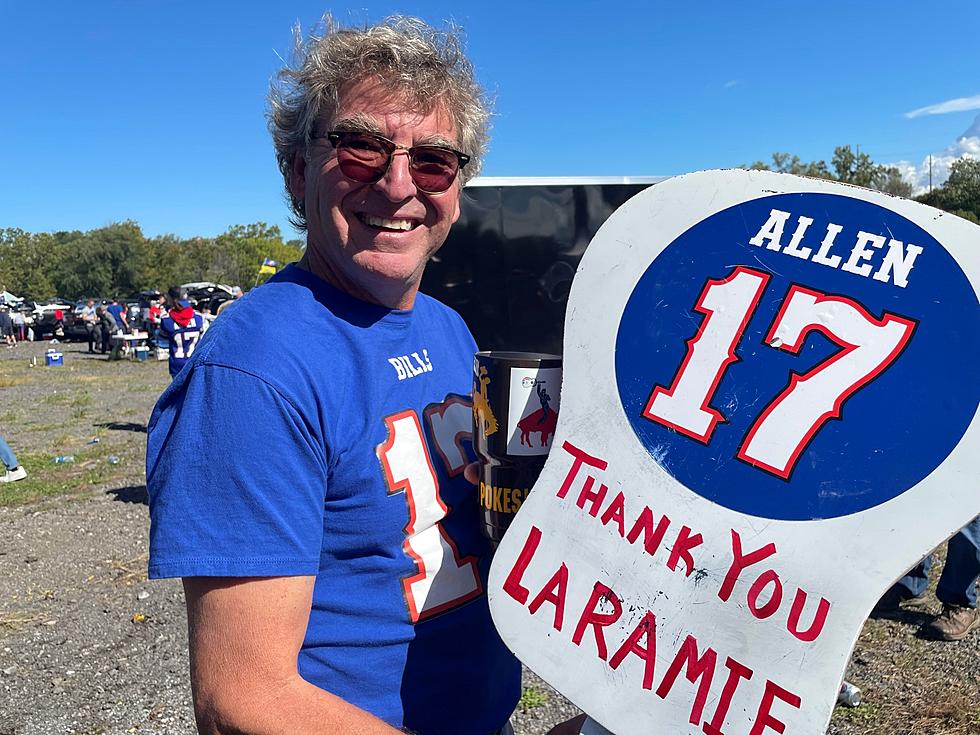 GALLERY: A day with the Bills Mafia
John Lang aka "End Zone Elvis" shows off his latest guitar with the words "Thank you Laramie." Lang and his crew made the trip to Laramie for the Ball State game Sept. 18./ Cody Tucker photo
BUFFALO, N.Y., -- Pilgrimages are often journeys to sacred places for religious purposes.
For football fans -- especially those who keep tabs on former players the way Wyoming fans do -- Buffalo is that destination.
While DJ Johnson and myself were on the east coast to cover the Cowboys game in East Hartford, Conn., we made the decision early on that we were way too close to Western New York not to make a pit stop and see former UW stars Josh Allen and Chase Roullier square off inside Highmark Stadium.
By way too close we mean a six-plus hour car ride.
We're from Wyoming, that's nothing.
While it seemed a tad ambitious at first -- we left UConn's stadium after 10 p.m. -- boy, are we glad we made that journey.
While we likely could've snagged a pair of press passes and possibly got a quote from Allen and Roullier, we instead decided to hook up with a new friend and spend the afternoon as casual fans.
John Lang, better known to football fans around the globe as "End Zone Elvis," took us right under his wing. He wasn't too hard to find in the massive crowds in the parking lot, either. Why? He had a large Wyoming flag flying high above his Jeep.
His own "pilgrimage" to Laramie last week made a huge impact on him. He wanted to repay the hospitality you showed to him. We reaped the benefits of that -- big time.
Tickets, Canadian beer, the best wings and pizza I've ever eaten and even a late Uber ride were all on the house thanks to Lang and his unbelievably kind and generous crew. Highmark Stadium, the Bills Mafia, the team, all lived up to the billing.
On behalf of DJ and myself, I want to send a huge thank you to all of those fine folks in WNY. That trip meant so much to us and we'll be talking about it for years to come.
If you're a football fanatic in general, a UW fan or, well, anyone, a trip to Highmark Stadium is an absolute must. Here are some of the photos we took last Sunday:
A day with the Bills Mafia