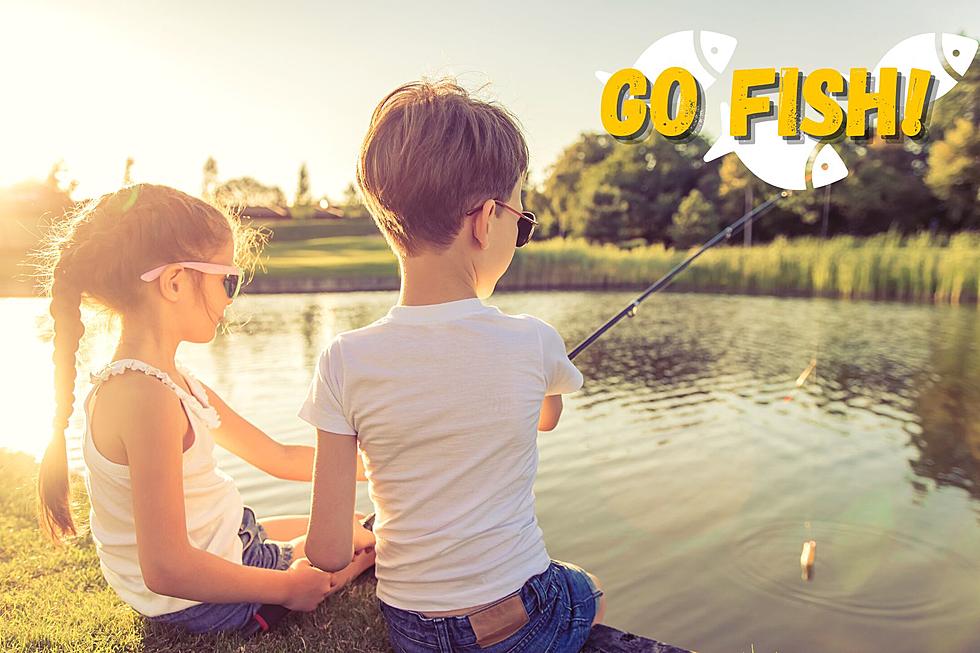 Free Fishing Day This Saturday: Best Places to Fish Near Laramie!
Canva Pro
Let the tall tales and size comparisons begin as National Fishing and Boating Week start on Saturday, with the Wyoming Game and Fish Department hosting a Free Fishing Day across the state. Free Fishing Day is Saturday, June 3, and includes any area in the state according to regulations, with the exceptions of Wind River Reservation and Yellowstone National Park.
There are a variety of great options for Laramie anglers, fishing fans, and beginners. It's a great time, perfect for the whole family.
Greenbelt Public Access
Located in the middle of Laramie, the Greenbelt offers plenty of shoreline fishing, shallow wade-in spots, and large stepping stones to accommodate anglers seeking brown and rainbow trout.  
Curt Gowdy State Park 
The state park, located 25 miles east of Laramie on Highway 210, offers a variety of fishing spots. Each location has its uniqueness, according to its website.
Crystal Reservoir: the smallest of the Gowdy reservoirs, offers "shoreline fishing for brown trout, rainbow trout, and kokanee salmon." 
Granite Reservoir: "excellent rainbow trout and kokanee salmon fishing." 
North Crow Reservoir: "This reservoir is the only one in the area where one can catch a splake, rainbow trout, brown trout, and grayling in the same day."
Monolith Ranch
For fishing and floating, Monolith Ranch is located 6 miles west of Laramie off Highway 230. It contains mostly brown trout, with some rainbow. 
Pioneer Canal
According to Four Seasons Anglers in West Laramie, "This is a cottonwood-lined stretch with long deep runs, perfect for dry fly fishing. Early June through July is the best time to be on this section of river. It is a short walk from Wyoming State Highway 230, but it is well worth it."
Lake Hattie
Hattie is the largest of the Laramie Plains Lakes. It's stocked with brown, cutthroat, and rainbow trout, Kokanee salmon, and yellow perch.
Huck Finn Pond
Designated for anglers under 14 (who don't need a fishing license), Huck Finn Pond is stocked with trout and is located near LaPrele Park on 23rd & Spring Creek. 
Miracle Mile
Trophy trout seekers should head to the Miracle Mile, located 50 miles southwest of Casper in between Seminoe and Pathfinder reservoirs. This 7-mile section of the North Platte is a "Blue Ribbon" trout stream, according to Wyoming Anglers.  
Buying a Fishing License: Cost & Info
After Saturday, resident annual fishing licenses are $27, and the accompanying conservation stamp is $21.50. Anglers under 14 do not need a license. To plan your trip, use the Game and Fish Department's interactive fishing guide.   
Cool Off at These Lakes Near Laramie
Check out these five stunning Wyoming lakes located near Laramie and Cheyenne.