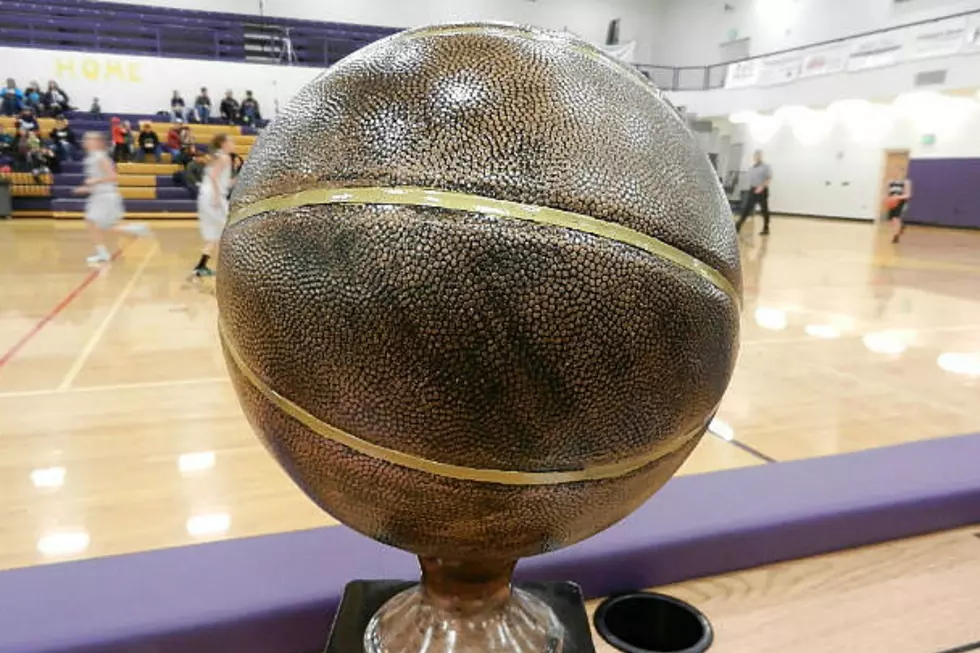 1A/2A Regional Boys Basketball Scoreboard: Feb. 25-27, 2021
Kevin Koile, WyoPreps.com
The post-season of high school basketball is here for small schools around Wyoming. Their season comes down to one game.
Unlike past years, where the regional tournaments were double-elimination and spread over three days with all eight teams on one side of the state in the same venue, this year is different. With COVID, it was decided that regionals would be broken down into their quadrants with boys and girls separated to adhere to the safest protocols towards making sure the games were played.
Here's how it works. The No. 1 seed in a quadrant will play No. 4 and the No. 2 will play No. 3 on Thursday, Feb. 25. The winners of those two games will qualify for the state tournament. The loser's season is done. The two winners will play for a regional quadrant title. Those two teams will also advance to a regional seeding four-team tournament on Saturday, Feb. 27. The winners of the regional quad (i.e. NW and SW) will play each other for the regional title with the winner grabbing the No. 1 seed and the loser the No. 2 seed from that side of the state. The two teams that lost the regional quad title game will play each other for the No. 3 and 4 seeds.
This is the schedule and where boys' teams are playing this weekend. The schedule is subject to change.
CLASS 1A REGIONAL:
Thursday, Feb. 25: (winners of first 2 games at a site qualify for state)
1A Northwest at Burlington – Dubois won the only head-to-head game versus Burlington; the Rams get the top seed
Final Score: Game 1 - No. 1 Dubois 74 No. 4 Ten Sleep 52 - Rams qualify for state
Final Score: Game 2 - No. 2 Burlington 66 No. 3 Meeteetse 40 - Huskies qualify for state
Final Score: Game 5 - Dubois 78 Burlington 58
1A Southwest at Saratoga – Encampment, and Farson-Eden agreed that the Tigers would get to wear the home uniform
Final Score: Game 3 - No. 1 Saratoga 59 No. 4 Cokeville 33 - S. Panthers qualify for state
Final Score: Game 4 - No. 3 Farson-Eden 52 No. 2 Encampment 44 - Pronghorns qualify for state
Final Score: Game 6 - Saratoga 36 Farson-Eden 24
1A Northeast at Kaycee – NSI gets the No. 4 seed by virtue of regular-season sweep of Midwest
Final Score: Game 1 - No. 1 Upton 79 No. 4 NSI 23 - Bobcats qualify for state
Final Score: Game 2 - No. 2 Kaycee 54. No. 3 Hulett 33 - Buckaroos qualify for state
Final Score: Game 5 - Upton 74 Kaycee 41
1A Southeast at Torrington (High School & Eastern Wyoming College)
Final Score: Game 3 - No. 1 Southeast 61 No. 4 Lingle-Ft. Laramie 23 - Cyclones qualify for state
Final Score: Game 4 - No. 2 Guernsey-Sunrise 51 No. 3 H.E.M 43 - Vikings qualify for state
Final Score: Game 6 - Southeast 67 Guernsey-Sunrise 20
Saturday, Feb. 27:
1A West at Lander (Fieldhouse)
Final Score: Game 8 - Farson-Eden 56 Burlington 40 – Pronghorns earn No. 3 seed at state; Huskies will be No. 4 seed
Final Score: Game 7 - Saratoga 67 Dubois 42 – Panthers take No. 1 seed at state; Rams are No. 2 seed
1A East at Torrington (High School)
Final Score: Game 8 - Kaycee 54 Guernsey-Sunrise 36 – Buckaroos are East No. 3 seed; Vikings are the No. 4 seed
Final Score: Game 7 - Upton 72 Southeast 39 – Bobcats will be the No. 1 seed at state; Cyclones are No. 2 seed
CLASS 2A REGIONAL:
Thursday, Feb. 25: (winners of first 2 games at a site qualify for state)
2A Northwest at Greybull – Shoshoni has the tiebreaker over Greybull with a win over Wind River, while the Buffs lost to the Cougars
Final Score: Game 1 - No. 1 Rocky Mountain 73 No. 4 Riverside 34 - Grizzlies qualify for state
Final Score: Game 2 - No. 3 Greybull 49 No. 2 Shoshoni 40 - Buffs qualify for state
Final Score: Game 5 - Rocky Mountain 63 Greybull 47
2A Southwest at Wind River – Wind River gets the second seed on point differential in head-to-head games with Wyoming Indian
Final Score: Game 3 - No. 1 Big Piney 64 No. 4 St. Stephens 33 - Punchers qualify for state
Final Score: Game 4 - No. 2 Wind River 72 No. 3 Wyoming Indian 45 - Cougars qualify for state
Final Score: Game 6 - Big Piney 70 Wind River 60
2A Northeast at Moorcroft
Final Score: Game 1 - No. 1 Sundance 46 No. 4 Moorcroft 29 - Bulldogs qualify for state
Final Score: Game 2 - No. 3 Big Horn 57 No. 2 Tongue River 54 - OT - Rams qualify for state
Final Score: Game 5 - Sundance 49 Big Horn 42
2A Southeast at Glenrock - (5th place team from NE drops down to become No. 4 in SE) – Lusk earned the second seed on point differential in head-to-head games with Glenrock
Final Score: Game 3 - No. 1 Pine Bluffs 65 No. 4 Wright 48 - Hornets qualify for state
Final Score: Game 4 - No. 3 Glenrock 52 No. 2 Lusk 51 - Herders qualify for state
Final Score: Game 6 - Pine Bluffs 52 Glenrock 41
Saturday, Feb. 27:
2A West at Riverton (High School)
Final Score: Game 8 - Wind River 60 Greybull 53 – Cougars get the No. 3 seed to state; Buffs will be the No. 4 seed
Final Score: Game 7 - Rocky Mountain 54 Big Piney 47 – Grizzlies take No. 1 seed to state; Punchers will be the No. 2 seed
2A East at Big Horn (High School)
Final Score: Game 8 - Big Horn 65 Glenrock 45 – Rams earn No. 3 seed at state; Herders are No. 4 seed
Final Score: Game 7 - Sundance 57 Pine Bluffs 42 – Bulldogs get the No. 1 seed to state; Hornets will be the No. 2 seed
HISTORY: 4 Of Wyoming's Oldest Things