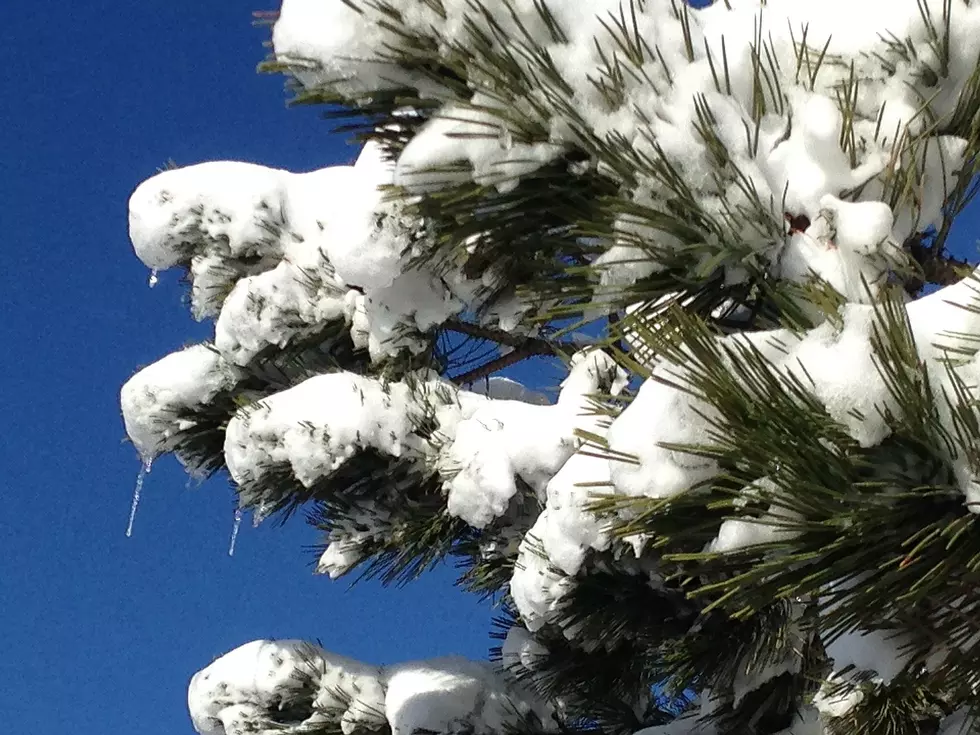 12+ Inches of Snow Could Fall in Parts of Wyo. Tonight-Wednesday
Joy Greenwald, Townsquare Media
According to the latest "Situation Report" from the National Weather Service in Cheyenne, several inches of snow are expected to fall around southeast Wyoming tonight and Wednesday, which could make for a hazardous morning commute.
A Winter Weather Advisory is in effect from 8 p.m. this evening until 5 p.m. Wednesday for the I-80 Summit and central Carbon County, where up to 3 to 5 inches of snow is expected.
URGENT - WINTER WEATHER MESSAGE
National Weather Service Cheyenne WY
119 PM MST Tue Mar 9 2021

...WINTER STORM WARNINGS AND WINTER WEATHER ADVISORIES TONIGHT
THROUGH WEDNESDAY AFTERNOON...

NEZ003-096-WYZ109-116-101200-
/O.EXA.KCYS.WW.Y.0022.210310T0300Z-210311T0000Z/
Box Butte-South Sioux-Central Carbon County-South Laramie Range-
Including the cities of Alliance, Agate, Rawlins, Buford,
Pumpkin Vine, and Vedauwoo
119 PM MST Tue Mar 9 2021

...WINTER WEATHER ADVISORY IN EFFECT FROM 8 PM THIS EVENING TO
5 PM MST WEDNESDAY...

* WHAT...Snow expected. Total snow accumulations of 3 to 5
  inches. Winds gusting as high as 40 mph.

* WHERE...South Sioux County and Box Butte County in the Nebraska
  Panhandle...including Alliance...Hemingford and Agate. The
  Interstate 80 Summit and central Carbon County in southeast
  Wyoming...to include Rawlins...Buford and Vedauwoo.

* WHEN...From 8 PM this evening to 5 PM MST Wednesday.

* IMPACTS...Plan on slippery road conditions. The hazardous
  conditions could impact the morning commute.

PRECAUTIONARY/PREPAREDNESS ACTIONS...

Slow down and use caution while traveling.

The latest road conditions for the state you are calling from can
be obtained by calling 5 1 1.
"I-80 between Laramie and Cheyenne, I-25 Chugwater south, potentially looking at some accumulations after midnight," DayWeather meteorologist Mark Heuer said in a Tuesday afternoon WYDOT weather briefing. "Could be looking at 2 to 4 inches between Laramie and Cheyenne."
"Much of the I-80 corridor from east of Wamsutter to Rawlins through Arlington and Elk Mountain over towards Cheyenne potentially seeing 1 to 3 inches early on Wednesday morning," Heuer added. "There will be some wind in the Arlington and Elk Mountain area over towards Cheyenne along I-80 during the day ... blowing snow will be a possibility."
Drivers are encouraged to call 511 or go to wyoroad.info for the latest road conditions.
The Worst Storms Of The Decade In Southeast Wyoming