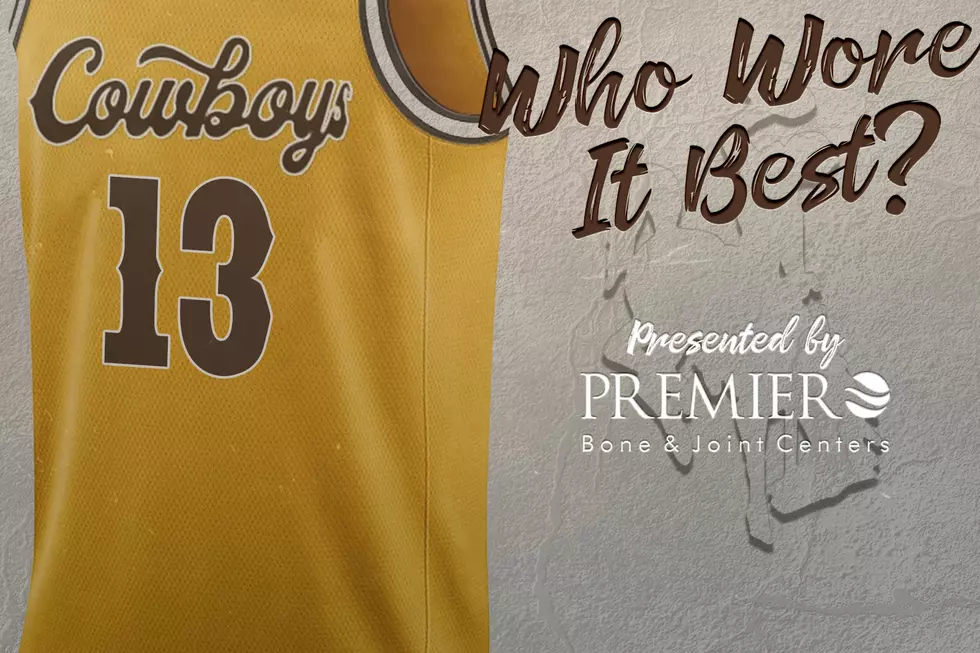 Which Wyoming hoopster wore it best? No. 13
Jen Kost graphic
LARAMIE -- Do you ever see a number on a Wyoming basketball jersey and think of all the great players to wear it?
Yeah, me too.
In this summer series, I'll give you my take on which Pokes' hoopster was the best ever to don each number. The criteria are simple: How did he perform at UW? What kind of impact did he have on the program?
No. 13 - TONY WINDIS
Guard, 1956-59, New York, N.Y.
Résumé in Laramie
* 69 games played at UW
* 21.2 points per game average
* Second-most points in a single game in UW history (50)
* Second-best scoring average in UW history (21.2)
* Three-time All-Conference selection
* Two-time Player of the Year in the Rockies (1958 and '57)
Why Windis?
It has been more than six decades since Tony Windis has played basketball at the University of Wyoming.
Despite that 63-year span, the Scottsbluff native's name is strewn throughout the Cowboys' record books.
To be exact, Windis is still the program's Top 10 in eight different categories: Scoring average (21.2), field goals attempted (1,390), single-season scoring average (24.4 in 1958-59), single-season field goals attempted (514 in 1957-58), single-game points scored (2nd-50 points in 1958), single-game field goals made (2nd-19 in 1958), single-game field goals attempted (1st-38 in 1959-also attempted 31 three different times) and single-game free throws attempted (3rd-22 in 1956-also attempted 19 in 1958).
"The Wolfpack had the honor of having the top scoring performance in the Skyline executed against them ..."
That's from a January 1958 issue of the New Mexico Lobo in a story titled "Varsity takes it on the chin."
They sure did.
Windis netted 50 points, including 33 in the second half, in an easy 101-61 victory over the Lobos in Albuquerque. He finished just one point shy of tying the league's record for most points scored in a single game. That record belonged to former Wyoming teammate Joe Capua, who splashed 51 against Montana two years prior.
Windis, a 6-foot-1 guard, connected on 19-of-30 attempts from the field against the Lobos.
In 1999, Windis was inducted into the UW Athletics Hall of Fame. His plaque states this: "Quiet, reserved basketball artist Tony Windis was one of the finest shooters ever to play at the University of Wyoming."
After graduation, Windis became the first coach in the state to win both a boys' and girls' state basketball championship in the same season (1977) at Mountain View High School.
Windis also wore No. 12 and No. 20 during his time in Laramie, according to the UW basketball media guide.
Who else wore No. 13
Harry Jorgensen (50's), Clarence Lively (50's), Bill Nelson (60's), Paul Homar (60's), Reuben Poindexter (60's), Bob Wilson (60's), Mike Colby (70's), Billy Hessel (90's), Alex Dunn (00's), Ross Forman (00's), Mikhail Linskens (00's), Jack Bentz (10's), Sam Averbuck (10's), Treyvon Taylor (10's), Brandon Porter (10's)
Look who wore the No. 12 best right HERE.
Check out our "Who Wore it Best" football series right HERE.
* All available rosters provided by the University of Wyoming Athletics Department. If we missed a player who wore this number, please email cody@7220sports.com
* A number of players wore different jersey numbers during their careers. From the 1930's through the 50's, players were issued a home and an away jersey.
UW vs. New Mexico