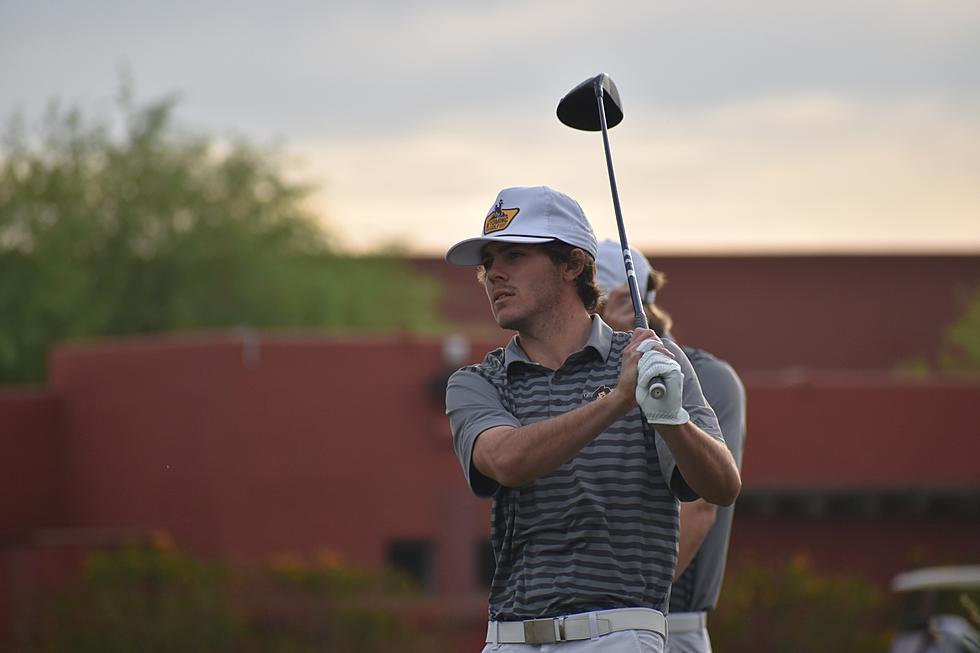 'We found out some things about our team this week'
From the start to the finish of this weekend's Gene Miranda Falcon Invitational at the Air Force Academy, the Wyoming Cowboys played consistently well and finished off their impressive week placing fifth out of 21 teams./ UW courtesy photo
COLORADO SPRINGS, Colo., -- From the start to the finish of this weekend's Gene Miranda Falcon Invitational at the Air Force Academy, the Wyoming Cowboys played consistently well and finished off their impressive week placing fifth out of 21 teams. That consistency and team balance was also evident as three Pokes finished among the Top-25 individuals in the tournament.
Wyoming closed out the week with a final 54-hole total of 861 (-3) to finish four strokes ahead of sixth place San Jose State and five strokes better than seventh place Colorado. Cowboy Tyler Severin shot a 71 (-1) round on Sunday to finish tied for 14th at 214 (-2). Jimmy Dales tied for 18th at 215 (-1), and Kirby Coe-Kirkham tied for 25th with a 54-hole score of 218 (+2).
"I was pleased with the way the guys played throughout this tournament," said Joe Jensen, University of Wyoming Director of Golf and Head Men's Golf Coach. "It was a good finish for us -- not a great finish, that would have been finishing in the top three teams -- but it was a good finish in our first tournament of the season. 
"Today, the guys did a really good job of fighting back after we had a tough start this morning. Tyler (Severin) obviously played well today. Jimmy (Dales) was one of our most consistent players throughout the week, and Kirby (Coe-Kirkham) played two really nice rounds heading into Sunday. He fell back a little bit today, but still finished with a good tournament. We had a different person each day who was our drop score, so that shows the kind of balance we have on this team. I think we found out some things about our team this week, and now we have some time to work on our games before our next tournament."  
UC Davis set a new Miranda Tournament record, shooting 831 (-33) as a team.  UC Davis golfer Thomas Hutchison also set a tournament best with a three-round total of 201 (-15)  to win by five strokes. Hutchison's second round score of 62 (-10) was also an all-time best for the Miranda.
In the competition between six Mountain West schools in the tournament. Wyoming finished only six strokes back of second-place Nevada. The Cowboys finished ahead of all other MW schools, including San Jose State in sixth at 865, (+1). UNLV finished in 10th at 877 (+13). Utah State placed 18th at 898 (+34), and Air Force finished in 20th at 925 (+61).   
The team competition was played on the Eisenhower Blue Course. In addition to the team competition, a group of 45 individual golfers competed on the Eisenhower Silver Course. Wyoming's four players participating in the individual tournament all placed among the top 13 individuals. Redshirt freshman Patrick Azevedo finished fourth at 213 (-3). True freshmen Jaren Calkins concluded the three rounds in fifth place at 215 (-1), and Aidan Mann and Cade McLaughlin tied for 13th at 222 (+6).
The Eisenhower Blue Course measured 7,451 yards and played to a par of 72, and the Silver Course also played to a par of 72.
Wyoming's next tournament will be at the Ram Masters Invitational on Monday and Tuesday, Sept. 20 and 21 in Fort Collins, Colo.
Team Standings
1.   UC Davis                                         279-272-280=831 (-33)
2.   Nevada                                           290-280-285=855 (-9)
3.   Denver                                            286-282-288=856 (-8)
4.   Weber State                                    299-283-277=859 (-5)
5.   Wyoming                                       289-282-290=861 (-3)
6.   San Jose State                                 283-283-299=865 (+1)
7.   Colorado                                         297-281-288=866 (+2)
8.   Texas El Paso                                   291-291-289=871 (+7)
9.   Northern Colorado                          291-292-292=875 (+11)
10. UNLV                                              294-291-292=877 (+13)
11. New Mexico State                           300-286-292=878 (+14)
12. Cal State Northridge                        298-293-290=881 (+17)
13. Utah Valley                                     294-294-294=882 (+18)
14. Northern Iowa                                 303-294-292=889 (+25)
15. SIU Edwardsville                              304-294-293=891 (+27)
16. George Washington                        303-293-297=893 (+29)
17. Southern Illinois                              306-291-298=895 (+31)
18.  Utah State                                     307-292-299=898 (+34)
19. Army                                              309-297-297=903 (+39)
20. Air Force                                         312-311-302=925 (+61)
21. Southern Utah                                318-308-310=936 (+72)
Wyoming Cowboys
T14th          Tyler Severin                       73-70-71=214 (-2)
T18th          Jimmy Dales                        71-71-73=215 (-1)
T25th          Kirby Coe-Kirkham              72-70-76=218 (+2)
T33rd          Bryce Waters                       77-71-72=220 (+4)
T57th          Jared Edeen                        73-77-74=224 (+8)
Wyoming Cowboys Playing as Individuals
4th            Patrick Azevedo                  70-74-69=213 (-3)
5th             Jaren Calkens                      72-74-69=215 (-1)
T13th          Aidan Mann                        73-73-76=222 (+6)
T13th          Cade McLaughlin                71-78-73=222 (+6)
Ten Of The Oldest Saloons In Wyoming
Old West history is even better with a cold beer in your hand. Join us for a bar crawl as we pay a virtual visit to the ten longest-running saloons in the Cowboy State.
Ten of the Oldest Saloons In Wyoming