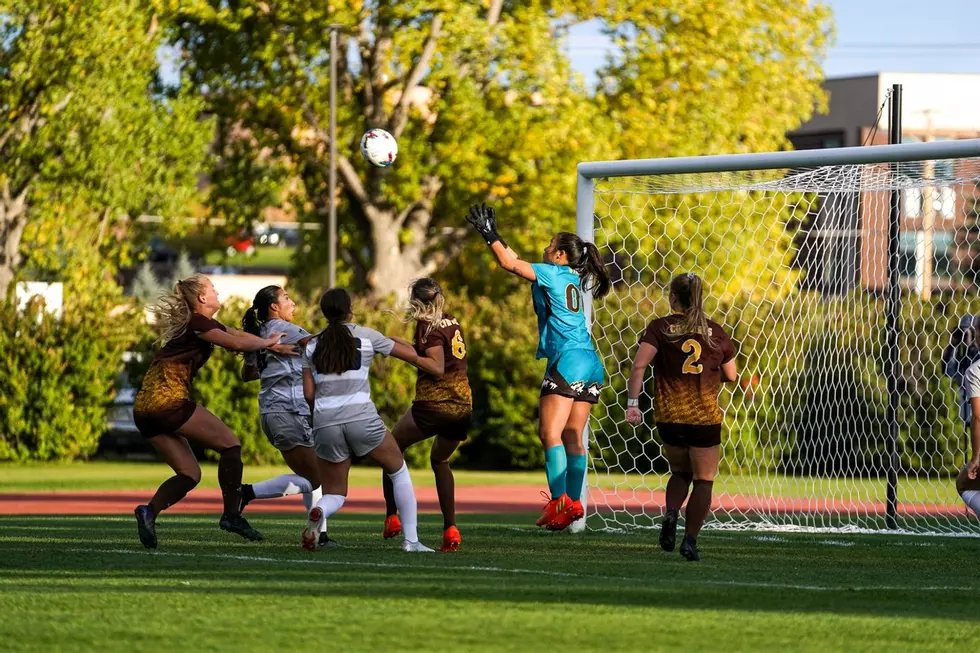 UW soccer set for second leg of road trip at Colorado College, Air Force
The University of Wyoming soccer team has come a long way with regard to its approach and attitude on the road. Matches away from Laramie last year were nightmarish for the Cowgirls, but this season, the Cowgirls have confidence going on the road./ UW courtesy photo
* University of Wyoming press release
LARAMIE -- The University of Wyoming soccer team has come a long way with regard to its approach and attitude on the road. Matches away from Laramie last year were nightmarish for the Cowgirls, but this season, the Cowgirls have confidence going on the road.
Much of that has to do with the success Wyoming had this past week. The Cowgirls went 1-0-1 during the first leg of a road trip, claiming a come-from-behind 3-1 victory at Nevada prior to tying UNLV 1-1 on Sunday.
"The team was pretty upset after we tied UNLV, which I think shows a lot of growth from where we were last year," head coach Colleen Corbin said. "If you look at how we did on the road in the previous season, we would have been happy to get out with a tie. We weren't this time."
They may have been displeased Sunday night, but the Cowgirls accumulated four points on a two-game road swing, and that's big for positioning in the conference standings. Wyoming – at 3-5-5 overall and 2-2-2 in league action – sits in a tie for sixth, and the top six advance to the conference tournament.
"It was great for our team to see they can (win on the road)," Corbin said. "They're in the fight. They're capable, and we just have to lock in a couple little pieces to really solidify the type of energy and effort to come away with six points on the road."
An opportunity for six points away from home begins Thursday. The Cowgirls travel to Colorado College on Thursday before going to Air Force on Sunday.
Senior Jamie Tatum and junior Alyssa Bedard lead Wyoming offensively with four goals apiece. Senior Faith Joiner has two goals to her name, while six other Cowgirls have found the back of the net this fall.
Senior goalkeeper Miyuki Schoyen has made seven starts in net. She's allowed 13 goals, has logged 24 saves and owns a GAA of 1.86.
The Tigers lay claim to a 5-4-4 overall record and a 2-1-3 (nine points) mark in MW play. They're unbeaten in their last four matches and are fresh off a 1-0-1 road swing – a 1-0 win at Utah State and a 0-0 tie at Boise State.
Adelaide Gaffney paces Colorado College with five goals. Eight other Tigers have scored multiple goals this season, and five of those have scored multiple times this fall.
Ally Wakeman has started all 13 matches in net. She's given up 13 goals, while logging 55 saves and a GAA of 1.18 with three shutouts.
The Tigers lead the all-time series with the Cowgirls, 12-5-0. Colorado College has enjoyed recent success, claiming a win in each of the last three matchups, all by one-goal differences.
Air Force enters this week with a 4-7-2 overall record and a 1-4-1 (four points) conference record. After going unbeaten in their first two league bouts, the Falcons have dropped four straight and been outscored 8-1 during that stretch.
Raine Komata and Jenna Rubidoux pace Air Force with a pair of goals each. Five other Falcons have scored, as well.
Sydney Davis has started eight matches at goalie for Air Force and all six league games. She's surrendered eight goals, has registered 32 saves and a GAA of 1.07 with a pair of shutouts.
Wyoming leads the all-time series with the Falcons, 14-11-2. The Cowgirls won last year's meeting, 2-1, snapping Air Force's three-match win streak in the series.
Following the trip to Colorado, the Cowgirls return to Laramie for a pair of matches. They host Fresno State on Oct. 20 before battling San Jose State on Oct. 23.
30 Ways To Say You're From Wyoming Without Saying You're From Wyoming
These are the most mentioned ways to say you're from Wyoming, without actually saying you're from Wyoming.
- 30 Ways To Say You're From Wyoming Without Saying You're From Wyoming