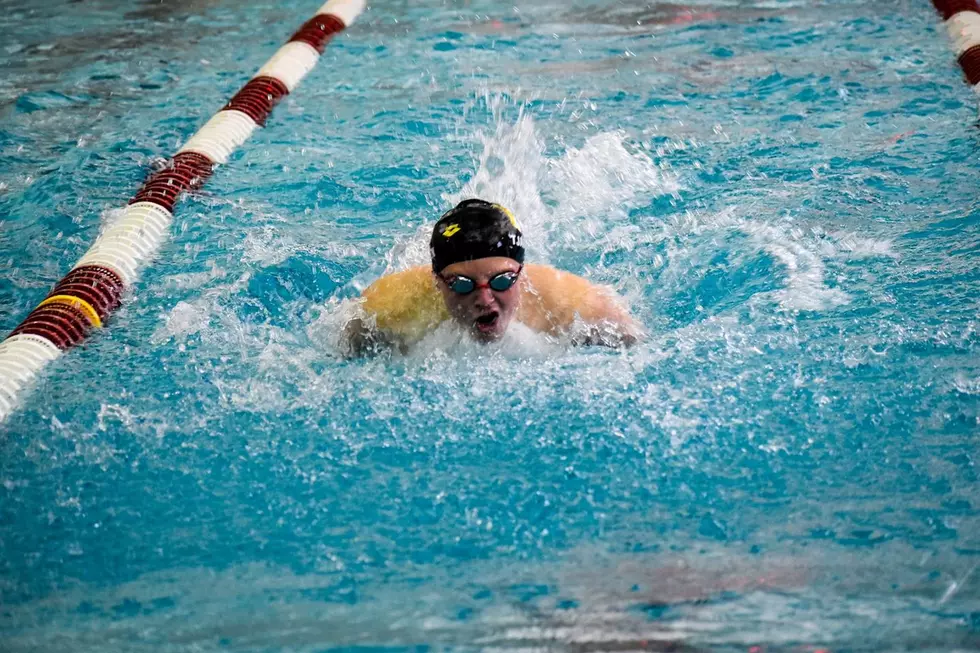 UW Lands Bronze at Wac Swimming and Diving Championships
UW freshman Harry Tjaden flies down the lane during the WAC Swimming and Diving Championships in Las Vegas./ UW Courtesy photo
LAS VEGAS -- After four days of competition, the Wyoming men's swimming and diving squads moved up to third place at the WAC Championship meet on Saturday night in Las Vegas. The Cowboys finished with a combined score of 593.50.
UNLV took home the title with 907 points followed by Air Force 643. Along with today's competition, two Cowgirl swimmers competed in a Last Chance Meet.
"Today's story is the way the men took charge of the prelims and ended up securing third place tonight. We really had a good day with some solid performances," head coach Dave Denniston said. "Mitch (Hovis) and Austin (Crump) finished their senior year with something they can both be proud of. Coming into the night, we weren't necessarily in position to get to third but everyone raced with a lot of heart to reach this goal. Two freshmen, Andrew (Columbus) and Harry (Tjaden) took on the toughest events you can swim in the same day. Both scored points for the team and I'm very proud of these young men. I know the future is bright for this team."
The event start off with sophomore Thomas Diaz continuing his strong performance at the championship with a second place finish in the 100 backstroke prelims with a season-best time of 1:47.58 which is just a second off his career-best. Junior Miller Browne had a top eight finish with a posted time of 1:48.90. Freshman Reilly Gilbert reached the b-final with his time of 1:55.04.
Rodriguez went 1:46.72 in the finals for a third place finish, while Browne completed the race in eighth with a posted time of 1:50.88. Gilbert rounded things out with a career mark of 1:51.94.
In the 100 freestyle, the top finisher in the preliminaries was senior Austin Crump with a top season time of 44.95 to place 16th. Junior Grant Sloan posted a time of season-best time of 45.59, which was two seconds better than previously, for a place in the consolation. Freshman Max DeYoung turned in solid number and career-best time of 45.99. Crump moved up three spots in the final in a time of 44.98. Sloan was 46.03 while freshman Jakob Borrman was 46.21.
Senior Mitchell Hovis continued his solid swimming with a top eight performance in the 200 breaststroke. He was just off his career-best with a time of 1:59.34 to place fifth. Freshman John Wargin cut almost five seconds off his season-best with a time of 2:03.90 and a 12th place finish. Hovis remained in fifth after a time of 1:59.60 in the finals followed by Wargin who posted a career-best of 2:02.01.
In the 200 butterfly, Diaz finished the prelims in a season-best time of 1:48.82 for a third place spot. It was followed up by freshman Luke Walker with his posted time of 1:49.86 and Harry Tjaden going a season-best 1:50.17. Diaz remained in third with the same time as the prelims. Walker went 1;51.69 and Tjaden touched the wall I 1:54.07.
The final event of the night saw the 400 free relay team of Crump, Rodriguez, DeYoung and Netzel went 3:00.39 to finish fifth.
Three Cowboys finished in the top eight on the platform in the final day. Freshman Juan Gonzalez went 253.10 for a fourth place spot followed by Brendan Byrnes in fifth with a mark of 258.75. Sophomore Payton Lee recorded a six dive mark of 253.10. In the finals, Byrnes went a season-best 294.65, while Gonzalez had a score of 257.40. Lee moved up a spot to sixth with his season-best score of 261.90.
In the finals, Byrnes went a season-best score of 294.65 for a fourth place finish. He was followed by sophomore Payton Lee with a mark of 261.90 after six dives, while freshman Juan Gonzalez posted a score of 257.40.
"We had a great finish to the meet," head diving coach Ted Everett said. "Brendan (Byrnes) was consistent placing fourth while Payton (Lee) and Juan (Gonzalez) were also solid in sixth and seventh. Because of everyone's strong performances as a team, we won the diving portion of the meet. I'm really proud of how they performed."
***
Senior Hannah Mclean-Leonard and junior Lainee Jones were in action at the Bulldog NCAA Qualifying Meet in Athens, Ga. Both qualified for the evening session after solid prelim swims. Mclean-Leonard went a season-best time of 53.48 in the 100 butterfly to place sixth while Jones finished in a time of 1:50.20.
In the finals, Mclean-Leonard went an NCAA B Standard Cut time of 52.87. It was just shy of her overall career and school-best mark of 52.70. Jones also finished third with her season-best time of 1:49.44 which was a second off her career-best.
***
Next up for the swimming and diving program is the NCAA Zone "E" Diving Championships. It is scheduled to begin on Monday, March 8 at the Aquatic Center in Flagstaff, Ariz. Sophomore Melissa Mirafuentes, junior Brendan Byrnes and freshman Juan Gonzalez have all qualified for the event.
* University of Wyoming press release
LOOK: Historical Wyoming License Plates Since 1914