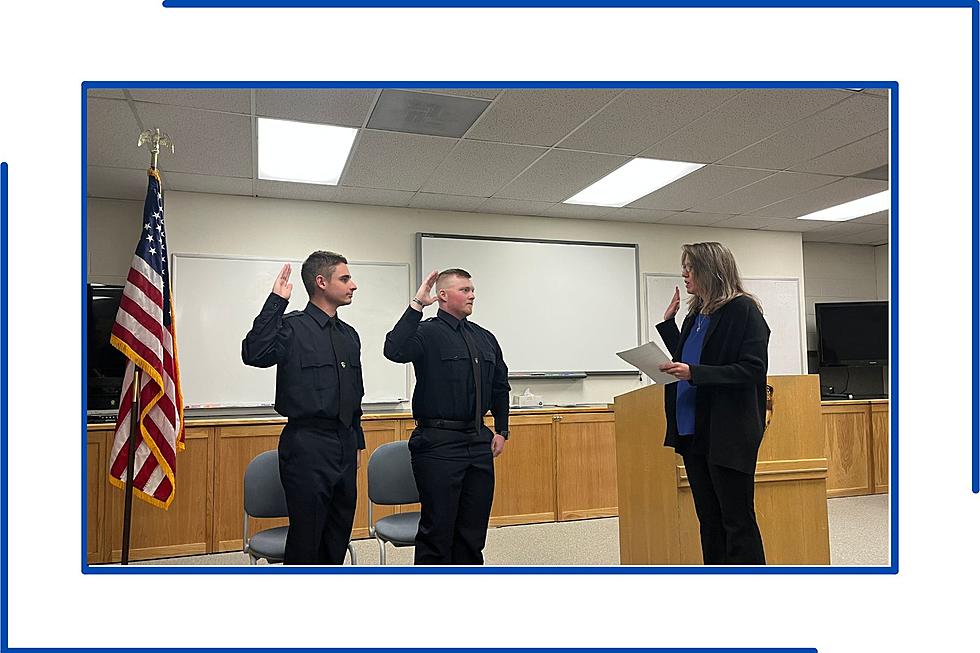 Laramie Police Swear in Two Officers
Nicole Sherwood/Townsquare Media
The Laramie Police Department has two new officers. Matthew Peckerman and Paden Bear were sworn in today, Aug. 16, by city clerk Nancy Bartholomew. Training Sergeant Asa Hutchinson introduced the officers. 
LPD Chief Brian Browne presented at the ceremony by telling the newest members, "Your chosen profession is a noble one. You are more than officers of the peace. You are teachers, counselors, community members…whatever the public needs you to be, in a time of need."
Peckerman, 25, is from Parsippany, N.J. He served four years in the United States Army. He attended Front Range Community College in Westminster, Colo., and earned his associate's degree in gunsmithing from the Colorado School of Trades. 
Peckerman's badge was pinned on him by his father, retired Parsippany Chief of Police Michael Peckerman.
Bear, 23, is from Cottonwood, Calif., and joined the Army National Guard after graduating from high school. He still serves in the Wyoming National Guard. Bear earned his bachelor's degree in Range Ecology and Watershed Management from the University of Wyoming and has two associates from Shasta College in agriculture business and animal science. 
Laramie Assistant Chief of Police Robert Terry pinned Bear's badge on him, welcoming him to the department. 
The Laramie Police Department has been making progress in its mission to hire more officers. LPD now has 47 officers. The department prides itself on its thorough hiring process and in-depth training policies. They are offering a Civilian Academy this fall for residents interested in the inner workings of the department. City Council is also taking applications for membership on the Police Advisory Board. 
Cops & Donuts: Laramie Police on National Donut Day 2023
A far better pairing than peas and carrots, Laramie Police Department celebrated National Donut Day by hosting Cops and Donuts. The LPD handed out free donuts to members of the community who stopped in to say hello.