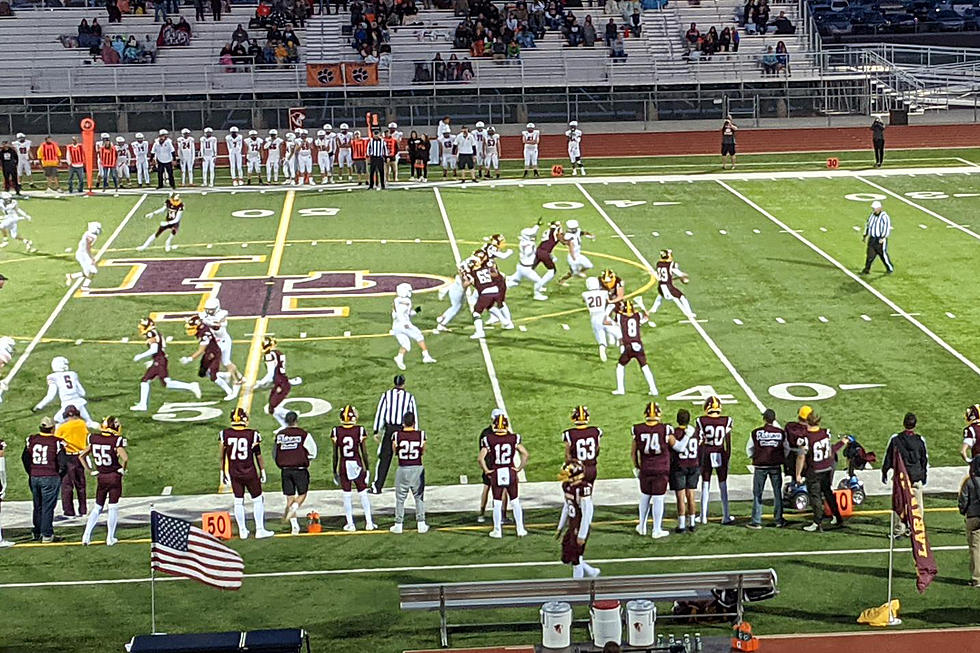 Laramie Football Remains Winless After Loss to Rock Springs, 50-16
David Settle, Townsquare Media
The top-ranked Rock Springs Tigers scored on seven straight possessions and rolled past Laramie, 50-16, last Friday night at Deti Stadium.
Laramie (0-6) failed to get their offense going in the first half with 81 yards and a turnover. They scored twice in the second half, but that was after Rock Springs held a 50-0 lead.
Plainsmen head coach Paul had mentioned all week how good the Tigers were.
"This is probably, to me, the best team I've faced all year. They were sound in everything they did, and we couldn't get anything going early offensively. They just squashed our turnover and pushed it right back at us, and there was not much we could do with it."
LHS got an interception on the second offensive play for Rock Springs by junior cornerback Adrien Calderon. The Plainsmen settled for a field goal, but the 51-yard attempt by senior Talon Luckie came up a few yards short.
Rock Springs (5-1) scored on their next seven possessions of the football. QB Brock Bider threw for 236 yards, four TDs, and the one interception. He tossed three to UW football commit Isaac Schoenfeld, of 22, 30, and 10 yards in the first half. Bider added a 21-yard screen pass for a touchdown to Jake Eddy. Dylan Coburn contributed two rushing TDs from 4 and 15 yards out. That made the score 43-0 at halftime.
Eddy ran it in from 11 yards out less than two minutes into the second half for a 50-0 lead, and the mercy clock rule was in effect.
Ronga said, "We tried to keep their offense off the field and establish the run that we did show last week, and that just was not happening tonight (Friday). We were just out-manned on the offensive line. Our linemen were playing and trying their best and doing what they can, but there's just another level coming from that side of the field."
LHS QB Ben Malone threw a pair of second-half TDs to Calderon from 9-yards out and Jackson Devine from 6-yards away. Laramie converted a pair of two-point conversions.
Ronga added, "Once I couldn't get the ground game going, then we just had to resort to some of the excellent passes that we have, and the excellent passing game that we have with Ben, with Adrien, with Mason (Branch), who's come along; great job with Mason, as well, putting him in the picture; and then, of course, Jackson, what he's done incredibly. His catches and his numbers (are) right there. Top receiver in the league I believe, right now?
Rock Springs finished with 455 yards of total offense. Schoenfeld had four receptions for 86 yards and the three TDs. He added four rushes for 50 yards. Coburn had 78 rushing yards.
The Plainsmen had 285 yards on offense. Malone was 22-34 for 266 yards, two TDs, two interceptions, and one fumble. Devine finished with 158 all-purpose yards, while Calderon added 157 all-purpose yards. Both had the one touchdown catch.
Laramie will host No. 4 Thunder Basin for their Senior Night on Friday, Oct. 8. The game will kick off at 6 p.m. at Deti Stadium.
Super Bowl Champions From Wyoming