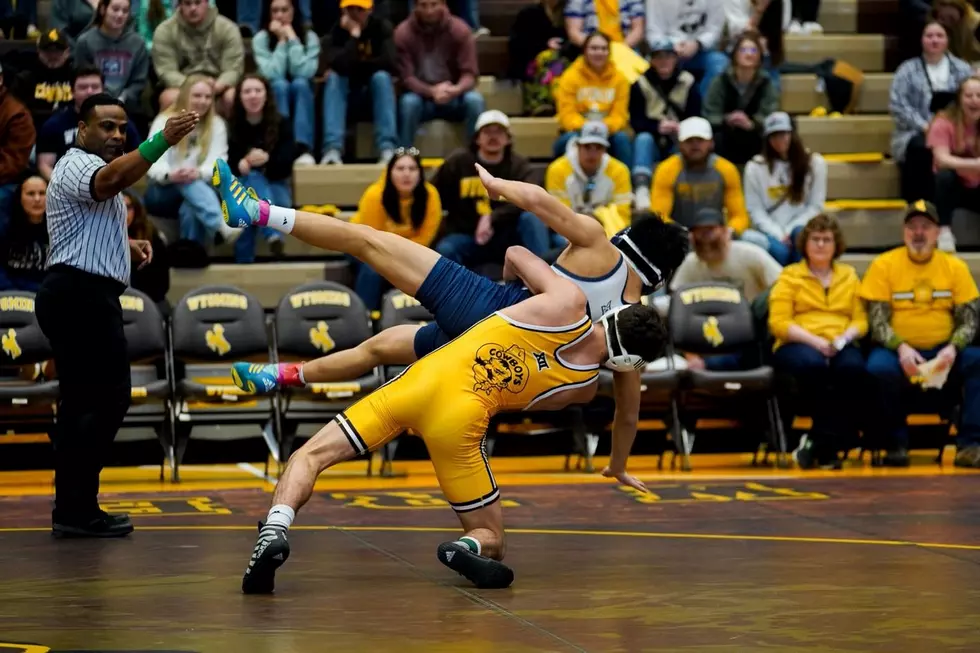 Wyoming Wrestling Announces Addition of Devin Schroder to Staff
The Wyoming Cowboy Wrestling squad was in action on Saturday afternoon hosting Big 12 foe California Baptist inside of the UniWyo Sports Complex. Three Wyoming grapplers picked up wins against the Lancers, but California Baptist took the dual, 22-10./ UW courtesy photo
* University of Wyoming press release
LARAMIE -- University of Wyoming Head Wrestling Coach Mark Branch announced the addition of Devin Schroder to the coaching staff on Tuesday. Schroder served as assistant coach for Cleveland State last season following a very impressive career at Purdue.
"We are very excited to welcome Devin to Laramie," UW head wrestling coach Mark Branch said. "We have a great stable of light weight wrestlers in our room and Devin is going to be able to make a big impact on their development. I think he's going to be a great fit to round out an amazing staff."
Schroder helped the Vikings to a seventh-place finish at the 2023 MAC Championships finishing with a program-record seven placers. Along with the conference tournament success, Schroder helped coach the Vikings to seven dual wins including six dual wins against conference opponents.
"I'm beyond excited to join the Cowboy family, and become a part of what coach Branch, McCade and Branson have been building in Laramie. The first thing I noticed when I talked to the staff was their passion for the sport of wrestling and their shared love for building successful wrestlers on and off the mat," Schroder said. "I'm looking forward to jumping right in and building NCAA Champions for Wyoming."
Prior to coaching Schroder wrestled for Purdue University where he was a four-time NCAA Qualifier, four-time Big 10 place winner and two-time Big 10 finalist. Schroder earned NWCA first-team all-American honors in 2020 being seeded fifth for the NCAA tournament before it was cancelled due to COVID-19 in 2022, Schroder was named Purdue's Joe Patacsil Leadership Award recipient and was named to the Big 10 All-Academic team.
Schroder finished his Boilermaker career with 96 wins, ranking 16th in career win percentage at Purdue University.
Schroder graduated from Purdue in 2022 with a bachelor's degree in industrial engineering and his master's in technology leadership and innovations.
From Bison to Triceratops - All of Wyoming's Official Things
Every state in our nation has chosen things that represent the state in one way or another to be official state things. Like a flower, or animal.
Wyoming
is no different.
The Equality State, or the Cowboy State, depending on which state slogan you want to go with, has a state flower. But did you know we also have a state tree and a state fish? Yes, we even have a state code.
To be an official thing, a member of the state legislature must write and submit a bill to the legislature declaring that a thing will be the official state thing. Then the legislature votes to pass the bill, or not, if it passes, the governor signs the bill into law and we have a new official state thing.
Here is what we have so far, all of Wyoming's official things. Now you can win big on Wyo Trivia Night if that's a thing that exists.
- From Bison to Triceratops - All of Wyoming's Official Things