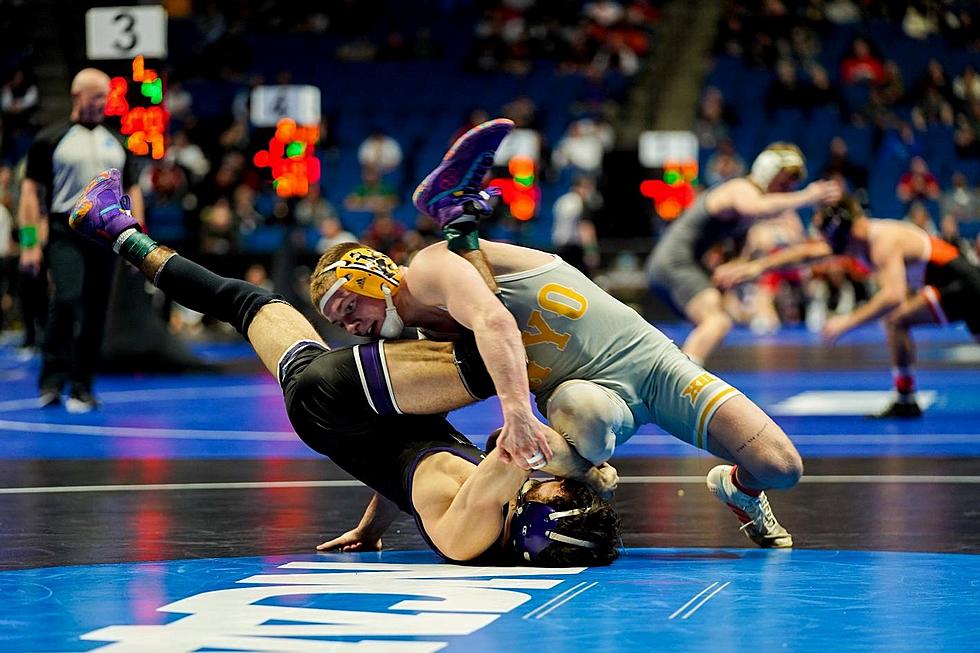 Two Cowboys Advance to Second Day of NCAA Championships
The Wyoming Cowboy Wrestling squad opened up competition at the NCAA Championships on Thursday in Tulsa, Oklahoma inside of the BOK Center. The Cowboys put together a solid day with two grapplers advancing to day two of the tournament./ UW courtesy photo
* University of Wyoming press release
TULSA, Okla., -- The Wyoming Cowboy Wrestling squad opened up competition at the NCAA Championships on Thursday in Tulsa, Oklahoma inside of the BOK Center. The Cowboys put together a solid day with two grapplers advancing to day two of the tournament.
"Every match here is the best of the best and crazy things started right away in this tournament and you want to be on the sunny side of those crazy stories and Jore had a big match this morning that helped set the tone but nothing gets easier it just gets harder. Obviously, I wish we had all three guys in it," UW head wrestling coach Mark Branch said. "I believe in our guys but we can't sit around and get down on ourselves we got to get ready to come back tomorrow stronger and be ready for a war. They need to put losses behind them and focus on the next match that's all that matters."
Competing in his first NCAA Championship tournament, True Freshman Jore Volk wasted no time in making a statement at 125 pounds with an opening round upset over No. 12 seeded Michael DeAugustino (NW). With the match tied 1-1 after three periods, the match would go to overtime. In the sudden victory period, Volk was the aggressor pushing the pace firing off a single leg attack on the edge of the mat to score the winning takedown earning a spot in the round of 16.
In the round of 16 Volk came up short in a hard-fought bout against No. 28 Killian Cardinale (WVU). Volk will now look to make a run through the consolation bracket starting with a rematch against No. 6 Stevo Poulin (UNC), Volk won the first meeting between the two grapplers by decision, 3-2.
At 157 pounds, Jacob Wright got his day started with a rematch against No. 18 seeded Derek Gilcher (IND). In their first meeting, Wright came away with a 2-1 victory over Gilcher, a performance that Wright mimicked in their second meeting. Wright scored the only takedown of the match in the second period and held off Gilcher late for a 3-2 victory.
In his round of 16 match, Wright wrestled tough but came up short against No. 2 Levi Haines (PSU). Wright will also now turn his focus to the consolation bracket and a rematch set to face No. 32 seed Vinny Zerban (UNC) in his first match tomorrow. Wright took the first meeting between the two via a 2-0 decision.
At 165 pounds, Cole Moody's incredible season and post season run came to end after dropping two hard-fought matches.
As a team, the Cowboys sit in 45th after one day of competition with two points. Penn State currently leads the team race with 26.0 points while Iowa sits in second with 21.5. Missouri rounds out the top three teams sitting in third with 17.5 points.
Session three of the NCAA Championships is set to begin at 10 a.m. MT tomorrow with two rounds of consolation matches scheduled. Session three will be live on ESPNU.
Day 1 Results  
125 – No. 21 Jore Volk 
Round of 32: No. 21 Volk (WYO) dec. No. 12 Michael Deaugstino (NW) 3-1 (SV-1)
Round of 16: No. 28 Killian Cardinale (WVU) dec. No. 21 Volk (WYO) 8-3
157 – No. 15 Jacob Wright  
Round of 32: No. 15 Wright (WYO) dec. No. 18 Derek Gilcher (IND) 3-2
Round of 16: No. 2 Levi Haines (PSU) dec. No. 15 Wright (WYO) 8-2
165 - No. 32 Cole Moody  
Prelim: No. 33 Josh Kim (HARV) dec. No. 32 Moody (WYO) 7-4
Cons. Prelim: No. 30 Evan Barczak (DREX) major dec. No. 32 Moody (WYO) 11-2
Here Are Words And Phrases That Drive Wyomingites Crazy
There are certain words or phrases that when you hear them it makes your skin crawl. We headed to social media and asked you to share what words or phrases drive you crazy when you hear them. Here's a collection of the top 12 from what you shared with us.
- Here Are Words And Phrases That Drive Wyomingites Crazy