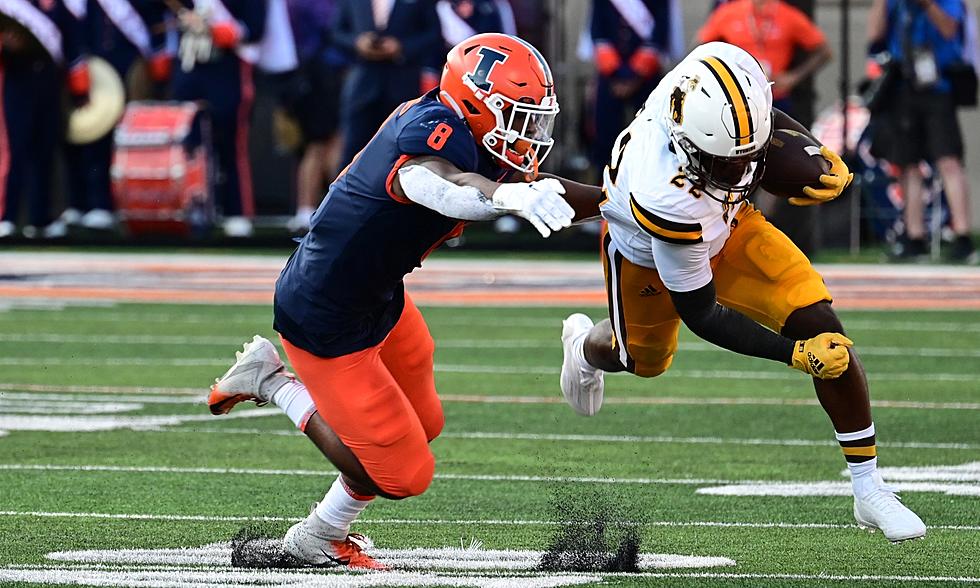 Five Former Wyoming Football Players Still in NCAA Transfer Portal
CHAMPAIGN, IL - AUGUST 27: Wyoming running back Joey Braasch (22) carries the ball with pressure from Illinois inside linebacker Tarique Barnes (8) during a college football game between the Wyoming Cowboys and the Illinois Fighting Illini, August 27, 2022, at Memorial Stadium, Champaign, IL. Photo by Keith Gillett/Icon Sportswire via Getty Images),
LARAMIE -- Ten former Wyoming football players entered the NCAA Transfer Portal at the conclusion of the 2022 season. Five are still in search of their next landing spot.
That list includes offensive lineman Jagger Filippone, who never saw the field during his lone season in Laramie. Running back Joey Braasch has yet to find a new home. Same can be said for wideout Tyrese Grant, nickel corner Zaire Jackson and defensive end Akili Bonner.
Here's the on-field production the Cowboys lost:
* Braasch rushed for 91 total yards on 29 carries. The redshirt freshman also hauled in four passes for 25 yards. He appeared in six-career games and lost a fumble in the '22 season opener at Illinois.
* Grant appeared in eight games, including two last fall, during his three seasons at UW. He finished with one rushing attempt for no gain.
* Bonner saw action in just two games during his four seasons on the high plains. He didn't register any stats.
* Jackson didn't see the field in two seasons.
MORE UW FOOTBALL NEWS VIA 7220SPORTS:
* Wyoming's Marty English announces retirement
* Remembering Wyoming football legend Conrad Dobler
* Will Wyoming actually throw the ball more in 2023?
* Wyoming adds 21 new football commits on traditional signing day
Five other transfers have signed with other programs, two of which landed in a Power-5 conference.
Defensive end Oluwaseyi Omotosho inked with Oregon State after registering 6.5 sacks and a forced fumble last season. The 6-foot-2, 246-pound redshirt freshman from Houston also tacked on 46 tackles, including 27 solo stops. His best outing came against Northern Colorado where Omotosho tallied three sacks.
Joshua Cobbs signed with the University of Houston after snagging a team-high 35 passes for 407 receiving yards and two touchdowns. The 6-foot-4, 204-pound San Antonio product capped his two-year career in Laramie with 60 catches for 652 yards and three scores.
Keonte Glinton had an injury plagued 2022 campaign, appearing in just six contests. The sophomore defensive back racked up 26 tackles, a fumble recovery and four pass breakups. Glinton signed with New Mexico State in early February. Cam Stone is staying in the Mountain West Conference, agreeing to join the program at Hawaii. The 5-foot-10, 188-pound sophomore was Wyoming's most productive cornerback last fall, tallying 35 tackles and two interceptions. Stone also broke up 10 passes and forced a critical fumble in a double-overtime victory over Tulsa.
Mykel Janise signed with Louisiana Tech after not seeing any action during his true freshman season at UW. The 6-foot-4, 265-pound offensive tackle didn't allow a single sack during his senior campaign at West Brook High School in Beaumont, Texas.
The transfer portal will briefly open once again from April 15-30. Wyoming will open spring practice March 28 in Laramie.
Correction: In the original publication of this story, Mykel Janise was listed as a former UW player without a home. He inked with Louisiana Tech on Feb. 2. We regret this error. 
LOOK: Pokes' unis through the years