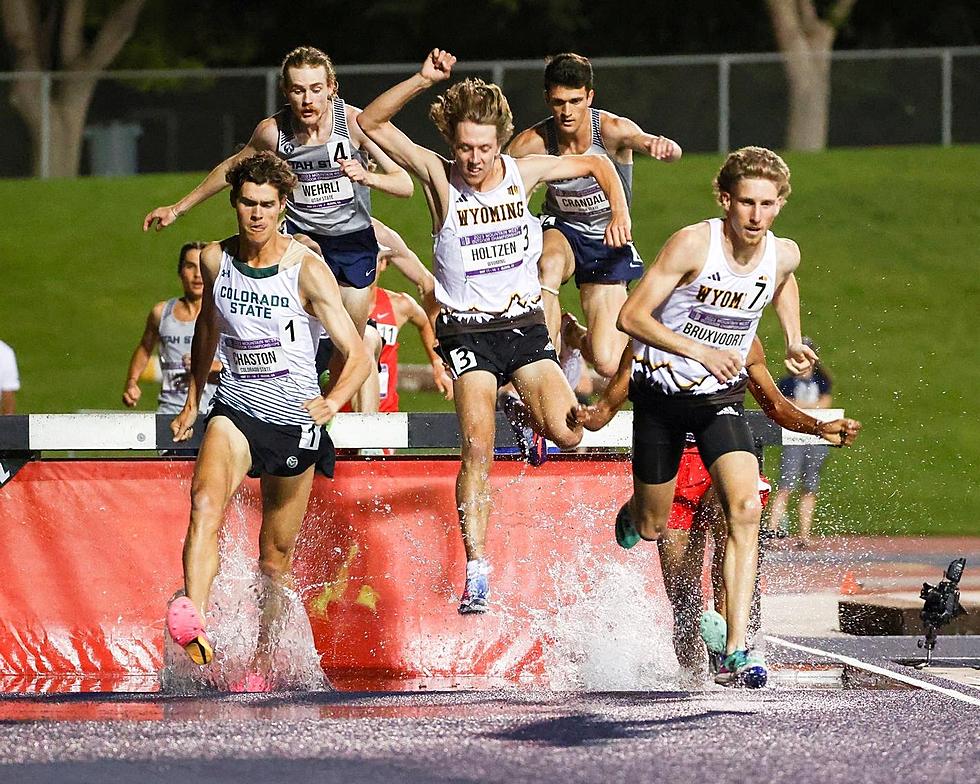 Holtzen Breaks Steeplechase School Record at NCAA West First Rounds
Ryker Holtzen set the new Wyoming standard in the 3000M Steeplechase as he and two other Cowboy Track & Field student-athletes competed on day three of the NCAA West First Rounds on Friday night. / UW courtesy photo
* University of Wyoming press release
SACRAMENTO, Calif., -- Ryker Holtzen set the new Wyoming standard in the 3000M Steeplechase as he and two other Cowboy Track & Field student-athletes competed on day three of the NCAA West First Rounds on Friday night.
Holtzen set out with teammate Seth Bruxvoort in the Steeplechase as the two Cowboys looked to finish in the top 12 to move on to the NCAA Championships. Their effort came up short but Holtzen ran the fastest race of anyone in the Brown & Gold with a time of 8:42.51 to finish in 20th place. Bruxvoort took 39th out of the top 48 in the West region with a time of 9:01.49.
Jacob White ran the last race of the evening. The Cowboy distance runner took place in the 5K and ran a 13:57.64 to take 28th place.
Katelyn Mitchem will compete as the lone Cowgirl representative in California. The senior will take place in the Steeplechase and the 5K tomorrow on the fourth and final day of action.
Fans can follow along live at https://flashresults.ncaa.com/Outdoor/2023/FirstRounds/West/index.htm or watch at Day 4 - Saturday: NCAA Outdoor Track & Field West First Round (Day Four) | Watch ESPN
The top 12 in both regions this week will move on to the 2023 NCAA Track & Field National Championships to be hosted in Austin Texas, from June 7th through the 10th.
Stay up to date on Wyoming Track & Field by following @wyo_track on Twitter.
From Bison to Triceratops - All of Wyoming's Official Things
Every state in our nation has chosen things that represent the state in one way or another to be official state things. Like a flower, or animal.
Wyoming
is no different.
The Equality State, or the Cowboy State, depending on which state slogan you want to go with, has a state flower. But did you know we also have a state tree and a state fish? Yes, we even have a state code.
To be an official thing, a member of the state legislature must write and submit a bill to the legislature declaring that a thing will be the official state thing. Then the legislature votes to pass the bill, or not, if it passes, the governor signs the bill into law and we have a new official state thing.
Here is what we have so far, all of Wyoming's official things. Now you can win big on Wyo Trivia Night if that's a thing that exists.
- From Bison to Triceratops - All of Wyoming's Official Things