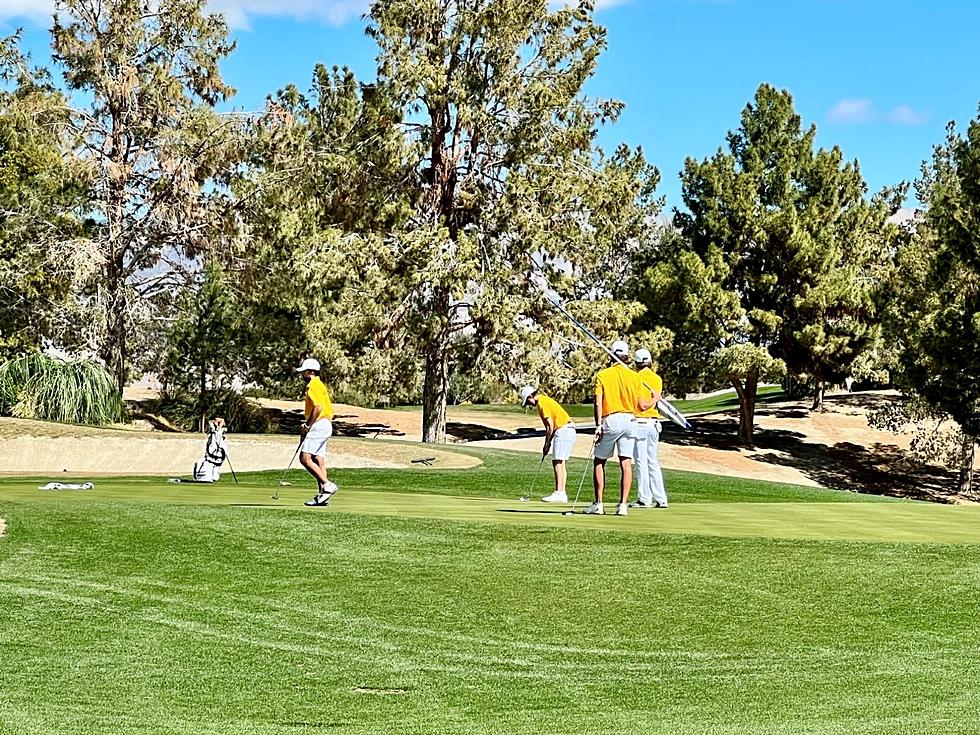 Champions: Cowboys Win Wyoming Desert Intercollegiate
The Wyoming Cowboys entered Friday's final round of the Wyoming Desert Intercollegiate with a six-stroke lead and they never relinquished that lead on way to a three-stroke victory over second-place Fresno State./ UW courtesy photo
* University of Wyoming press release
PALM DESERT, Calif., -- The Wyoming Cowboys entered Friday's final round of the Wyoming Desert Intercollegiate with a six-stroke lead and they never relinquished that lead on way to a three-stroke victory over second-place Fresno State.
For Wyoming, it was the first time they had won the team title at their own Desert Intercollegiate in the 15 years of the tournament.
UW finished with a 54-hole total of 857 (-7).  Fresno State came in second at 860 (-4).  Colorado finished third at 863 (-1), six strokes back of the Cowboys. The victory marks the second tournament title of the 2022-23 season for the Cowboys as they captured the Mark Simpson Colorado Invitational during the fall.
Wyoming had six individuals finish in the Top 25 of the tournament field of 90 collegiate golfers. Sophomore Jaren Calkins was UW's top finisher, tying for fourth place at 213 (-3). He fired a final round of 70 (-2) on Friday.
He was followed by Cowboy seniors Kirby Coe-Kirkham and Tyler Severin, who both tied for 10th at 215 (-1).  Both seniors shot final rounds of 71 (-1) for Wyoming's other sub-par scores in the final round. Coe-Kirkham was playing as a member of UW's five-man team. Severin played as an individual in this week's event. UW sophomores Kristof Panke and Cade McLaughlin, competing for the team, each tied for 15th, with final scores of 217 (+1).
Fellow sophomore Patrick Azevedo rounded out the team scoring for the Pokes, tying for 23rd at 219 (+3). Junior Jimmy Dales, playing as an individual, tied for 28th at 221 (+5), and sophomore Aidan Mann, also competing as an individual, tied for 62nd at 230 (+14).
The Cowboys' second tournament win of the season marks the first time since 2017 that a Wyoming men's golf team has won two team titles in the same season. The Pokes captured team titles at the Gene Miranda Falcon Invitational and the Wyoming Southern Dunes Invitational during the fall portion of the 2017-18 season.
This year's individual champion of the Wyoming Desert Intercollegiate was Matthew Manganello of Fresno State, who finished with a 54-hole total of 208 (-8), to win by three strokes over Dylan McDermott of Colorado, who shot a 211 (-5).
"I'm proud of the guys," said Joe Jensen, UW Director of Golf and Head Men's Golf Coach. "They battled and I'm happy for them. This group is working hard and today they saw the results of their hard work.
"I can't say enough about the balance we had all week. To have six individuals finish in the Top 25 is great to see. This type of balance is what it takes to win a team title. I also want to thank all the teams who competed this week in our tournament.  I hope they had a great experience. It's exciting to get our second tournament championship of the season. We'll enjoy it the next couple of days, but we are heading to San Diego right now to play a practice round on Sunday and we'll be back in competition at the San Diego Classic on Monday."
The Wyoming Desert Intercollegiate was hosted by the University of Wyoming at the Classic Club in Palm Desert, Calif. The Classic Club course measured 7,305 yards and played to a par of 72. Wyoming returns to action on Monday and Tuesday, March 6-7 at the Lamkin San Diego Classic to be played at the San Diego Country Club in Chula Vista, Calif. That tournament will be hosted by San Diego State and the University of San Diego.
Team Standings From the Wyoming Desert Intercollegiate
1.   Wyoming                           290-279-288=857 (-7)
2.   Fresno State                        286-290-284=860 (-4)
3.   Colorado                            289-289-285=863 (-1)
4.   Utah                                   290-285-293=868 (+4)
5.   Hawaii                                293-287-292=872 (+8)
6.   UT Arlington                       299-292-287=878 (+14)
      UC Santa Barbara                294-293-291=878 (+14)
8.   Texas State                          295-297-291=883 (+19)
      CSU - Fullerton                    302-283-298=883 (+19)
10. CSU - Northridge                 294-299-292=885 (+21)
11. Tarleton State                     295-293-300=888 (+24)
12. Utah Tech University            314-293-291=898 (+34)
13. Sacramento State                291-311-297=899 (+35)
14. UC Irvine                             317-297-291=905 (+41)
15. UC Riverside                        301-313-299=913 (+49)
16. Southern Utah                     313-318-316=947 (+83)
Wyoming Cowboys Individual Standings
T4 Jaren Calkins                        74-69-70=213 (-3)
T10 Kirby Coe-Kirkham              76-68-71=215 (-1)
T15 Kristof Panke                      74-69-74=217 (+1)
T15 Cade McLaughlin                71-73-73=217 (+1)
T23 Patrick Azevedo                  71-73-75=219 (+3)
Wyoming Cowboys Playing as Individuals
T10 Tyler Severin                       74-70-71=215 (-1)
T28 Jimmy Dales                        75-72-74=221 (+5)
T62 Aidan Mann                       72-79-79=230 (+14)
30 Wyoming Attractions To Visit