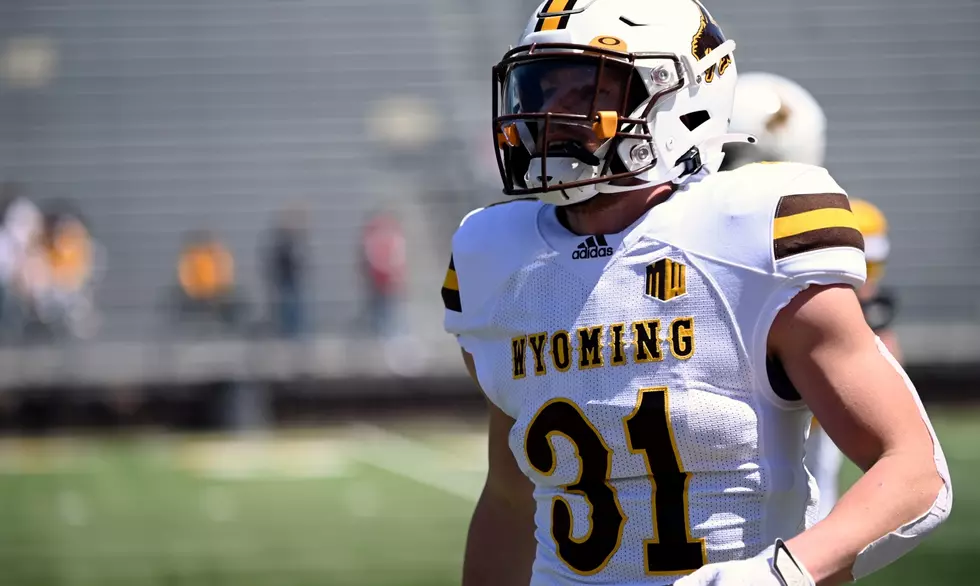 'I'm ready': Wyoming's Wyett Ekeler confident it's his time at safety spot
Wyett Ekeler will be in the starting safety rotation this fall, according to defensive coordinator Jay Sawvel./ DJ Johnson photo
LARAMIE -- Ever see the video of Los Angeles Chargers running back Austin Ekeler doing one-arm pull ups while reading a book?
Now you have. Impressive, right?
His younger brother, Wyett Ekeler, is a sophomore on the Wyoming football team. The 5-foot-11, 201-pound free safety looks like he has spent plenty of time in the gym himself.
But can he do freakishly athletic things like big bro?
"I could probably get, yeah, maybe one or two," he said with a smile, referring to that infamous workout. "I don't know about doing as many as him, he's a unit. I could probably get a couple though."
UW's coaching staff won't be asking Ekeler to wow in the weight room this fall but instead in the Cowboys' young secondary. That process has already been in motion for two seasons in Laramie.
MORE UW FOOTBALL NEWS:
* Alex Brown is healthy, motivated heading into crucial 2022 campaign
* UW's Evan Svoboda has a big right arm, the confidence to match
* Pokes Practice Report: Position battles are heating up
* Wyoming football: State of the Offense
Defensive coordinator Jay Sawvel didn't mince words -- Ekeler will be in the rotation, along with Miles Williams and Isaac White.
"He's had a good camp," Sawvel said about the former Windsor High standout. "I think we're going to be improved at that position."
With White hampered by a hamstring injury throughout the spring, Ekeler took full advantage of his opportunity. He proved himself on special teams last fall, too, registering six tackles, including five of the solo variety.
Those open-field tackles, along with a high football IQ, caught the eye of Craig Bohl this spring.
"Sometimes guys can go through practice and look pretty good, but until you get in a situation where you really need to make a play in space you don't know (how players will react) and he did that," UW's ninth-year head coach said. "... He is doing some good things and it's encouraging. He's tested out well in the past."
Ekeler, who was the 4A Northern Colorado Offensive Player of the Year as a senior in high school after rushing for 1,435 yards and finding the end zone an eye-popping 22 times, said he finally feels comfortable in his role.
His confident grin said it all.
"I feel ready," Ekeler said. "I've been working my butt off and doing my best to learn everything. I finally feel like this is my year.
"I'm ready."
If Ekeler needs any additional inspiration, it's just a phone call away -- or the click of a television remote.
"It's awesome," he said of watching Austin play in the NFL, despite not hearing his name at the 2017 draft after a four-year career at Western Colorado. "Honestly, it makes me work harder because I want to get to where he is. So, seeing that, it's like -- I want to be that. I want to be that guy on the TV. I want it to be, 'Oh, the Ekeler brothers are out there playing together.'
"... That's my brother. I look up to that guy. It's awesome just to see how much work he put into himself and his team to get to where he is. It's insane and that's why I push myself so hard."
UW: University of Wyoming Cowboys' Greatest Games From the First Decade of the 2000's