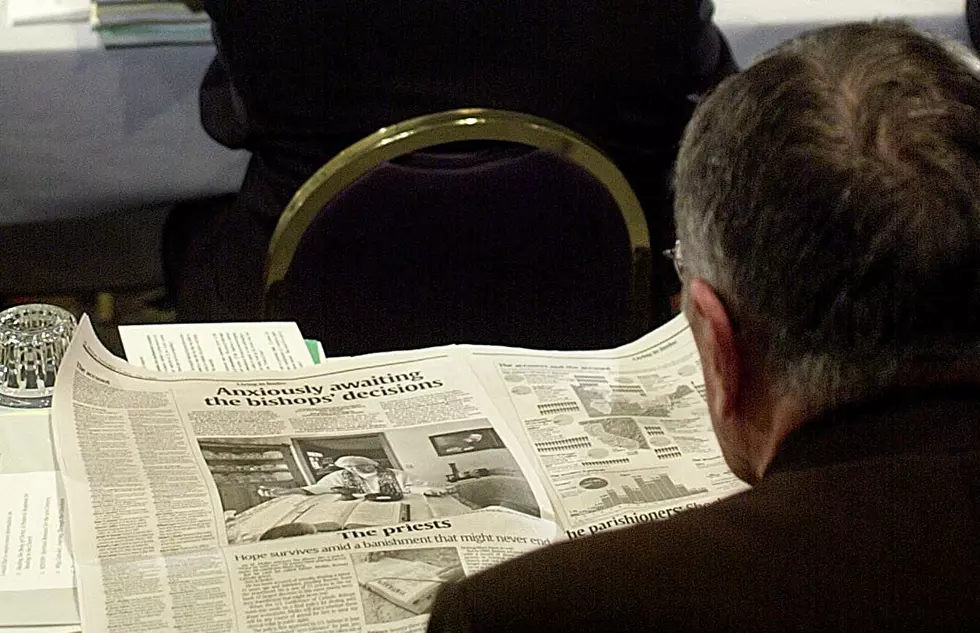 Former Cheyenne Bishop To Face Sex Abuse Charges In Vatican Trial
SHAWN THEW/AFP/Getty Images. Former Bishop of Cheyenne Joseph A. Hart reads a news story about the sexual abuse scandal within the church at a session of the U.S. Conference of Catholic Bishops in 2002.
Former Diocese of Cheyenne Bishop Joseph Hart is facing a Vatican trial on charges he sexually abused minors several years ago.
Cheyenne Bishop Steven Biegler announced on June 12 that Hart, who is now retired, would face the trial. Hart retired as head of the Diocese of Cheyenne in 2001.
Bishop Biegler also published a list of 11 Cheyenne Catholic clergyman who served in Wyoming since 1950 against whom there are "substantiated charges" of sexual abuse. Former Bishop Hart is included on the list.
The charges say Hart abused two Wyoming boys after becoming the Bishop of the Cheyenne Diocese in 1978. In 2002, Cheyenne authorities looked into abuse allegations against Hart but said an investigation didn't turn up any hard evidence that the allegations were true.
But Bishop Biegler later ordered a church investigation of allegations against Hart because he said the charges remained unresolved. The Wyoming allegations against Hart came to light after several men claimed Hart had sexually abused them when he was a priest in the Kansas City/ St. Joseph area in the 1960s and 1970s.
According to the NCR/Catholic News Service article, the Missouri Diocese paid a $10 million settlement in 2008 to 47 victims of sexual abuse by 12 clergymen.
The article says attorney's for the victims in the case at the time of the payment named Hart as being one of the abusers.
A trial date for Hart has not yet been set.