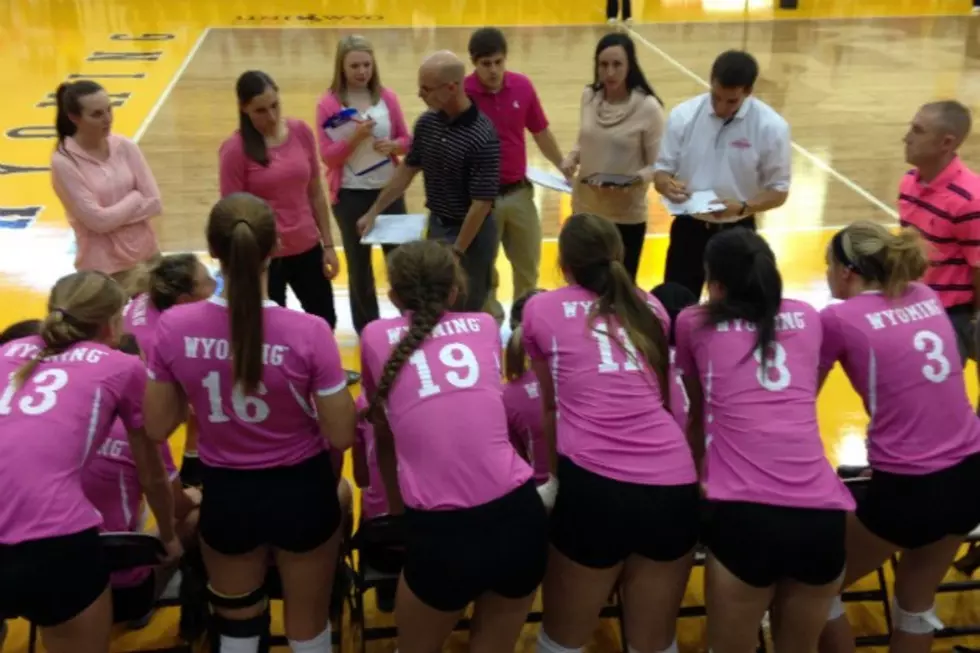 Cowgirls Sweep a Pair of Conference Matches
Mikaela Settle, Townsquare Media
The Wyoming Cowgirl volleyball team bounced back after a conference loss by sweeping two league foes at home last weekend.
Wyoming (15-3, 5-1) defeated both Air Force last Thursday and New Mexico last Saturday in three sets.
Scores of the match against the Falcons were 25-15, 25-23 and 25-21. The Cowgirls have won 22 of the last 23 matches with Air Force. Bridget Shanahan led UW with nine kills.
The Cowgirls rolled past the Lobos Saturday. The match scores were 25-19, 25-16 and 25-19. Laura Beach led the way 12 kills, while Reed Copeland added a career-high nine.
"I thought we played fairly well against Air Force on Thursday," UW head coach Chad Callihan said. "It was great to see us follow that up with today's (Saturday) performance against a very athletic and very well coached New Mexico team. We haven't been playing well in the second match of the weekend for a few weeks now, so I was just excited to see us string together a couple matches."
Wyoming has won eight straight at home.
They play at No. 21 Colorado State Tuesday at 7 p.m.
Cowgirl Soccer
The Cowgirls weren't able to take full advantage of the home field last weekend.
Friday, Wyoming (6-4-4, 2-3-1) played New Mexico to a 0-0 tie. The Cowgirls out-shot the Lobos 16-7, but couldn't find the back of the net.
That was followed by a 2-1 loss to San Diego State Sunday. Annika Clayton scored on a header in the 20th minute that tied the game. The Aztecs tallied the game-winner just five minutes later.
Wyoming Swimming and Diving
The Wyoming Cowgirls opened their season with a victory in the Denver Relays, while the Cowboys finished in second behind the host Pioneers last Saturday.
The UW women won five relays and totaled 276 points to top a field of five teams.
The men won four events and finished with 288 points, which was 18 behind DU.
Wyoming also captured the mixed 200 yard medley relay.
UW won the combined team title by ten points over the Pioneers with 564 total points.
Cowgirl Golf
The Wyoming Cowgirls tied for ninth place at the DU Ron Moore Intercollegiate in a field of 21 teams.
UW shot a three round total of 892 or 28-over par at the Highlands Ranch Golf Club.
Sophomore Gabrielle Gibson posted her first top five finish of her career. She tied for fifth place with a score of 215 or 1-under par. It tied the best 54-hole score in Cowgirl history.