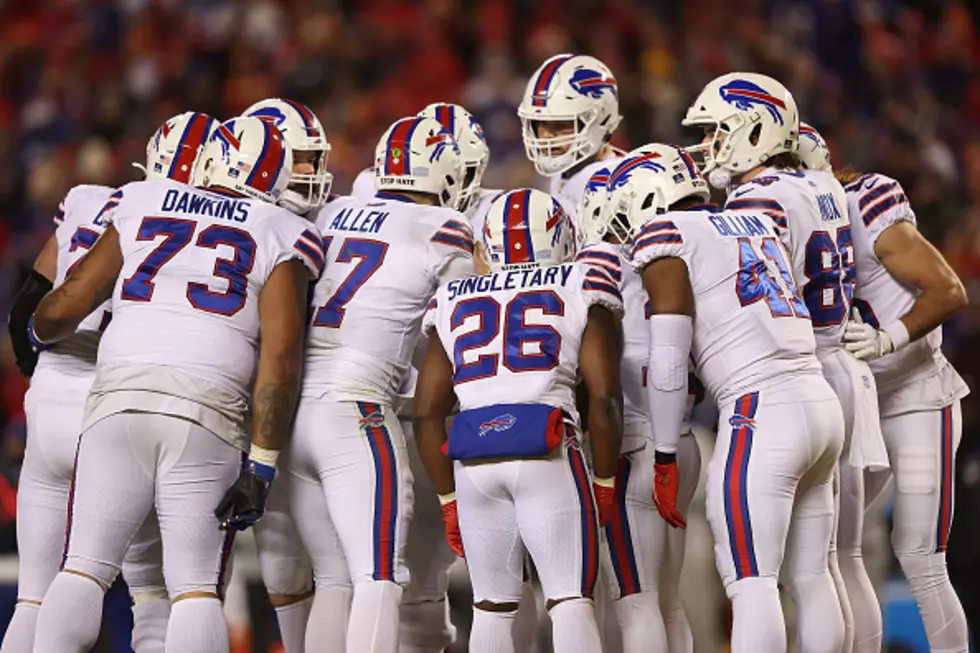 Bills Likely to Host AFC Title Game With Win on Sunday [TWEET]
Getty Images
The Buffalo Bills play their most important and arguably, toughest regular season game in 2022 this Sunday.
The Bills travel to Arrowhead Stadium to play the Kansas City Chiefs this Sunday at 4:25 pm.
This will be the fifth time since the 2020 regular season the Bills have played the Chiefs, and the fourth straight time the game is played in Kansas City; based off NFL scheduling mechanisms that have to do with AFC division standings.
We know how important this game is.
The Bills want to avenge the AFC Championship game from January, where quarterback Josh Allen played excellent and a game the Bills should have won. If they had, they likely win the Super Bowl, as they were playing better than both Cincinnati and Los Angeles.
The Chiefs may have lost wide receiver Tyreek Hill but they still have Patrick Mahomes, Travis Kelce and head coach Andy Reid scheming up play designs. As long as those three are in KC, they will be a contender and one of the most potent offenses in football.
It's only week 6 but is anything on the line right now for this game? Both teams are 4-1 and tied atop the AFC standings but is it that important the Bills win this?
The answer is, yes, it is.
Aaron Schatz of Football Outsiders tweeted out the likelihood the Bills or Chiefs end the season as the number one seed in the AFC if they win on Sunday.
The Bills have a 68 percent chance to be the number one seed in the AFC this season, with a win on Sunday at Arrowhead. The Chiefs have just a 35 percent chance, while the Bills have a 30 percent chance with a loss.
What's more telling is with a loss, the Chiefs chance to win the AFC is just 6 percent...
Things such as strength of schedule, standing tiebreakers and other factors determine the percent chances.
The Super Bowl odds are less important, as not too much changes there, but if the Bills want to host the AFC playoffs including the AFC Championship game in January, they have got to win this game at Arrowhead on Sunday.
Best Pictures of Josh Allen Proving He's A Superstar
Josh Allen is certainly living up to the hype after a show-stopping performance in Los Angeles.
15 Things You Should Never Do at a Bills Home Game
Things that are a no-no to do at a Buffalo Bills home game.
25 Things You Need To Do in Buffalo This 2022 Fall Season
The best 25 things to do in Western New York this 2022 fall season.