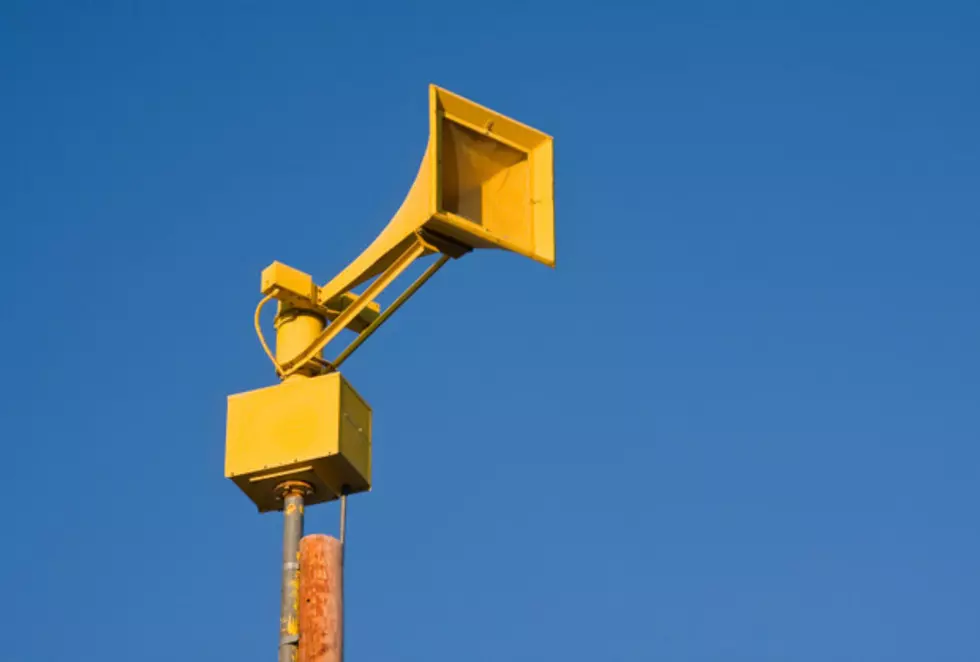 Albany County Warning Sirens Tests on Fridays
Alenate, ThinkStock
The first Friday of the month means folks throughout Albany County should expect to hear the outdoor warning sirens for one to three minutes starting at 10:00 AM Friday mornings.
The outdoor siren system -- including all county sirens in Laramie, Rock River, Centennial, and Albany -- is tested at 10:00 AM on the first Friday of each month.
Albany County Siren Locations:
Albany
Animal Shelter: 5th Street and Canby Street
Armory: 30th Street and Armory
Centennial: Highway 130 and Weber Creek
Fairgrounds: South of Interstate 80 (I-80) at the Fairgrounds
Kiwanis Park: Wyoming Avenue and Snowy Range Road
Oriole: Oriole Lane and Corner Fairview Drive
Rock River
Spring Creek: 13th Street and Spring Creek
There's always the possibility that inclement weather could force the sirens test to be postponed.
If the sirens sound in an actual emergency, people should take cover immediately and tune into a local radio or television station for information on the emergency. Residents should refrain from calling 911 or local emergency officials, as that would tie up phone lines needed to conduct emergency operations.
To Report Malfunctioning Sirens:
Send an e-mail with the following info to ema@co.albany.wy.us
Location of siren
What is the nature of the malfunction: not sounding, not rotating, muted audio, won't shut down, etc...
If you wish to be contacted by a member of the Emergency Management Staff.
For more information on siren contact Albany County Emergency Manager at ema@co.albany.wy.us or 307-721-1815.
UP NEXT: See how much gasoline cost the year you started driving